Our Favorite Bachelorette Party Favor Ideas!
last updated:
Sep 24, 2018
1615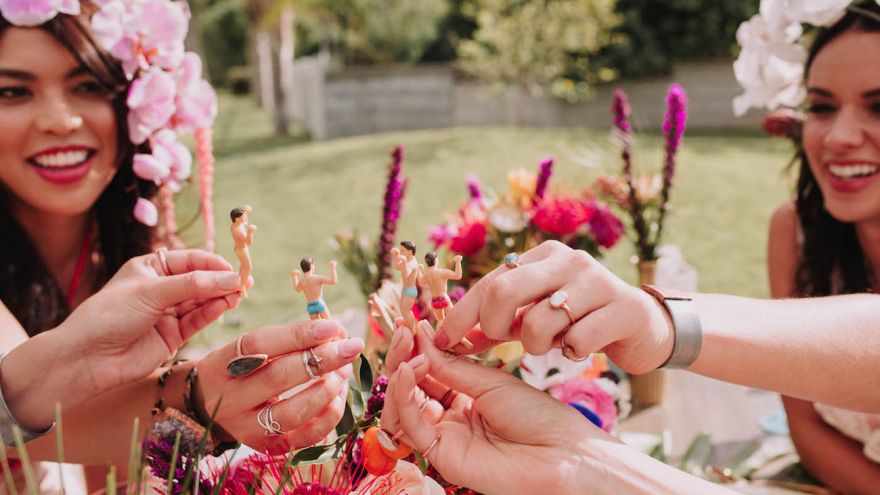 When it comes to planning a bachelorette party, there are plenty of things you'll have to think about ranging from the venue to the drinks you're going to serve. You're also going to need to take party favors into account, as you can guarantee all of your guests will be looking for something to help remind them of this special occasion. Instead of sticking to traditional gifts that are typically tacky and will either be hidden in drawers or thrown out in a couple of weeks, why not give your guests something they'll appreciate?
We've collected an assortment of different bachelorette party favor ideas that you are sure to fall in love with and want to give to your friends and family members at the end of your celebration.
1. DIY Glittered Champagne Bottles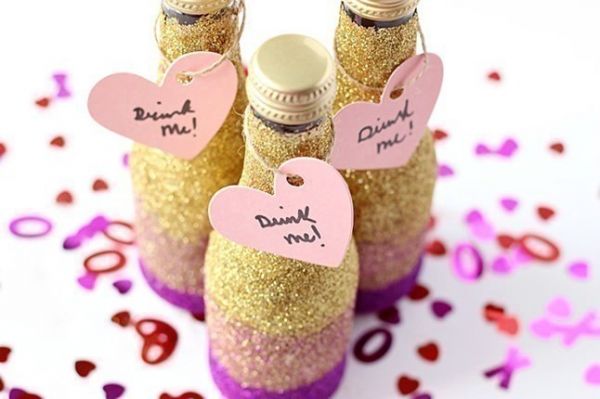 Even though you're the one who is getting married, you can guarantee that your guests will also want their own little bottle of alcohol to ring in this momentous point in your life. Little do most people know that you can actually purchase small bottles of champagne that contain enough alcohol for a couple of mimosas but that are mostly an adorable way to say "Thank you" for showing up to your bachelorette party.
To add an even more personalized touch to the bottle, why not dress it up with some glitter and a cute little card that says "Thanks"? All you're going to need is some glue, we recommend glitter glue that dries quickly, and several pots of glitter, as you're going to want more than enough to do a couple of coats per bottle.
Cover the entire outside of the bottle with the glue and then roll it in glitter until it reaches the opaqueness that you desire. Ensure that you leave the bottles out to dry and clean up around the neck of the bottle so that people won't be consuming glitter with every sip. Finally, finish the whole thing off with a little gift card and a thank you note for a more personalized and heartfelt touch.
2. Personalized Lip Balm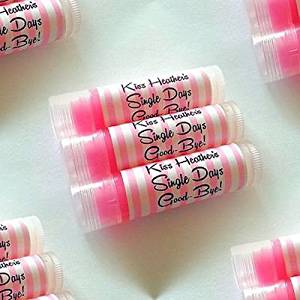 Bachelorette parties can be fun, but they are also very expensive and so when it comes to party favors your best bet is to find something that is easy to make and inexpensive so it doesn't take too much away from the party budget. Personalized lip balm is a quite a cute touch and its something that you can easily find absolutely anywhere. We recommend customizing the tubes so that they are far more authentic than simply giving your guests branded lip balm.
You can either find an online store that personalizes the tubes for you or you can print out your own labels and affix them to the tubes yourself. If you're looking for the most professional-looking options, we recommend having someone do it for you, however, doing it yourself at home is easy and far less expensive.
3. Matching Heart Sunglasses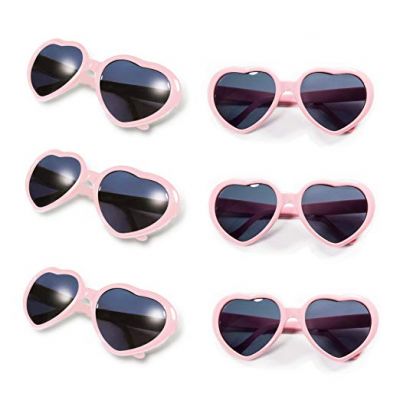 If you're planning an outdoor excursion in the middle of winter, you can guarantee that your guests are going to want to wear sunglasses and there's nothing better than being able to show your support for the bride by wearing matching sunnies. There are hundreds of different sunglass styles that you can choose from, however, we recommend heart-shaped glasses as it's quintessential to the idea of celebrating an upcoming union. All of the guests can wear the same color sunglasses, such as pink, and the bride can have her very own pair of white ones.
It's the perfect way to let everyone express their inner child meanwhile creating a cohesiveness that won't soon be forgotten on your special day.
4. Personalized Wine Tumblers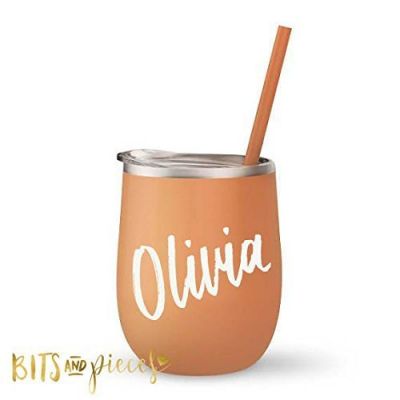 You've likely seen plenty of brides who have created their own personalized coffee mugs or water tumblers, but why not consider giving your guests their very own wine tumblers? These unique glasses are designed to keep your wine at its desired temperature and their size is equivalent to a traditional wine glass. What makes them unique is that they also have sealed lids that prevent spills and come with reusable straws to help you sip away at your favorite alcoholic beverages.
This is ideal for people who might be going to party towns or bars for a bachelorette party as you'll be able to keep an eye on your drinks while having an amazing time and staying safe. Above all else, you have complete control over customization options, which is perfect for creating a themed party favor that relates directly to your wedding.
5. Monogrammed Sun Hats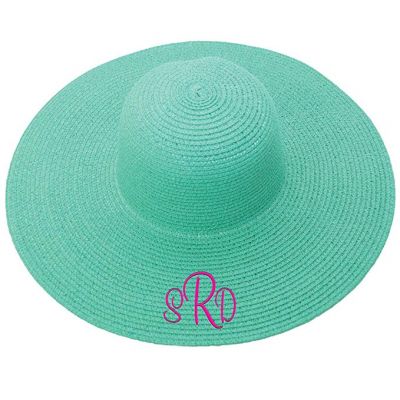 As something that has been quite popular on social media over the past few months, monogrammed sun hats are perfect for bachelorette parties that involve trips to the beach or spending a lot of time outdoors. Not only will you be protecting your guests, but you'll also be giving them something that they're sure to use and appreciate over the warmer months of the year.
When it comes to personalizing the sun hats, most people prefer to use initials, however, you can also create a custom message for each hat.
We recommend getting all of the guests a single color and then giving the bride her own white beach hat that will likely go with the outfit that she'll be wearing on her special day.
6. Hangover Kits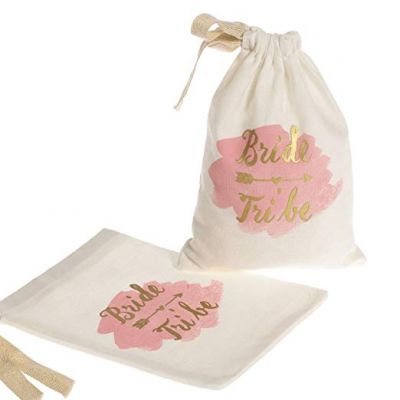 By far, the most useful bachelorette party gift on this list is the hangover kit, as you'll have the ability to help breathe life back into your partygoers at the end of the event. The best part is that you certainly won't have to spend hundreds of dollars on things to put in the bags, as most of them can be found in the dollar store. You're surely going to want to have Advil, sunglasses, breath mints, and Tums or Pepto, but you can also take it a step further and add in a skin refreshing mist to help revitalize your guests the morning after.
Final Thoughts
Finding the perfect bachelorette party favors is much easier than you think, especially as there are hundreds of different options for you to choose from. Ideally, you're going to want to choose a favor that relates to the type of party you're having, for example, sun hats wouldn't be ideal for a middle-of-winter indoor bash. The sky is the limit, all you have to do is open your mind and get a little creative!
Pin for later