10 Ethical Clothing Brands on Amazon
last updated:
Nov 18, 2019
23519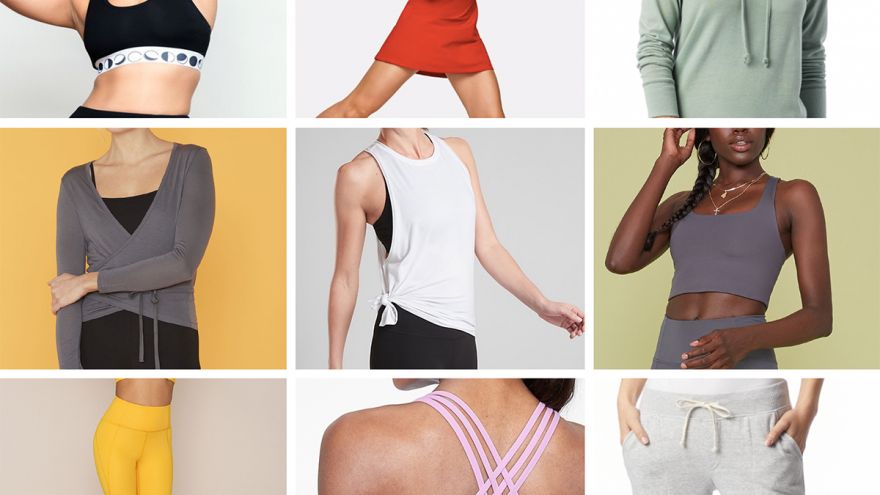 Amazon is frequently considered to be an accessible retailer to find affordable clothing; however, did you know they're also home to many sustainable clothing brands? When you're interested in choosing more ethical clothing brands, you'll want designers for every member of your family.
There are plenty of options available on Amazon that you can choose from. Ethical clothing is right around the corner with these ten unique brands.
Our 10 Favorite Brands For Ethical Fashion on Amazon!
1.

Fair Indigo
Fair Indigo is one of the most significant ethical clothing brands on Amazon in its entirety. With a primary focus on women's fashion, all of their pieces are made from high-quality organic materials.
You can also guarantee the clothing is made in regulated factories and will arrive in the highest quality possible. What we love the most about this brand is they seemingly have everything for the everyday woman.
Their collection of business casual clothing is by far the most impressive, as you can find anything from dress socks to beautiful blazers.
They also carry an extensive selection of loungewear and casual items, such as leggings, pajama shorts, and t-shirts.
With that said, as the clothing is ethically sourced, designed, and manufactured, it is also likely to be a little more expensive.
If quality is what you're looking for above all else, we highly recommend Fair Indigo for womenswear. Some of our favorite pieces include:
Modern Mini Dress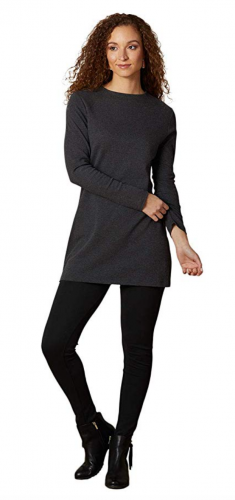 Perfect for absolutely any occasion, this mini dress can be worn on its own or paired with a pair of organic leggings from the same designer.
Made from 100% Pima organic cotton, the dress feels incredibly soft against the skin. Similar to the designer's other pieces, this dress comes from a fair trade workshop with the use of Oeko-tex certified dyes.
Interlock Ringer Tee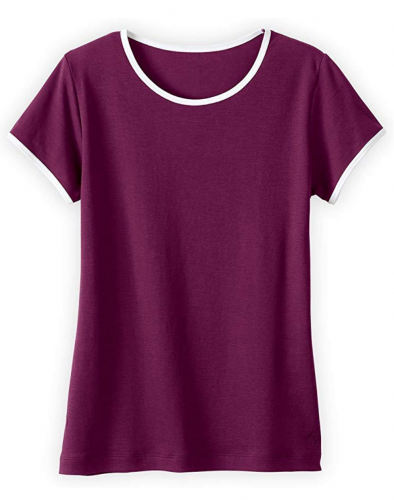 You can't go wrong with a fashionable t-shirt that you can pair with a skirt or a pair of jeans. The Interlock Ringer Tee fits comfortably on any body type and is from 100% organic Pima cotton.
With five unique colors to choose from, you'll be able to find the perfect shirt for any outfit.
Organic Lounge Pants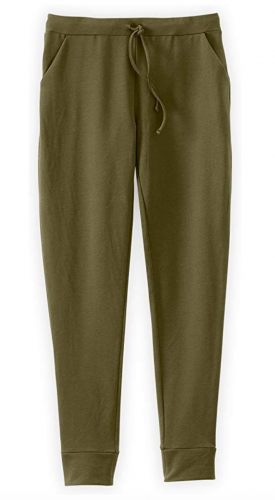 If you're searching for a comfy pair of pants to put to good use, we highly recommend these lounge pants. With a combination of 97% organic cotton and 3% spandex, they are very comfortable for all-day wear.
Crafted with Oeko-tex certified dyes that are free from chemicals and in a free trade workshop, this ethical joggers will become your favorite.
2.

Cat & Dogma
There's nothing more important than having safe clothing for babies and toddlers. Cat & Dogma is another ethical clothing brand on Amazon that focuses on younger generations.
With an assortment of onesies, pants, bodysuits, and accessories, you can dress your children in ethical clothing as well. One of the things you'll love the most about the brand is how modern their designs are.
With a high-fashion approach to children's clothing, you'll fall in love with the adorable, fresh, and youthful prints on their rompers, hats, and bodysuits.
The materials used to construct the pieces are also top-tier, as most are 100% organic cotton. Each of the items seems to have a personality of their own.
You'll find their design is what makes them unique and a fantastic option for all of your children.
A few of our favorite pieces from Cat & Dogma include:
Organic Jumpers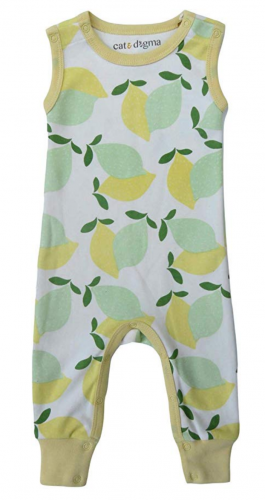 Also known as rompers, the Organic Jumpers from this brand are spectacular. Available with adorable tropical prints, they're fantastic unisex options for all children.
This feature is especially true for kids with sensitive skin, as the soft material will envelop them in comfort.
Long Sleeve Baby Hoodie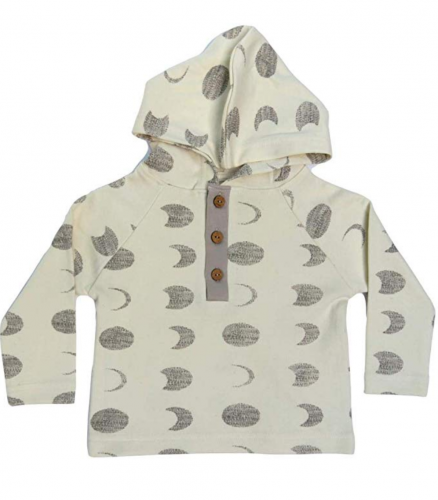 With the colder weather approaching, baby hoodies are great to have on hand. This design from Cat & Dogma features the moon in its different phases and is 100% organic cotton.
Created in India, this piece meets GOTS (Global Organic Textile Standard) regulations from seed to shelf.
Unisex Baby Pants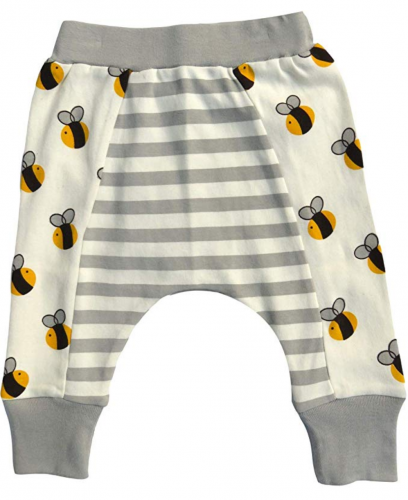 The final piece we fell in love with is these phenomenal baby pants. Crafted with great attention to detail, they have the softness you'd expect from organic cotton, as well as a tagless label.
Similar to the other pieces from the brand, they meet GOTS regulations.
3.

Satva
You can typically find activewear from numerous brands, but their products certainly aren't ethical.
Satva believes that you deserve to own clothing that not only feels good on your body, but that makes you feel good about what you're wearing as well.
With their ethical activewear line, there is an assortment of products you can find. These pieces include workout leggings, capris, camisoles, t-shirts, bras, and more. Anything you could need for the gym or everyday wear is available from this brand.
The majority of items available from Satva are crafted using organic cotton. The pieces are also developed in facilities that are GOTS Certified.
With this certification, you can guarantee the clothing is ethically made from the seeds that grow the cotton to the sewing that goes into each pair of leggings. Also, the workers who develop clothes are all paid decent and fair wages.
A few of the best pieces from Satva include:
Scoop Neck T-Shirt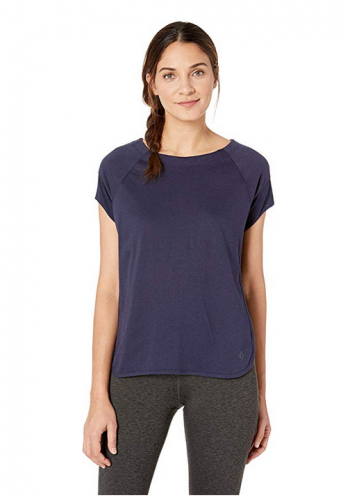 What you'll love about this shirt is that it works both as a workout tee or as an everyday shirt to pair with your favorite leggings.
Constructed from 60% organic cotton and 40% modal jersey, it is designed to fit on every body type. It feels incredibly lightweight and has exceptional breathability for hot weather.
Mid Rise Tashi Yoga Leggings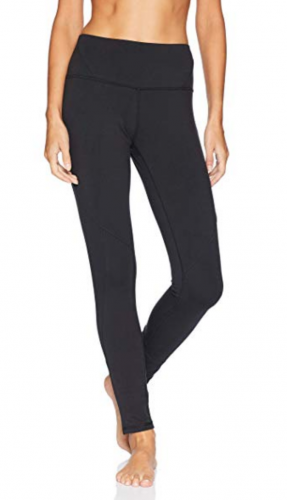 Designed for yoga but wearable for all occasions, these mid-rise pants will quickly become your favorite. Available in three colors, they are 95% organic cotton and 5% lycra for optimal flexibility.
When you put them on for the first time, you'll love how the material adapts to your curves for a slim and soft fit.
Cross Back Sports

Bra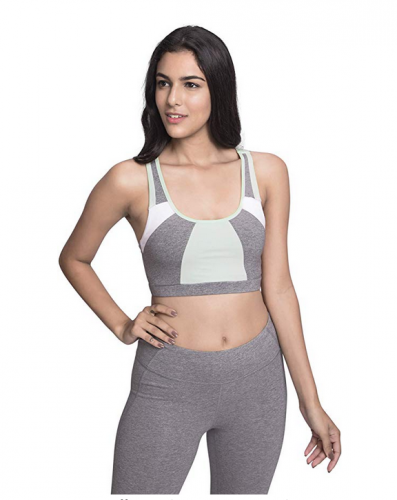 Activewear wouldn't be the same without an assortment of bras, which Satva has to offer. Their cross back sports bra is an excellent choice for working out, as it has a lot of support.
The materials used to manufacture the piece are non-toxic and organic, with low-impact dyes used.
4.

Asher & Olivia
As another phenomenal children's clothing brand, Asher & Olivia takes pride in making unique and comfortable garments made from sustainable materials.
You'll find that the majority of their products are soft and cozy pajamas or loungewear for kids, which is perfect for the upcoming colder weather.
With more modern and eclectic designs that many other brands you'd find in-store, they're a great way to accentuate your kids' personalities.
Our favorite items from Asher & Olivia include:
Hooded Jumpsuit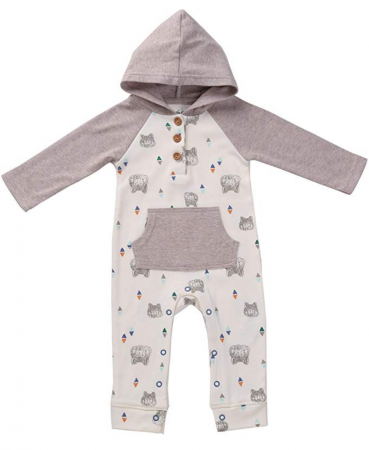 This adorable hooded jumpsuit is perfect for any occasion, especially if you want to bundle your toddler up and make sure they're warm and cozy. With two different prints, you can find the perfect aesthetic that your kids will love.
Crafted from 100% premium cotton, their clothes are luxurious, made in fair-trade facilities, and don't contain harmful dyes.
Baby Kimono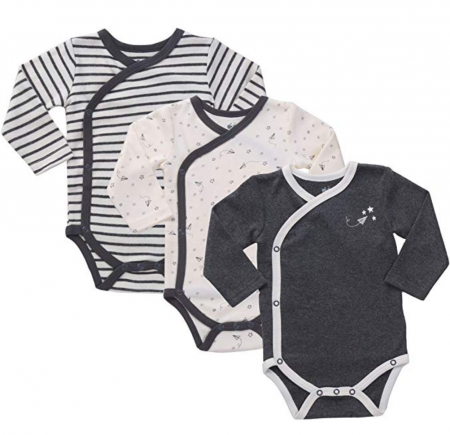 Also known as onesies, these adorable baby kimonos are unisex and come in a pack of three. We especially love the youthful and modern design of paper airplanes on the front that will suit the style of any baby.
Similar to the jumpsuit, these kimonos are also made from 100% premium cotton without the use of harmful dyes.
5.

Sundried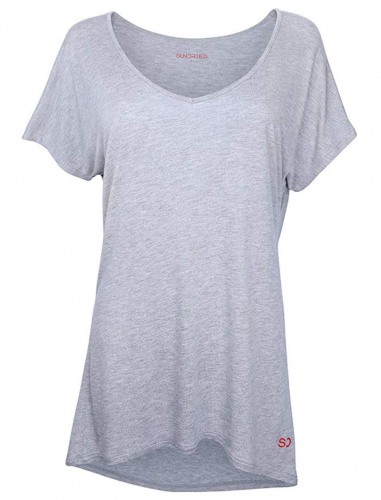 We were surprised to find another ethical clothing brand that specialized in workout gear when we came across Sundried.
They are seemingly expanded their product range to include more ethically made products, but their yoga t-shirt is by far the most impressive.
Compared to other ethical clothing brands that use organic materials, the items used to create this shirt are quite remarkable.
By taking 100% recycled coffee grounds and recycled plastic, the Sundried Grivola Tee has everything you'd expect from a comfortable workout shirt.
It helps to control body odor, stays dry through hot yoga, and blocks UV rays when worn. You'll also find it has an incredibly comfortable and breathable feeling against your skin.
6.

Fishers Finery
When you start shopping around for sustainable clothing brands, you'll want to choose companies that have a wide array of products.
Fishers Finery has an extensive product list ranging from yoga clothing for women and children to business apparel.
They even carry accessories such as scarves and travel kits, though their clothing is the most sustainable aspect of their products.
Our favorite items from Fishers Finery include:
Ecofabric Ponte Dress Pants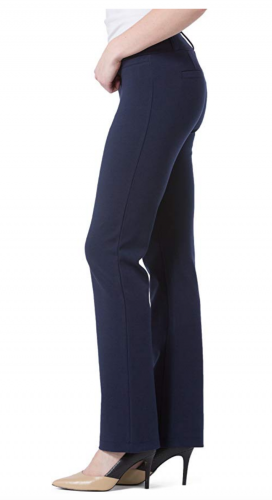 With four colors to choose from, these dress pants are great for any formal occasion. You can also pair them with a casual blouse for an everyday work outfit.
Made from 20% organic cotton, 27% polyester, and 8% spandex, it's high quality and comfortable for any body type to wear.
Tranquil Dreams Nightgo

wn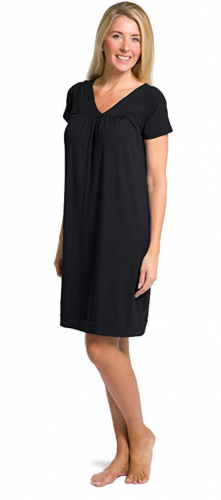 Designed originally for their maternity line, this nightgown can be worn by anyone searching for a breathable, lightweight, and comfortable item to sleep in.
Crafted using bamboo-derived viscose and organic cotton, the sustainable fabrics used to create this nightgown are what help to make it as luxurious and comfortable as it is.
7.

Zanerobe
As more of a high-fashion brand for men that you'll find on Amazon, Zanerobe has plenty of streetwear pieces that you'll love to get your hands on.
The most notable thing about the brand is that they understand the impact they have on the environment with their manufacturing practices.
Each item they create uses low-impact fabrics that are much kinder on the planet. They also spend a lot of resources sourcing eco-friendly materials to help promote healthier cultivation and designing.
Our favorite fashionable pieces from Zanerobe include:
Classic Elongated Flintlock Tee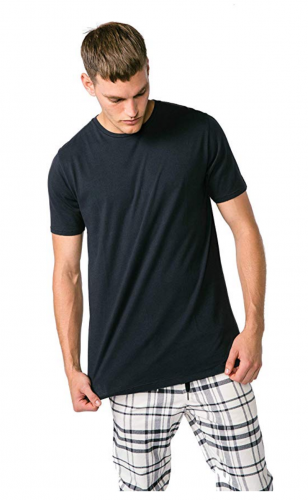 Available in multiple colors and prints, this shirt is designed for the everyday guy who still wants to look phenomenal for any occasion.
Made from 100% pure cotton, you'll feel comfortable in any season. It's also easy to wear as it features split sides that contribute to a more modern aesthetic.
Classic Athletic Fit Sureshot Joggers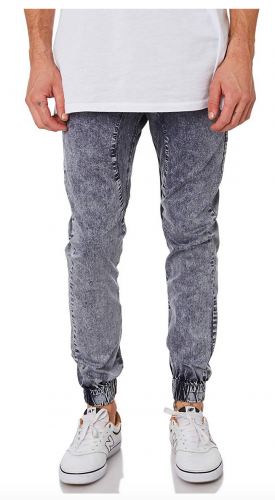 With a pair of joggers that are just as comfortable for lounging as running errands, these pants are very versatile.
They'll likely become one of your most-used staples in your closet as they're relaxed and made from 98% organic cotton.
8.

Tropic Bliss
Whether you're going on vacation or looking for unique items for everyday wear, Tropic Bliss is a unique, sustainable clothing brand.
With a very bohemian aesthetic that they stick to, every piece is made in their workshop in northern Thailand.
Known as one of the best fair trade companies to buy from online, you can guarantee you're purchasing a product from a front runner in the fashion industry.
Each worker is proven to make fair wages, and the materials used to craft the garments are eco-friendly.
The best pieces from Tropic Bliss include:
Handmade Crochet Top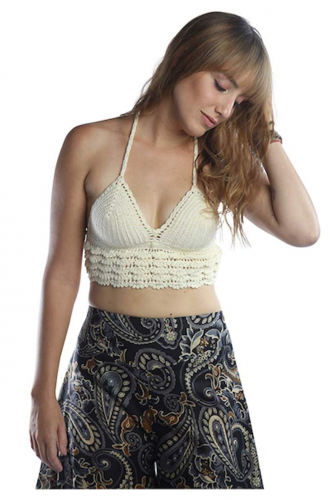 Crochet tops are all the rage because they have a beautiful feminine aesthetic. This particular top is entirely handmade using 100% cotton and the closest attention to detail.
With a comfortable and classic bohemian style, this fair trade piece is perfect for multiple occasions.
Wide Leg Palazzo Pants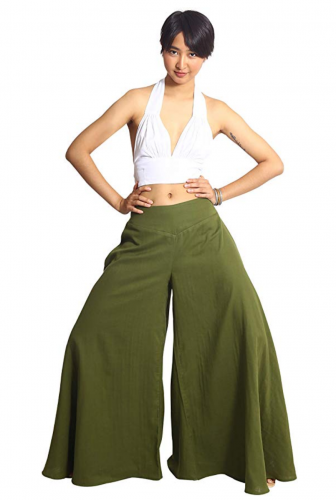 Also made from 100% cotton, these palazzo pants are something that will quickly become your favorite. The high waist will show off your most feminine features, and they're available in sizes from XS to XXL.
The extra soft and breathable material is fantastic for the summer, but it also warm enough for the fall and early winter as well.
9.

NEVA
NEVA is a brand that you've likely seen in Shape Magazine and Yoga Magazine. It's also commonly talked about on Refinery29 as one of the most interesting eco-friendly brands emerging onto the market.
Each of their pieces is designed to be for high-performance activities, such as sweaty workouts, without using harmful fabrics and dyes.
You'll also find their pieces are made in the United States, which helps to ensure the artisans earn fair wages.
Our favorite pieces from NEVA include:
Racerback Tank Top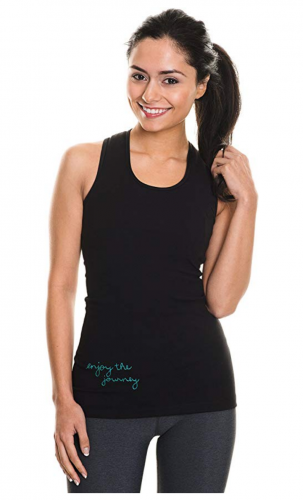 With the ability to be comfortable and supportive at the same time, this racerback is fantastic for yoga, running, or even strength training.
Made from 88% polyester and 12% spandex, you'll find the moisture-wicking properties of this shirt are unmatched.
You can also have a personalized message hand-embroidered by one of the artisans for a more custom touch.
Compression Leggings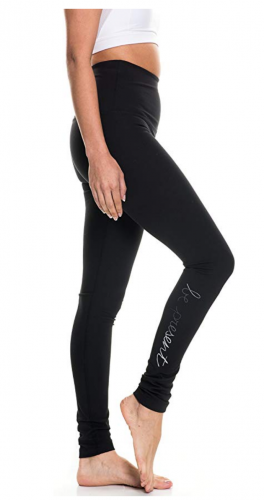 The stunning high waist on these pants helps to make them far more comfortable, as they move with you. Similar to the racerback, you can also opt to have a hand-embroidered message added to the pant leg for extra motivation.
The moisture-wicking compression fabric is soft against the skin and perfect for everyday activities.
10.

Synergy Clothing
The final sustainable clothing brand we'll review is Synergy Clothing, as they have plenty of exciting products to consider.
Within the brand, they create ethical and environmentally-friendly apparel for women using purely organic materials.
Their designs are classic and timeless, which makes them easily adaptable to any generation. If you're searching for casual to formal eco-friendly clothing, this is undoubtedly a brand to consider.
The most exciting pieces from Synergy Clothing include:
Hug Me Vest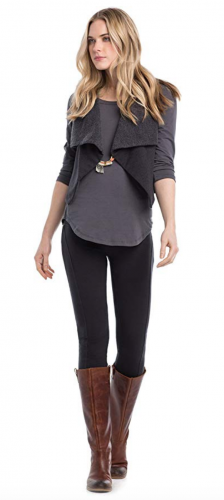 Finishing your outfit with a vest is a fantastic modern touch that you'll surely get a lot of compliments on.
Made from an incredibly soft organic cotton and recycled poly fleece, this eco-friendly vest feels just as high-quality as it looks.
You'll also love how it's from a GOTS-certified factory in India.
Petal Skirt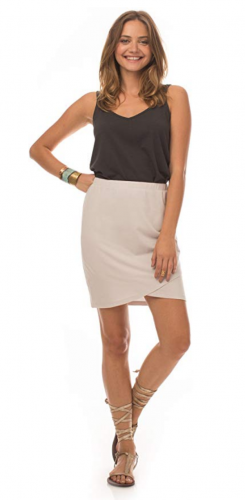 Created from rich organic cotton with an elastic closure, this eco-friendly skirt is perfect for dates, casual events, or even work.
Similar to the vest, this skirt is crafted with the help of recycled materials, making it incredibly safe for the environment.
Finally…
Finding ethical clothing brands is a great way to give back to the planet, especially as someone conscious of the importance of Earth.
There are plenty of sustainable clothing brands you can find online, whether you need items for yourself or your kids.
Pin for later