This product is listed here: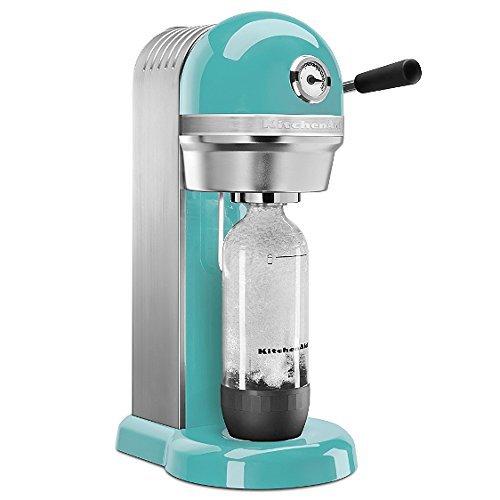 KitchenAid Sparkling Beverage Maker
Summer is peeping in, and the weather is certainly going to be hot. As much as cold drinks become part of the season, fizzy ones work way better.
These drinks have a higher chance of quenching thirst and spicing up one's favorite beverage. But, that does not necessarily mean making trips to the store to stock up on fizzy drinks.
If your friends and family love this kind of drinks, then why not get this Kitchen Aid Sparkling Beverage Maker as a gift? They can enjoy making their fizzy drinks in the comfort of their home in minutes.
The gift can work well on any occasion in mind.
Detailed information about KitchenAid Sparkling Beverage Maker
It is pretty easy to use. The item works by fizzing up any drink of your choice just by rolling the carbonation lever.
The bottle containing the beverage goes at the bottom where the opening corks straight into the carbonation chamber.
Filling the container with water, pressing down the carbonation chamber and adding a suitable flavor is enough to prepare a fizzy drink.
The quality of this beverage maker is outstanding. The premium die-cast metal construction ensures it will last a long time and it will retain the quality.
The carbonation lever has a soft grip handle for easy use. Also, it has four settings to adjust how much fizz is needed for the beverage.
There are over 60 flavors from SodaStream for the fizzy drinks. The package includes a 60l CO2 tank and a one liter BPA free reusable bottle.