This product is listed here: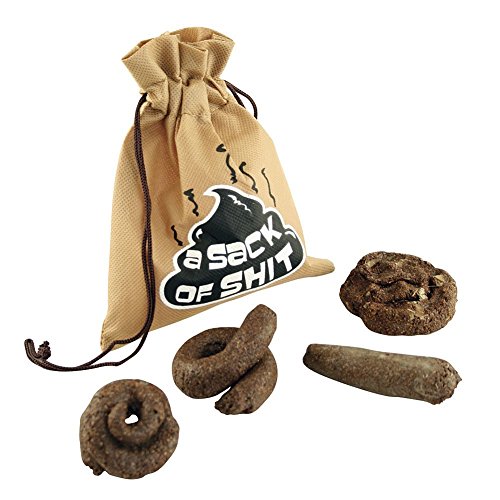 Island Dogs A Sack of Shit
The perfect gag gift for your BFF with fantastically macabre and morbid sense of humor, or maybe a prank on your one of your enemies, you decide! How you choose to use this delightfully disgusting bit of fun is totally up to you, but you just know that it will be hysterical either way!
Who would imagine that you could have this much fun with a sack of dog shit?!? Invited to a gathering at a pretentious acquaintance's home? How about dropping one of these little gems in a totally inappropriate place!
Detailed information about Island Dogs A Sack of Shit
That will definitely take all of the stuffiness out of the evening! If you were really cruel you could even drop one in the punch bowl, but that just might be a step too far!
The list of uses for this grossly comical item is endless and only limited by your imagination and your sense of propriety! However, if you would do anything for a laugh, then the sky is the limit and this is definitely the item for you!
WHY WE LIKE IT?
Made of a realistic wood composite material
Comes in a descriptively accurate and attractive bag
Is delivered with four different styles of poop, from "log" poop to diarrhea patties
WHY WE dont LIKE IT?
None
What we love about this product
This gift is perfect for those with a crazy sense of humor, for those family members that just love to mess with you. This Sack of Shit can go both ways used as a gift for that specific family member, or you can finally get that sweet revenge for all those times they messed with you. That's why we love this gift, its all in great fun!