This product is listed here: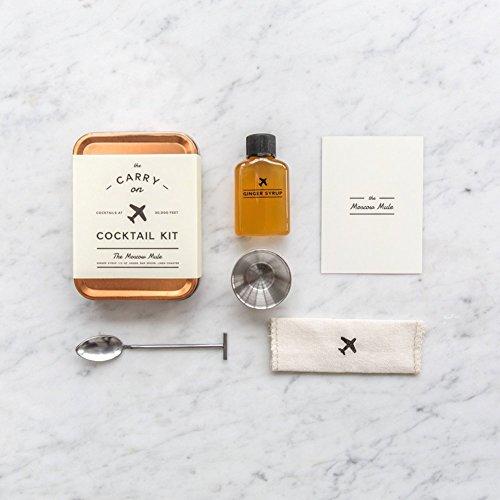 The Carry On Cocktail Kit
Traveling, especially when it's for work, can sometimes be a bore. Long plane rides can be exhausting and stressful. That's why it's imperative for travelers to have something to offset the plane-ride-blues. If you're shopping for the perfect unique and uplifting gift for a traveler, look no further than the Carry On Cocktail Kit!
Detailed information about The Carry On Cocktail Kit
Oftentimes, a flavorful cocktail is just the thing to ease the uncomfortableness of flying. The airline might provide the basics, but with the Cocktail Kit, a traveler can make their own tasty drinks to spice things up. The idea is to order a base drink from the plane (for example, Champagne or gin), and use it to make a personalized DIY cocktail with the kit.
This particular kit comes with instructions on how to make a Moscow Mule with a touch of bold ginger syrup to taste. The traveler won't have to worry about making a mess; the kit comes with a spoon for mixing, a ½ ounce jigger for drinking, and a linen cloth to act as a coaster.