This product is listed here: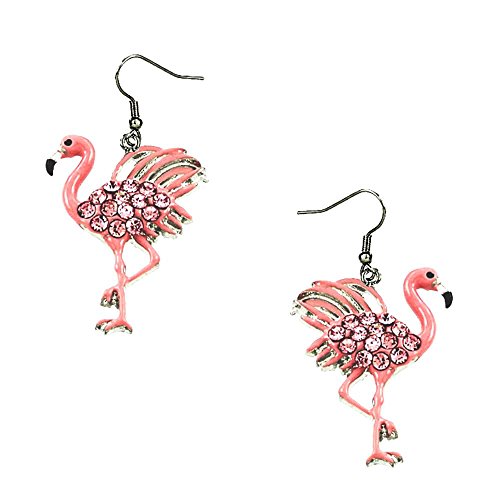 DianaL Boutique Pink Flamingo Earrings
Lately, flamingo-themed gifts have taken over, and now they have a bit of moment with nearly everyone. Besides, it is simply hard not to love anything with a flamingo theme or print on it.
They are perhaps some of the most fabulous bird breeds in existence. They are cute, with notable pink feathers, S-shaped neck, stilt-like legs, not forgetting their graceful movements.
Have a bird enthusiast in your life or someone whose personality is graceful and brave as that of a flamingo? If you do, then we are pretty sure that they will adore these whimsical pink flamingo earrings by Dianal Boutique.
Whether the intended recipient of these lovely flamingo inspired piece of jewelry is your teenage daughter, wife, girlfriend, wife, sister, or a special friend, she will certainly stand tall and make a statement when she adorns them.
Detailed information about DianaL Boutique Pink Flamingo Earrings
These earrings are femininely cute. As mentioned, they are versatile, and they can be accessorized with nearly any outfit.
A pair of lovely, quirky earrings can make all the difference and even negate bad hair days. These flamingo earrings will never go unnoticed.
They measure approximately 1 ¼" long, and they are quite light and will add a touch of sparkle and color to your look and elevate your outfit.
WHY WE LIKE IT?
Flamingo themed earrings made of enameled crystal
They a feature a nice whimsical design
They can be accessorized with any casual outfit
Come packaged in a nice gift box
WHY WE dont LIKE IT?
None
What we love about this product
These colorful earrings are handmade and hand painted with attention to details. Made of enameled crystal, they're not only durable but also provide unprecedented comfort when worn and are completely safe on the skin.