This product is listed here: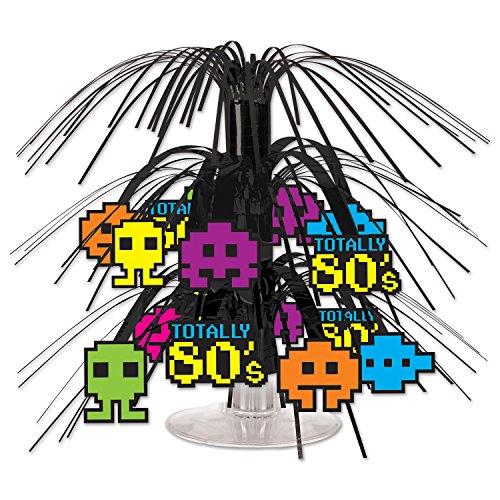 Beistle 80's Mini Cascade Centerpiece
On the hunt for a cool centrepiece that really shows off the 80s theme you are going for? The Mini Cascade is sure to draw complements from on lookers. This 80s theme centrepiece is great value for money and is made from metallic strands and board stock. The plastic base will keep it flat. It's about 7.5 inches tall. This is also a super gift for retro game lovers and computer enthusiasts. This multi-coloured centrepiece is sure to attract the gaze of your guests. These little space invaders were one of the most popular gaming characters during the 80s and it would be hard to find anyone in that generation who cannot relate to it.
Detailed information about Beistle 80's Mini Cascade Centerpiece
This piece is ideally suited for gaming themed parties or even simply 80s themed birthdays & events. It will go well with other 80s décor like wall hangings and will remind folks of the good old arcade gaming days. You can also use it for a 80s themed wedding as well. This high quality table décor can also be used for Christmas & even 80s themed Halloween. Another way to use it would be as a centrepiece of your cake You can even follow it up with some Teenage Mutant Ninja Turtles or Back to the future with pizza and really top off a 80s occasion.