This product is listed here: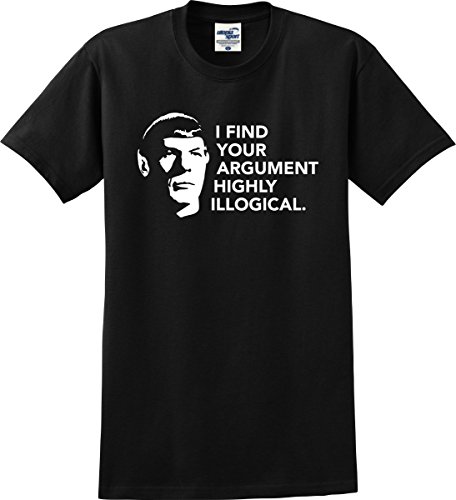 Star Trek Spock I Find Your Argument Highly Illogical Tee
In the world, as we know it today, only a few things from the past have endured the test of time – the Stonehenge, paper and of course, Star Trek. If you have not seen a single episode of Star Trek or have no idea what it is, it is a very popular hyperspace technology series featuring humanoids and other alien species in a futuristic timeline. It has been popular since the 1960s as an American TV series and was then turned into a movie series in the following years due to extremely popular demand.
For the past few decades, many Star Trek novelty items were introduced globally, which really amplified the number of Star Trek-themed collector's items you can get your hands on. And while Star Trek novelty items such as character figurines and mugs have been all the rage, clothing has also been a big contender because everyone wears them and you can show everyone just how much of a Trekkie you are while sporting said outfit. So it is no surprise to us that this witty shirt featuring the fierce face of Spock with the saying "I Find Your Argument Highly Illogical Funny" will be a big hit to fans of the series.
Detailed information about Star Trek Spock I Find Your Argument Highly Illogical Tee
We all knew Spock as one of the main characters in Star Trek who was half-Vulcan and half-human. He was described as the "center of Star Trek's optimistic, inclusive vision of humanity's future". Fan or not, you will definitely recognize his famous look.
This serious but funny shirt is very comfortable to wear like most t-shirts. It is designed and printed by Utopia Sports in the United States and is made with 100% high quality preshrunk cotton and is screen printed to give you a crisp, clear image of Spock and the famous quote.
WHY WE LIKE IT?
Made with 100% preshrunk cotton
Features Spock, one of the most popular characters in the series
Comfortable to wear
Suits both men and women
WHY WE dont LIKE IT?
None
What we love about this product
Such a gift can't be forgotten easily with its relatability and the fact that they can wear them with either jeans, shorts or whatever your recipient pleases is a big plus.