This product is listed here: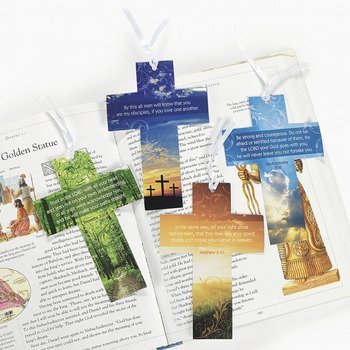 48 Pack Cross Bookmarks W/ Photography and Verse
In search of the perfect, simple gift you can give to a large group of people? Maybe you have a large family, or perhaps you teach a Sunday School class? No matter the group, these cross bookmarks make for a wonderful gift. This item comes with an incredible 48 bookmarks that you will be able to give to so many people- friends, family, students, you name it!
These bookmarks are in the shape of a cross and are complete with a beautiful photograph and a bible verse. Each pack will have a variety of images and verses so you can choose the perfect ones based on who you are giving them to.
Detailed information about 48 Pack Cross Bookmarks W/ Photography and Verse
Are you hosting or helping out at a Vacation Bible School? These make the perfect gift for all the students who will be there! Alternatively, they make a great addition to a gift bag at any party or to give out as a prize for winning a contest.
These bookmarks are 6 inches tall and 4 inches wide. Complete with a white ribbon attached at the top, these are also very practical bookmarks that will easily mark the place in any book or in the Bible.