This product is listed here: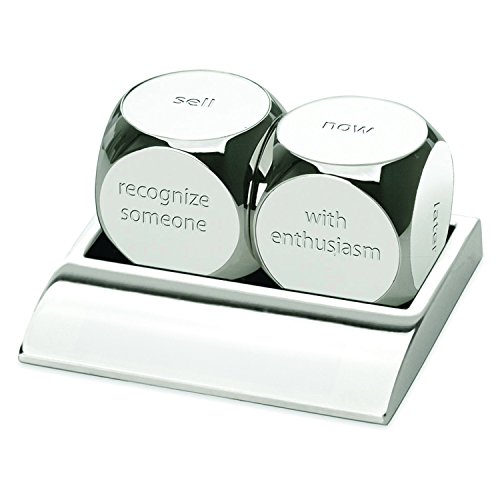 3-in-1 Executive Decision Dice Set
This executive dice decision-making set is an interesting novelty gift for the boss or any exec on your list. Nice looking and fun, this office gift would look right at home on any desk. This novel set of decision-making dice will definitely be a fun conversation piece in the office setting. Each of the six sides has something different engraved on it and both dice are different.
Detailed information about 3-in-1 Executive Decision Dice Set
Roll the dice, put the two words together and there you have it! Decision making has never been this easy. Die number one has "Sell, Buy, Set A Goal, Take a Break, Recognize Someone, and Make a Change" engraved on the sides, and die number two has "With Enthusiasm, With Confidence, Now, Later, Maybe, and Tomorrow" engraved on it. Any weighty decisions can be made with ease (hopefully nothing too important!), and if nothing else, these dice are a fun way to break the ice with employees, coworkers and customers alike.
Each die, as well as the base, are made of nickel that has been highly polished to a flawless shine. The base is also lined with felt to keep the dice safe and secure and minimize scratching.
WHY WE LIKE IT?
Beautiful highly polished nickel finish on both of the dice as well as the base
Perfect size and weight to use as a paperweight
Novel gift and great conversation starter
WHY WE dont LIKE IT?
None
What we love about this product
Even if they are not the most reliable tool to use for those big decisions, these dice are definitely a fun and novel "toy" to keep around the office just for a few laughs, and they would make a great gift for anyone who needs a little bit of fun at work.