This product is listed here: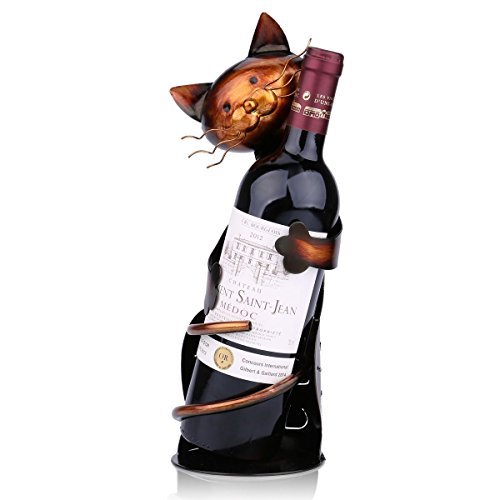 Tooarts Cat Shaped Wine Holder
This cat shaped wine holder by Tooarts will make a cat lover out of anyone. It's adorably cute and the cat seems to be holding tightly to the holder with the cutest stubborn cat face that clearly seems to say the wine is mine. Would you take the wine away from him?
It will not only make a great display on any space, whether in the living room or on the kitchen countertop, but it will also make a fitting gift to a cat lover in your life. This is a unique wine holder, not the common ones you are likely to come across in most homes or places.
Detailed information about Tooarts Cat Shaped Wine Holder
Perhaps it's the unique art and the most adorable depiction of a cat adamantly holding onto the holder that gives this holder a special touch and makes it stand out. But whichever the case, it displays a great sense of art with articulated creativity.
The designer makes this a beautiful piece of art by including a lovely cat slanting its head in a gesture, tightly embracing the bottle with its claws which actually looks really cute. This would certainly look pretty cool when used as home decoration and as a wine holder as well.
This is a great piece of decoration and will look fantastic wherever it's displayed. It can be used as a décor piece in the indoors, outdoors, kitchen, cabinet, restaurant and even in the bar. It will without a doubt become a great conversation starter and an object of admiration to anyone who comes across it.
WHY WE LIKE IT?
Beautifully sculptured wine bottle holder
Doubles up as practical wine bottle holder and a decoration piece
Made of high-quality materials, stable and firm
WHY WE dont LIKE IT?
None
What we love about this product
This is a functional wine holder handmade and metal carved through excellent craftsmanship with lots of creativity. It is heavy and has a firm hold to ensure that the bottle stays in place without any chance of falling or toppling over. It offers steady and balanced storage for a bottle and enables one to reach for it with ease.