This product is listed here: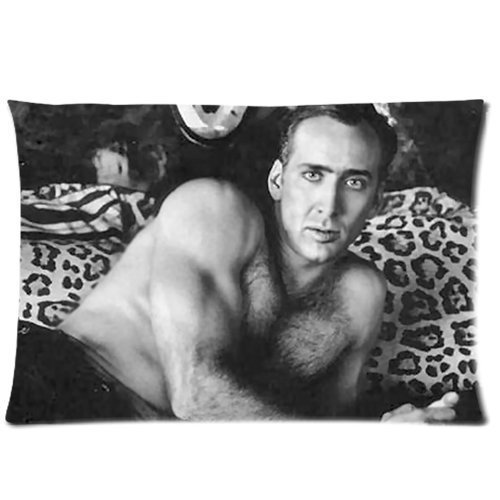 Nicolas Cage Pillowcase
Have you ever wondered how you can go about getting a customized photograph onto a pillowcase? This company Weitengs will either provide a pillowcase with a blown-up photograph of Nicolas Cage sprawling over his bed or will print on a pillowcase from any photograph you send them. If you go down the customized photo pillowcase route then all they ask is for a photo in as high definition as possible and anyway not smaller than 1000 pixels.
The pillowcase is made from fabric 50% cotton and 50% polyester. It is easily cleaned just like any other bed linen so Nicolas will continue to be bright as a button.
Detailed information about Nicolas Cage Pillowcase
We are sure you can come up with some other combinations of celebrities to sleep with, the choice is endless. This would be a fun gift to give to someone for Christmas. Maybe your husband wouldn't like to sleep with Nicolas Cage but you can surely think of someone else to liven up bedtime!
Give as a birthday gift, Valentine's gift or an anniversary gift. Why not just buy a set of printed bedlinen when yours has started to wear out. Give a pillowcase to your son or daughter (you choose the celebrity) or give one to your husband. The combinations are almost endless and will raise a smile and a laugh when the bed linen is changed.
WHY WE LIKE IT?
Made from equal parts polyester and cotton to give a soft and comfortable pillowcase
Whether you love Mr. Cage or hate him, you can certainly find a use for this pillowcase
If you want to use your own photo then that is cool as well, the company will transfer your photo onto the pillowcase instead of Mr Cage
WHY WE dont LIKE IT?
None
What we love about this product
This is really the ultimate in customizable bed linen as well as the perfect funny gift for a loved one.