This product is listed here: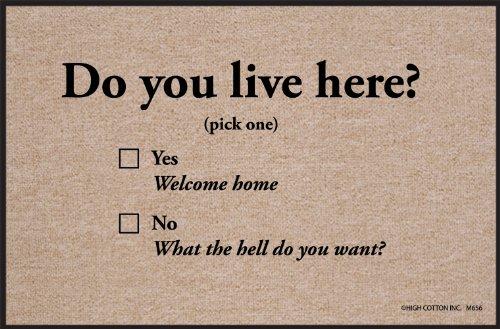 High Cotton "Do You Live Here" Doormat
What's better than a doormat? A humorous doormat! High Cotton has created the hilarious Do You Live Here? Doormat. It's the perfect combination of wit and humor. High Cotton's doormat features the question "Do you live here?" across the top with two checkboxes below it. The first checkbox says "Yes" and "Welcome home" below it. The second checkbox says "No" and "What the hell do you want?" Sarcastically humorous this doormat is great at cheering anyone that sees it.
Detailed information about High Cotton "Do You Live Here" Doormat
It can be used both indoors and outdoors and adds a nice touch to any house. Made of Olefin, the mat is lightweight and can be used to rub dirt off shoes as well as dry them. It can also be cleaned easily with an outdoor hose. However, it is appreciated more for its humor than its function. If you know someone that appreciates this kind of humor, then the Do You Live Here? Doormat is a fabulous gift. But not only that, anyone that comes to pay the house a call; friends, delivery men, girl scouts, they'll all get a kick out of the doormat. As long as no one takes it seriously, it's a total riot! Teenagers especially get a kick out of it. Give it as a gift to a teen and they can place it outside their room door. It helps to make their room seem like a more private space along with making it seem like they have more control over that space.