This product is listed here: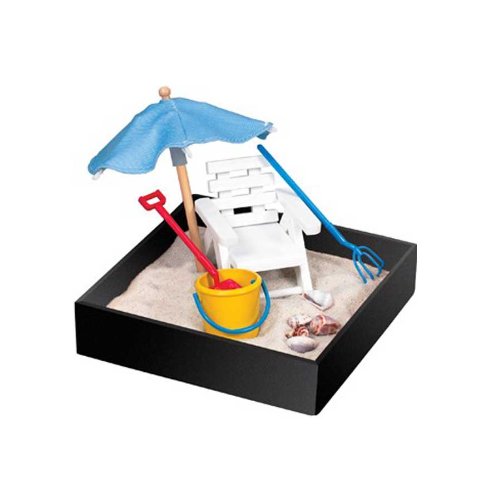 Executive Mini Sandbox
It's with no doubt that the beach is most people's favorite. But, how often does one take a trip to spend quality time on the beach? With the usual hassles of daily life, this might not work now and then. But, one can keep a small piece to represent their love for the beach.
How about gifting someone this mini sandbox with the view of a beach? It is designed to give an illusion of beach life with some of the usual stuff you would find on a beach. This makes a unique gift for people that love to travel and spend time by the beach.
Detailed information about Executive Mini Sandbox
The mini sandbox measures approximately 5 inches by 5 inches. It is designed to work as a decorative piece for an office desk, shelf, or coffee table. The details of the piece represent the real picture of a beach. The package has a plastic tray which holds the pearl white sand, a sand pail, a grooming rake and a digging shovel. Also included are mini sea shells a sand umbrella and a beach chair.
The sandbox can work well in any space such as the office, a living room, reception coffee table, etc. It can be an excellent relaxation tool for guests or anyone when used on a desk. The good thing is that it matches well with other beach theme décor pieces as well as any decorations. It can be a suitable gift for family and friends.