This product is listed here: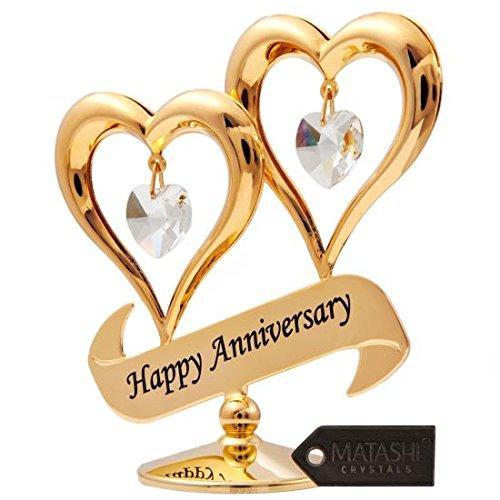 Double Heart Gold Ornament
If you need an incredible anniversary gift, this is a wonderful choice from Matashi! It is a beautiful tabletop decoration that really does make a lovely gift. The ornament features 2 elegant-looking hearts. The hearts are placed side-by-side. One heart is stacked slightly higher than the other. Below the hearts is a very nice, solid banner that goes across the bottom of the ornament. A lovely, circular base holds the ornament steadily in place on the surface of your choosing. The entire thing is plated in stunning 24K yellow gold.
Detailed information about Double Heart Gold Ornament
To add a really wonderful touch to the table-top ornament, there is a precious, Matashi crystal hanging from the center of each one of the hearts. Each Matashi crystal has a lovely heart cut to it that compliments the ornament perfectly. For the perfect finishing touch to the whole thing, the words, "Happy Anniversary" are placed in elegant font across the golden banner at the bottom of the ornament. This is a very high-quality ornament that makes a perfect Anniversary gift! The gold and crystal are a very nice combination that creates a high-end gift perfect for your partner!