This product is listed here: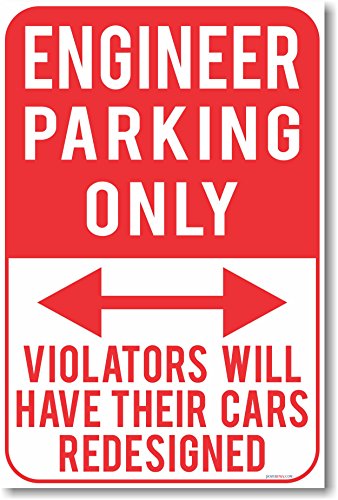 Engineer Parking Only – NEW Humor Poster
For those of us who have to drive their car to work, parking is always a problem unless a reserved parking space is available. With this gag poster gift, the days of hoping that a parking place will be available every morning will be over! The owner of this fun and humorous poster will be able to make a DIY reserved parking spot. All that is needed is a picture frame and glass or plastic laminate the paper so it won't become wet (be careful, because the words are so good the poster might end up being stolen and used by someone else). This poster bears the words "ENGINEER PARKING ONLY. VIOLATORS WILL HAVE THEIR CARS REDESIGNED".
Detailed information about Engineer Parking Only – NEW Humor Poster
Buy this gag gift for the engineer in your life. It could be your husband or wife, son or daughter, father or mother. Whoever it is will really appreciate this sentiment and will try to think how they can enforce it. If it is really difficult to use this at work or college then why not try it at home.
Most homes these days that have grown up children have more than one car but there is often not enough room on the driveway for the number of cars in the family. This gift provides a simple solution to the parking problem in your house. Just get the poster plastic laminated and place wherever the reserved parking place is needed.
WHY WE LIKE IT?
This is a fun poster designed to lighten up a very serious situation: Not enough room to park the car
The poster is printed in bold colors and with a very readable font
The poster is large enough to be seen but small enough to prevent complaints from neighbors if used at home
This product is shipped worldwide in strong and heavy duty cardboard tubes
WHY WE dont LIKE IT?
A poster is very limited in its applications. It would have been better if it was an aluminum wall plaque instead
What we love about this product
The words on this poster will strike into the hearts of those who may try to steal an engineer's parking place and violate the principle of "This is my parking place, go find your own".