This product is listed here: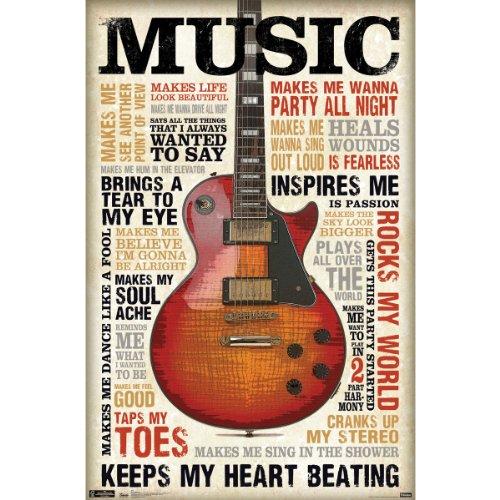 Music Inspires Me Wall Poster
The Music Inspires Me by Trendy International is a great supplement to a musician's studio.
Detailed information about Music Inspires Me Wall Poster
Wall posters are very trendy and easy to fit into any space. If you are currently on the hunt for one, opt for deep and rich colors to perfectly accent any areas such as dorm rooms, studios and living spaces. Plus, if you also need to find that perfect and affordable gift for that musician in your life, look no further.
The Music Inspires Me by Trendy International is a great supplement to a musician's studio.
It is a great way to spruce up the walls while expressing appreciation and love for music. The 22" x 34" size fits nicely into a big frame and displays a clean, crisp picture quality. Even if your artist is not really a frame person, you can always have him/her get some plywood and create a one of a kind casing for it.
The limit is endless in terms of where you can hang this poster. Perhaps you're looking for a gift to give to an executive who really does love music. Adding this to his/her office space will slightly reveal one's love for music as clients come into their office every day. It might also serve as a way for him/her to decompress from a busy day of meetings as a few moments can be taken to observe and reflect on it.
This product is also made in the USA with environmental consciousness in mind. Trends International made sure to use quality and recyclable products in the creation process. The poster will definitely be a conversational piece for all guests who see it for the first time. The play on phrases and positioning of the words are both contemporary and innovative. Whether it is used to inspire the music lover or just add the final touch of decor to the music studio, this poster will surely be pleasing to the eye and mind.