Engagement Party Etiquette: Ideas on What to Bring to the Happy Couple
last updated:
Jul 31, 2018
6103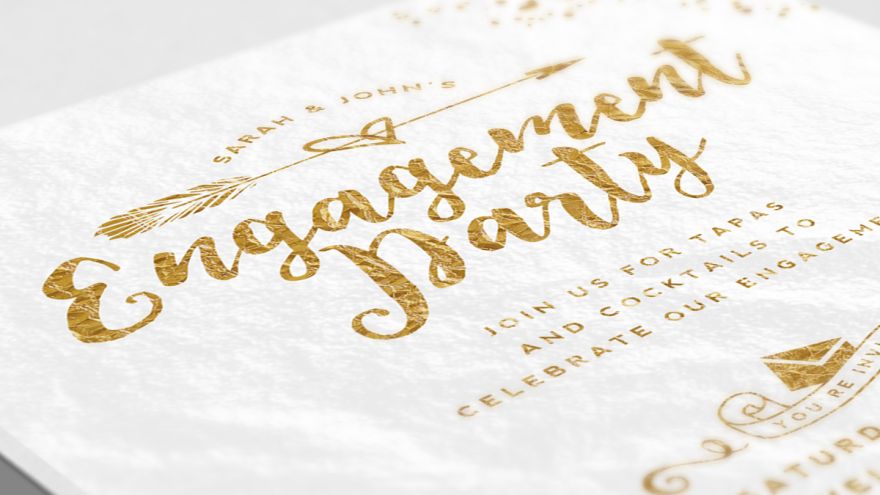 Your friend or family member has just gotten engaged – how exciting! The period of time after an engagement and leading up to the wedding day is such an exciting time both for the happy couple and for the people that are closest to them. To kick things off, many couples will have an engagement party to celebrate their upcoming wedding. It is your first opportunity to celebrate with them and let them know how excited you are for their wedding, and more importantly, the love they have found in each other.
It can be difficult to know what to get as a gift for an engagement party, as they are relatively new events compared to other parties like bridal showers or bachelorette parties. Is the gift expectation the same? Do you get a gift for both the bride and groom? A joint gift? There are a lot of questions! We have got the answers you need and great ideas to share with you.
Here are some tips, etiquette rules, and gift ideas to keep in mind the next time you are invited to an engagement party.
Do What You're Comfortable With
The best tip to keep in mind is that you should only do what you are comfortable with/are able to afford. The truth is, an engagement party is not a standard wedding event and therefore there is not a set expectation for gifts that is associated with the actual wedding and at a bridal shower. If you are on a more limited budget, it is perfectly fine to save your money to buy a nicer wedding gift and simply show up as a guest to the engagement party. Engagement parties tend to be smaller anyways, and if you made the list, the couple probably just wants you to be there and celebrate with them.
If you do want to get them a gift, do not feel like you have to break the bank on an item. Get them something smaller (we'll talk ideas later) that they can enjoy right away. Either way, the couple will be happy to have you there and will simply be happy to be engaged. This is a very exciting time for the new couple and happens before all of the actual wedding stress sets in. Enjoy it!
Ask the Couple/Look at Your Invitation
When in doubt, ask either the actual couple or a close friend or family member. If you received an actual engagement party invitation, check and see if they included a note about gifts. They may ask for no gifts (in fact, many couples do this) and if that is the case, be sure to respect their wishes. If you show up with a gift it may make them feel uncomfortable and also, other guests may also feel bad if they don't show up with anything.
A wedding can be expensive for guests and most couples don't want their friends and family to feel financial pressure to give them a gift at every event that is held. An engagement party should feel relaxed and is more about celebrating the couple than about supplying them with gifts. That comes later!
Gift Ideas
If you do decide you want to get the newly engaged couple a gift, or if you have spoken with friends and family and everyone has decided they do want to give gifts, you are in need of some ideas! Here are some great options to keep in mind as you search for the perfect gift for the perfect couple.
His and Hers Gifts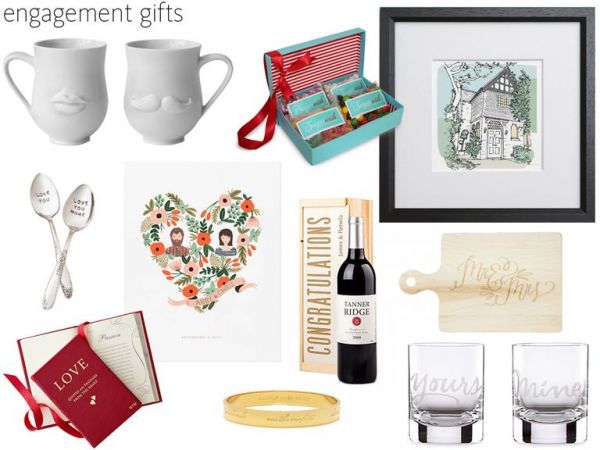 Sure, maybe these feel a little cheesy, but now is the time to enjoy them! Getting engaged signals that you are now officially part of a team and not on your own. It is exciting for many couples to think about that and commemorating the occasion with his and hers mugs, t-shirts, or even pillows, can be a fun and cute way to celebrate being engaged. You also don't have to spend a lot of money on a gift like this, making it an appropriate gift to give at an engagement party.
Wedding Planning Gifts
The truth is, the couple (and especially the bride) is probably completely focused on planning the actual wedding. A great gift idea is to get the couple an item that can help them with planning. This may be a set of magazines that has dress and decor ideas, a planner book that will help them stay organized, or other wedding guideline books that offer a list of important things to do and questions to ask. This is a helpful gift that they will be able to use right away and that they are sure to appreciate.
If you have been married before, consider turning this into a DIY gift and write down your top wedding tips for the couple! These could be tips for their actual relationship (don't go to bed angry!) or tips that you learned from planning your own wedding. This won't cost you any money but will be very valuable to the new couple. While you don't want to overstep any boundaries and tell them what to do necessarily, sharing wisdom based on your experience is a great help that any couple would appreciate.
Hosting Gifts
Is the couple throwing their engagement party at their home or at a parent's house? Consider getting a gift that is more of a host gift to thank them for throwing an excellent party. This could mean snacks they could serve to guests, a nice bottle of wine, or even a serving item that they could use right away and at all the future parties they are sure to host in the future.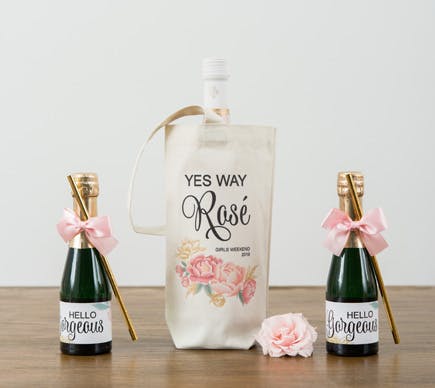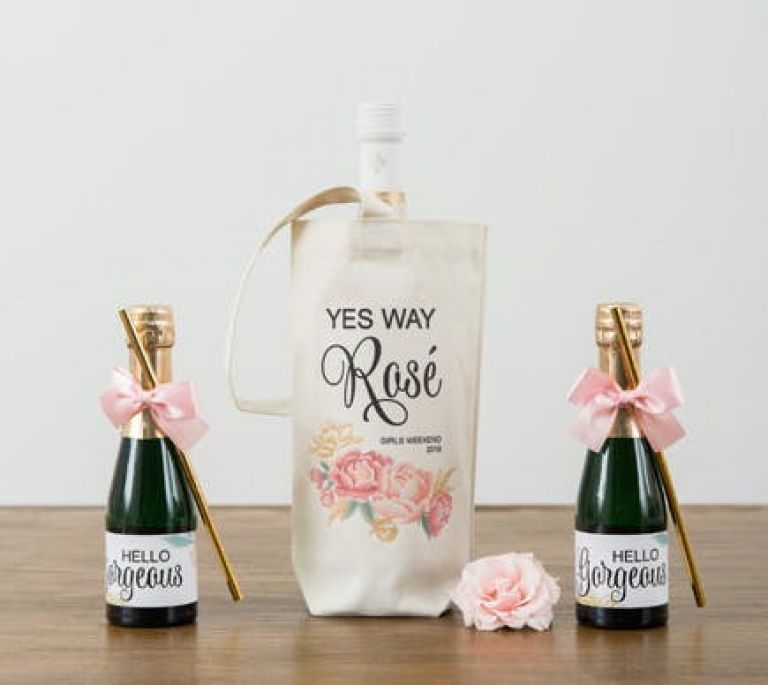 What is good about this gift is that it is less of an official gift and more of a thank you, which may be more appropriate, especially if you do not think that everyone is bringing gifts.
Pin for later