This product is listed here: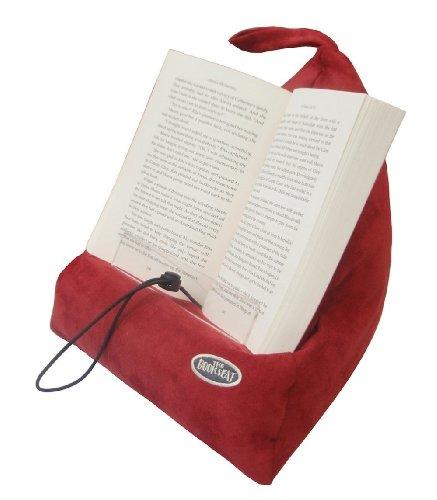 The Book Holder for Reading
Function and comfort come together in the Book Holder and Travel Pillow by Book Seat. Travelers are often accompanied by a good book for passing time during travel on planes, trains or boats. And now, Book Seat has created a product that makes reading easier but also doubles as a comfortable pillow.
The Book Holder and Travel Pillow is perfect for any surface and will hold the book upright and steady in any situation. It is filled with Polystyrene beads that mold to any angle and allow it to sit in any position. This is great for creating more comfort in cramped spaces! It also comes with a Perspex page holder that keeps the pages open allowing you to multitask with your hands. The pillow holds all different types of books: large; small; paperback; and hardcover. It's versatile and it makes the best gift for avid book readers.
Detailed information about The Book Holder for Reading
The outside is covered with a faux-suede fabric that is extremely durable but still soft to the touch. Perfect for resting your head against! It is stain-resistant which is excellent for families with small children. Stain-resistance also ensures that it is more durable and makes it the ideal product for camping. People love to read a book while relaxing in the outdoors and this pillow simply adds to that enjoyment. Generally, it's a lot more tiring to read in the wild because you have nothing to rest your arms or neck on. Having this allows you to read in more comfortable positions. It also saves up precious camping space by doubling as a pillow!