10 Winter Wedding Dresses that Make Us Want to Get Hitched Right Away!
last updated:
Apr 09, 2019
2248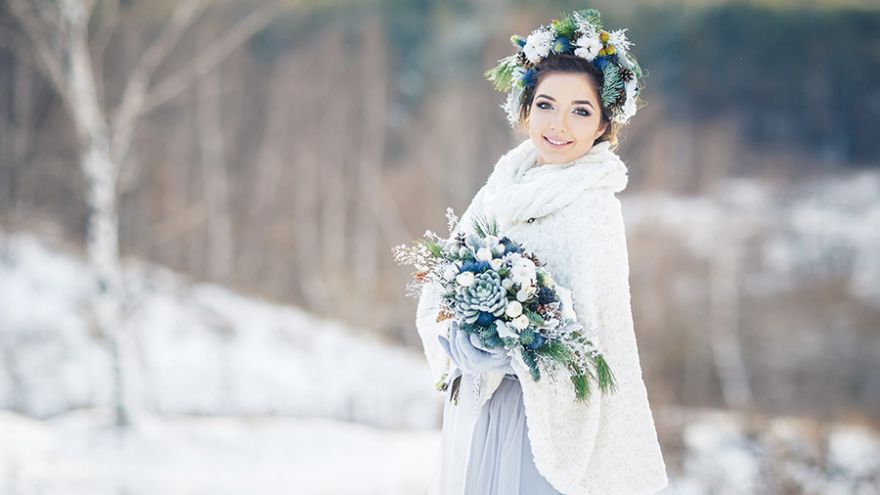 We know we aren't the only ones who look up wedding dresses online and totally fall in love. There are so many styles, and they are all so gorgeous! Whether you are engaged or not, sometimes it is fun just to see what is out there. It doesn't hurt to plan ahead, right?!
While summer may be the most popular season to get married, we can't help but love a gorgeous winter wedding. Do you feel the same way? Are you planning on getting married during winter? It is a great idea! In particular, there are some gorgeous dresses that we think will be perfect for a winter wedding. It was a hard job, but we selected the 10 best dresses we could find that would be perfect to walk down the aisle in for a gorgeous winter ceremony.
Take a look at what's on the list and see what ideas come to mind. You might just change your mind about when you want to get married!
1. Luxurious Off Shoulder Batwing Cape Dress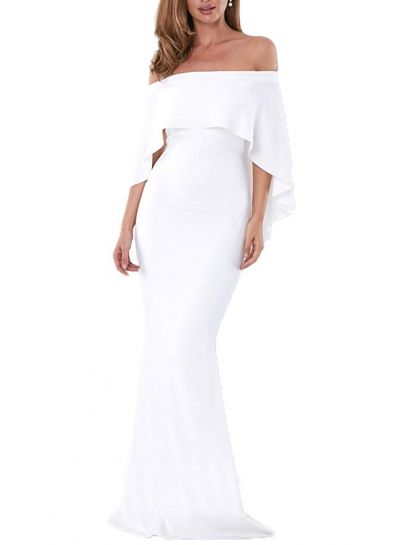 We absolutely love the modern elegance that this first dress has! If you have always wanted to wear a strapless dress on your wedding day, this is a great way to do so even if you are getting married in winter! The cape draping on top of the dress is effortlessly beautiful, and we love that it also hits mid-length on your arm- meaning it won't get in the way while you eat!
The simple column silhouette makes this a classic dress that will not go out of style – you will look back at pictures decades from now and won't ask yourself- what was I wearing? Dresses like this will always be in style, but the cape makes it modern and fresh and more interesting than a typical white strapless gown. Beautiful!
2. Lace Chiffon A-line Long Maxi Dress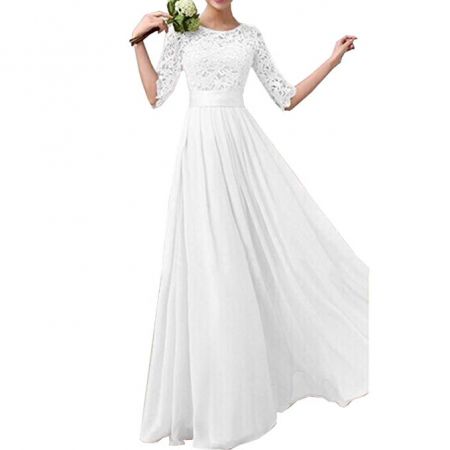 Who doesn't love chiffon? A beautiful, romantic fabric that looks gorgeous as you move around, this is an excellent winter wedding dress option. The higher waistline makes this a silhouette that works on almost any body type, and the covered lace bodice makes it a great winter dress.
We love lace on a wedding dress any time of year, and with the high neckline and three quarter length sleeves, you are more covered up which makes it appropriate for winter, but the fabric itself is still completely romantic and beautiful! For a dress that is equally conservative and romantic, this is a great option that will work perfectly for you. The tie at the waist also helps this dress look even better, giving you the illusion of a more narrow waist!
3. Mermaid Chapel Train Wedding Dress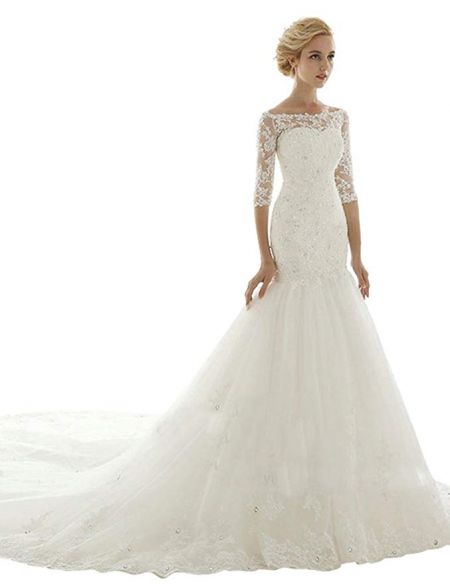 If you are looking for a dress with plenty of wow factor, this mermaid dress is the perfect option for you. The fitted bodice makes this a perfect sexy dress, but the long train and high neckline still keeps it appropriate for even a more conservative wedding. The three quarter length sleeves also help keep you covered up during your winter wedding.
This is an absolutely gorgeous dress that has a long train and plenty of fabric to balance out the more fitted top. We love the illusion neckline and gorgeous lace and subtle beading to accompany the long train. Excellent for any bride who wants to look like a modern princess on her wedding day! Best of all, the dress also features a gorgeous corset back that is absolutely stunning. Make sure to take some pictures from this angle as well, as that is a feature to beautiful to miss out on.
4. KOH KOH Womens Long Sleeve Empire Cocktail Dress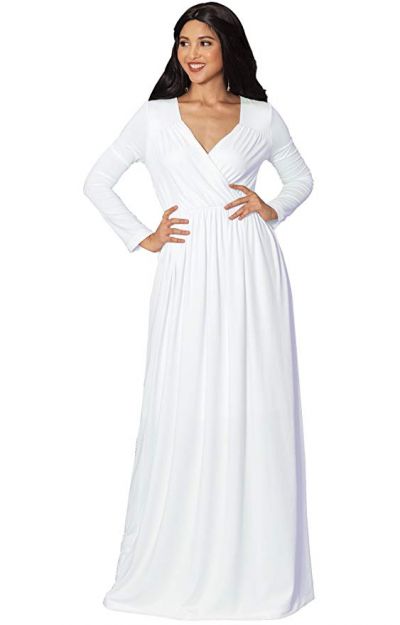 Are you a simple bride in search of the perfect winter wedding dress? This grecian inspired simple white gown is perfect for you. If you are getting married somewhere where the temperatures drop pretty low, this is a great gown that will help keep you warm without having to sacrifice on style! Featuring full length sleeves and a v-neckline, this dress perfectly balances conservative and sexy elements while still remaining simple and timeless. If trains and lace aren't for you, this is the perfect wedding dress for you.
The pleating at the front makes this dress more unique than other white gowns, while still keeping a simple aesthetic, perfect for the understated bride. Sometimes less is more, and that dress pulls this off effortlessly!
5. Bohemian Beach Lace Flower Wedding Dresses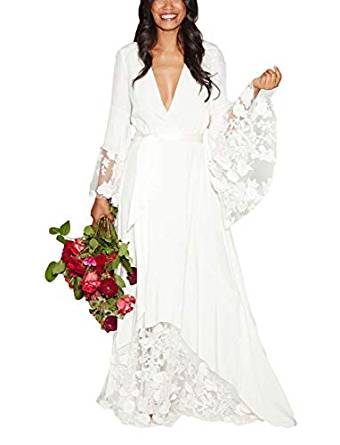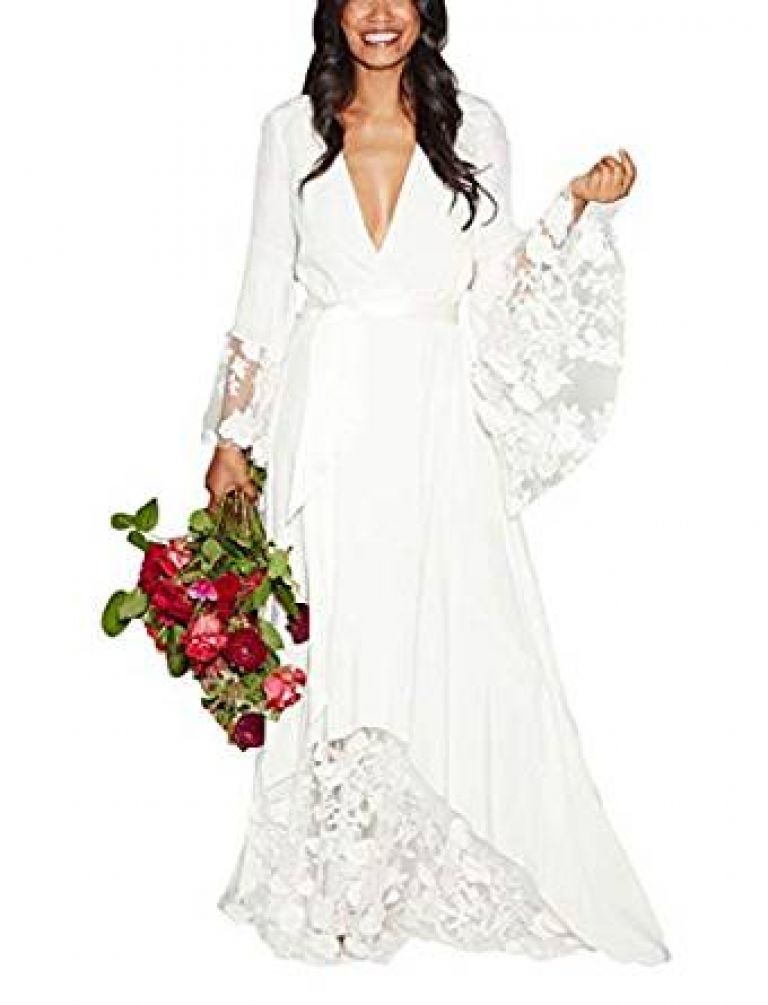 We fell in love with this bohemian inspired dress and think it would be perfect for a winter wedding! If you thought bohemian dresses only worked for summer or beach weddings, think again! The long sleeves make this a perfect option for a winter wedding, and we absolutely love the lace fabric located on the bottom of the sleeves and at the bottom of the dress.
This is a totally effortless looking dress that features a deep v neckline and long flowing sleeves. We picture this dress with long loosely curled hair and of course, a flower crown as the perfect accessory. Absolutely gorgeous! Best of all, this features a tie at the waist to ensure your waist doesn't get lost in this more flowy style. Choose from white or ivory and you have the perfect dress. One of our favorites!
6. Off Shoulder Wedding Mermaid Dress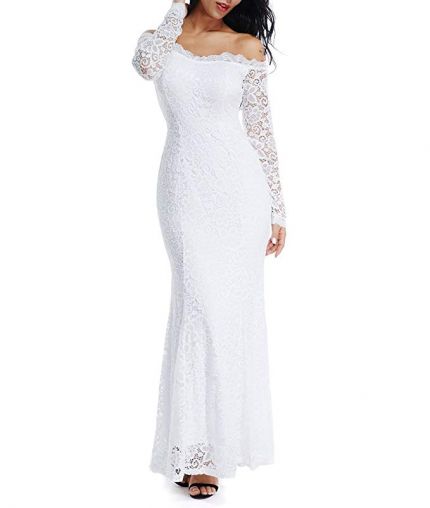 If you love lace and don't want to be without it on your wedding day, this long sleeved dress is for you. Featuring lace from head to toe, this is a simple dress that is still totally elegant. This is also great if you love the off the shoulder trend that has been everywhere lately. The full length sleeves, however, make it a great winter wedding dress option, and we love the fitted silhouette with the slight flair at the bottom.
Excellent for the bride that wants a traditional wedding dress, but still wants to be able to move around! If you don't want to deal with a train, this is a great dress option for you. The sweetheart neckline adds to the romantic look of this dress and we think it would be perfect for a winter wedding.
7. Jewel Lace Applique Long Sleeve Chapel Wedding Dress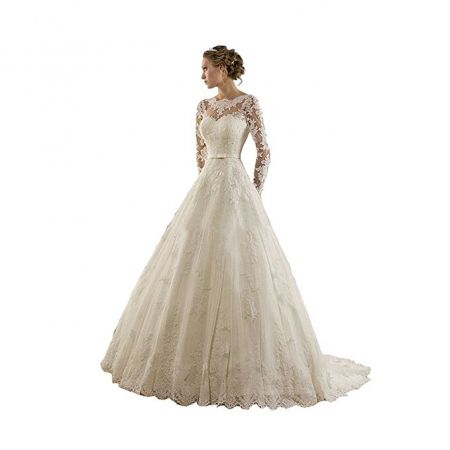 If you want to look like an absolute princess on your wedding day, this gorgeous ball gown is for you. We love the lace detailing, long sleeves, and chapel train! Perfect for a winter wedding, all eyes will be on you while wearing this beautiful dress. Featuring a sweetheart and illusion neckline, a v cutout in the back and a beautiful lace up corset, this is a gorgeous traditional looking dress.
Choose between white or ivory- both will look great for your winter wedding! The top reminds us of Kate Middleton's wedding dress, and who doesn't want to look like Kate on her wedding day?! The lace is a gorgeous, antique looking lace that makes the dress look like something to be worn by a true princess, and the long sleeves make it perfect for a winter wedding. Stunning!
8. Fanciest Women's Lace Wedding Dresses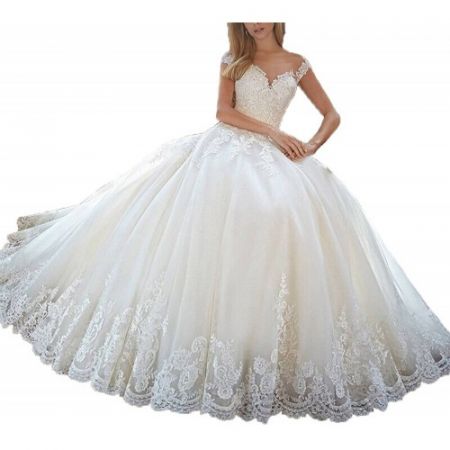 If you are looking for a slightly sexier version of the previous dress, you will love this off the shoulder, sweetheart neckline ball gown- we know we do! The fitted bodice beautifully expands towards the full bottom that features gorgeous, unique looking lace. We love that the lace extends down from the top and up from the bottom on top of gorgeous tulle fabric. This is a truly romantic wedding dress and think it would be perfect to wear to a formal, black tie dress code winter wedding!
Complete with a gorgeous lace up back and gorgeous train, this is a wonderful dress that any bride would love to wear on her wedding day. If you have always wanted to wear a traditional, full wedding gown, but want it to have a modern touch, this is the gown for you!
9. Organza Ruffles Ball Gown Wedding Dresses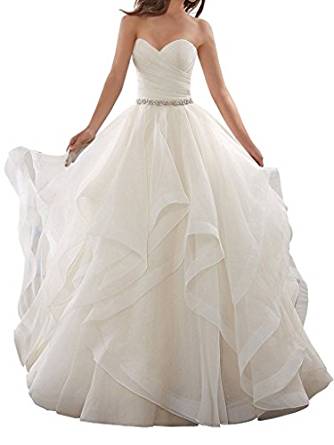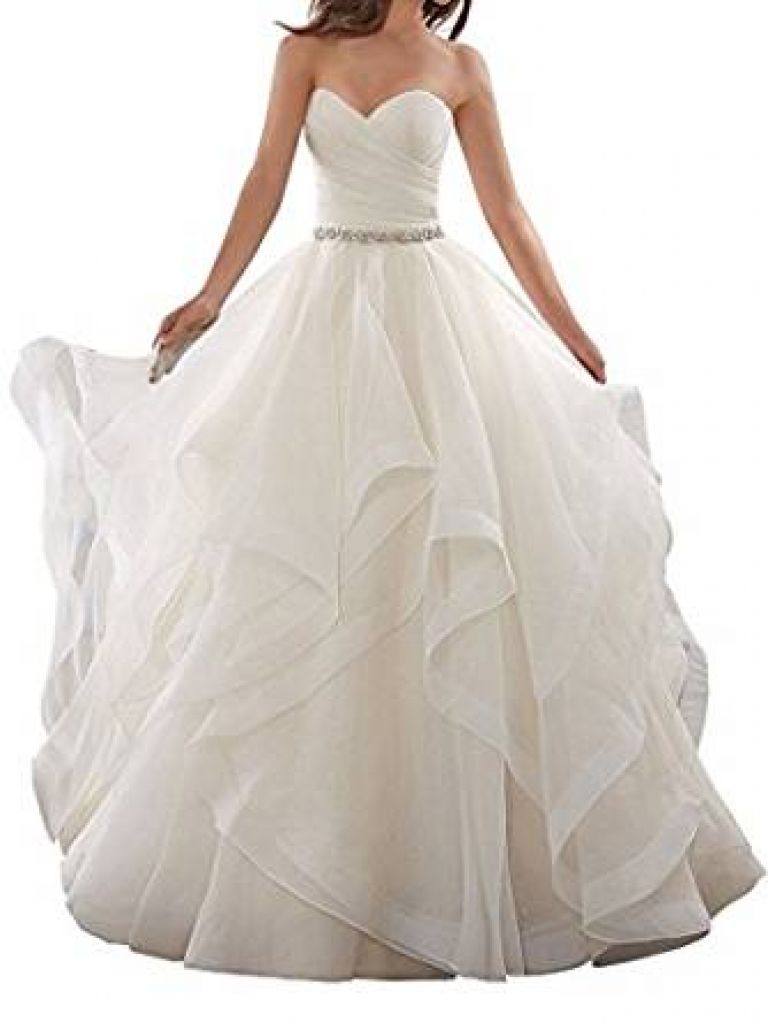 We fell in love with the ruffled bottom of this dress and felt it would make for the perfect winter wedding dress! The unique trim work on the organza gives the bottom of this dress fullness in a completely unique way- this is not a dress you see all the time! Perfect for the bride who wants something unique, while still wearing a dress that screams 'bride!' The beaded waistline gives this dress just a hint of sparkle, which we love, and the sweetheart neckline gives this a romantic look that any bride wants on her wedding day.
Best of all, because the top is so simple we think this would look beautiful with a faux fur wrap or stole- making this the perfect winter wedding dress! With a button up back, this is a truly unique wedding dress that everyone will remember and love for years to come.
10. Simple A Line Beach Off Shoulder Dresses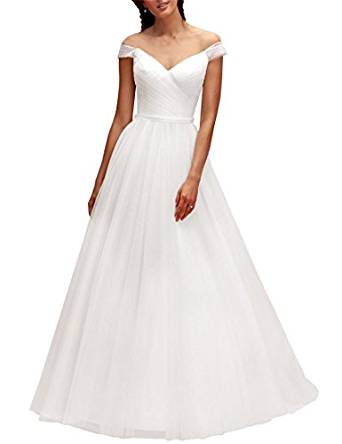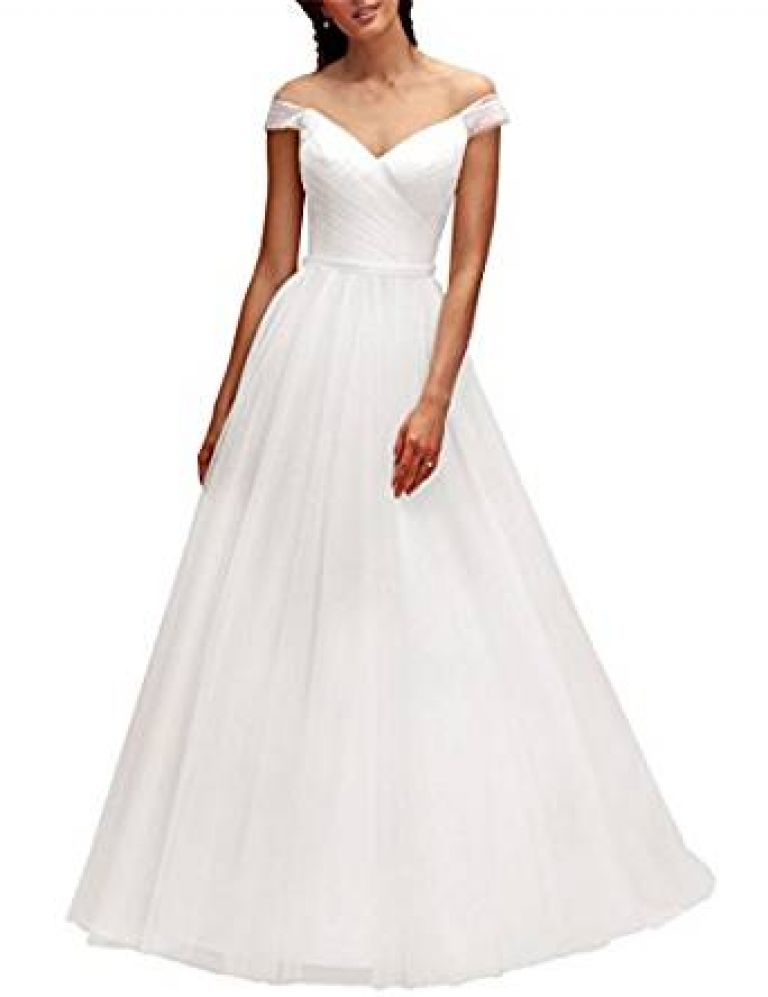 Finally, if you are looking for another simple dress for your winter wedding, we think this a-line dress is perfect. Featuring tulle, organza, and chiffon, it is an effortless dress that is free from lace or beading- perfect for the simple bride! This is also a great option if you have certain accessories that you don't want to compete with any beading on your dress- say a statement necklace or headpiece!
The simple off the shoulder neckline is perfectly on trend, and this dress would also look great with a fur wrap, perfect for a chilly winter wedding! With just a touch of fullness, this is a great dress that is a perfect wedding gown that is simple and elegant but certainly not at all 'boring.' Perfect for the bride who falls right in the middle of wanting something simple and something more unique!
Wrapping Up
We absolutely love these 10 wedding dresses and think they would all be perfect for a winter wedding. Whether you want something more casual, a more bohemian style, a classic style, or a full on ballgown, there are so many options to choose from that all still will work with a wedding taking place during winter. All that's left to find is your Prince Charming!
Which dress was your favorite? Would you consider getting married in winter? Let us know!
Pin for later