5 Alternatives to a Traditional Wedding Band
last updated:
Apr 06, 2019
8171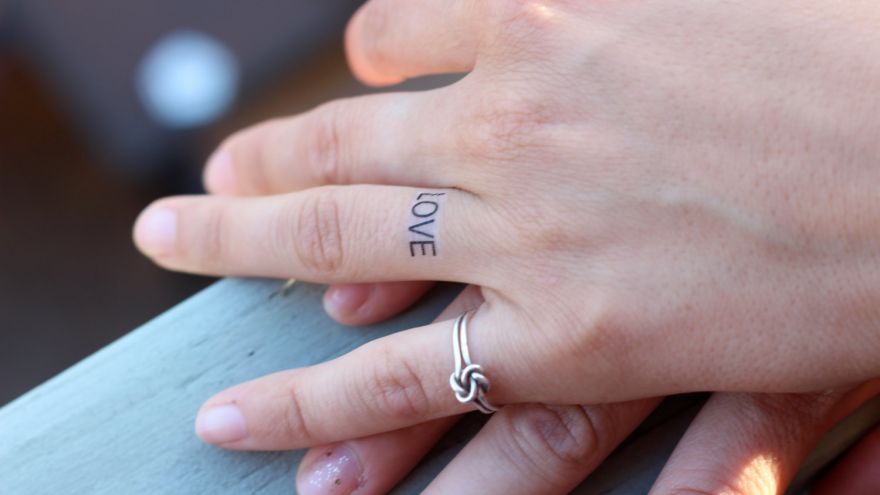 When you and your significant other make the pact to spend the rest of your lives together and take all of your vows, to finalize the ceremony you typically exchange wedding bands. However, in today's society, there are plenty of people who either don't want to invest the money into expensive jewelry, may have the tendency to lose jewelry, or cannot wear their wedding bands as a result of their careers.
If you've been interested in alternatives for a traditional wedding band, there are plenty of options that you can easily choose from, especially if you're the type of person who is looking for a non-traditional way to seal your vows.
1. Necklaces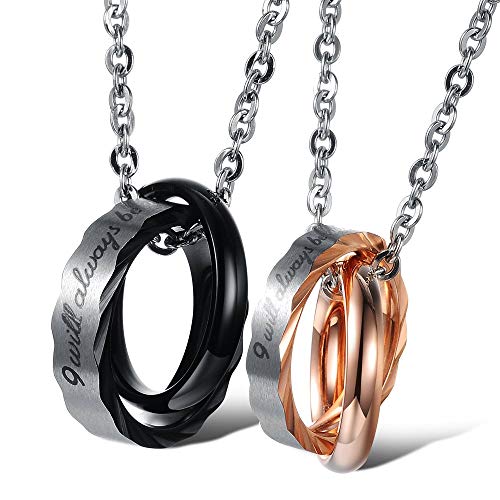 If you're less of a ring person and more of the type of person who would enjoy wearing a necklace or a bracelet, there are plenty of love-inspired pieces that you can choose from. The idea of getting married is to signify that you are giving yourself to another person forever and as such, opting for an infinity symbol necklace or a heart pendant can be a great idea. You can even have your necklace engraved with the wedding date and name of your spouse to give it even more meaning. At the end of the day, you'll have a more comfortable piece of jewelry to wear all of the time that won't get in the way of your hands and you'll be far less likely to lose it.
2. Tattoos
Tattoos are a phenomenal way to express your creativity and with the help of the right tattoo artist, you can create a beautiful design that is permanently etched to your body, unless you decide to go through an expensive and painful tattoo removal. There are plenty of different options when it comes to having artwork added to your body for your wedding, but the majority of people find that opting for a tattoo on the ring finger symbolizes their union to another person in the perfect way.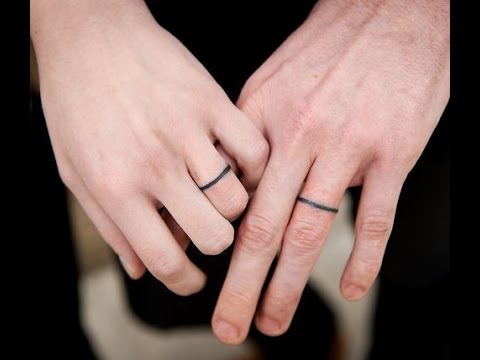 If you're not interested in a finger tattoo, you can always opt for a chest piece, a tattoo on your arm, or anywhere else because in all honesty, the sky is the limit.
3. Framed Wedding Certificate
At the end of the day, there are only two people in the world who should be involved in your marriage and that is both you and your spouse. Many people find that there's no point in showing off their recent engagement or marriage with the help of tattoos or jewelry, but instead, want to cherish their love from the inside. The vast majority of married couples lose their wedding certificate at one point in time or another, so why not choose to have it framed and displayed in your home so you can reminisce on your special day every time you walk through the door.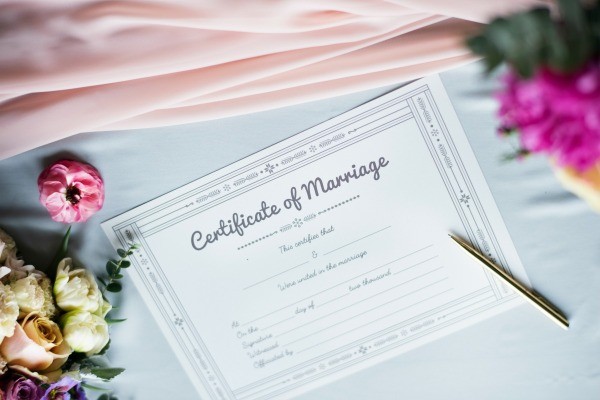 You can choose from a wide variety of custom frames and you can even add a more creative touch to the display, such as your favorite photos from your wedding. It's a brilliant way to show off your affection for one another in the comfort of your own home.
4. Puzzle Rings
For some, the idea of foregoing jewelry altogether when it comes to getting married can be too much to bear and in all honesty, it can be beautiful to have your husband or your wife slide your wedding band onto your finger during your ceremony. There's no other way to show the world that you are taken by the love of your life, but it doesn't mean that you have to settle for the traditional white or yellow gold wedding band.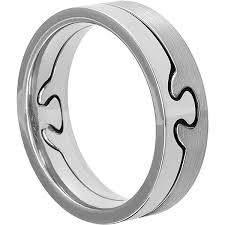 Puzzle rings have become all the rage amongst young and alternative couples that want a piece of jewelry that not only matches their engagement rings, but that also has a deeper meaning beyond a simple piece of jewelry. These rings will come in pairs and when they are joined together, they create a single ring, however, when worn separately, they are still stunning in their own ways. It can be comforting to know that no matter where your partner is, they will always have a piece of you and when you are together, the puzzle is finally been complete.
5. Silicone Wedding Bands
This is a great idea for someone who has concernes about wearing wedding bands at work, as there are plenty of metals that cannot be broken, seared, or pried apart in the event of an industrial emergency. Even if you're an athlete, wearing a traditional wedding band is far too likely to be lost and it can severely damage your finger in an accident, which is where silicone wedding bands come into play.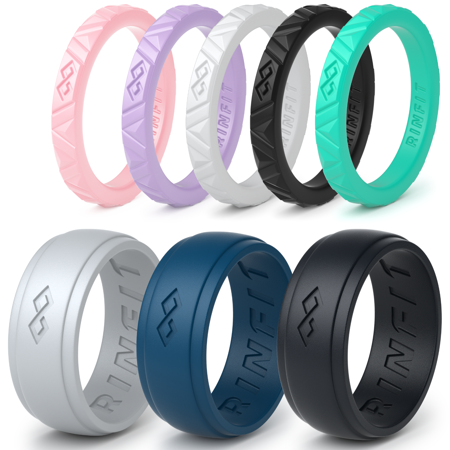 If you're someone who isn't a fan of flashy jewelry, these are the ideal ones for you as they are made out of soft silicone that is flexible and does not include any diamonds or gems. They are simple, modern, and youthful, without compromising their aesthetic, and they can easily be worn in a wide variety of different situations. The best part is that they have models for both men and women, which makes them very adaptable to everyone's style.
Above all else, silicone wedding bands are extremely affordable, especially when compared to traditional gold and silver. You won't have to worry about being allergic to certain types of metal and you can wear them with absolutely any outfit in your closet.
There are plenty of wedding band alternatives that you can get your hands on, but at the end of the day what really matters is what you and your spouse are interested in. It doesn't matter whether you opt for an alternative wedding band from the start, or if you get married with traditional rings and then opt for a tattoo or a puzzle ring in the future, it's all up to you. There's nothing in this world that shouts how much you love your significant other more than the love that you show one another, and wedding bands are more of a formality than a necessity.
Pin for later