Fall Wedding Bouquet Ideas That Are Extraordinary
last updated:
Apr 08, 2019
2116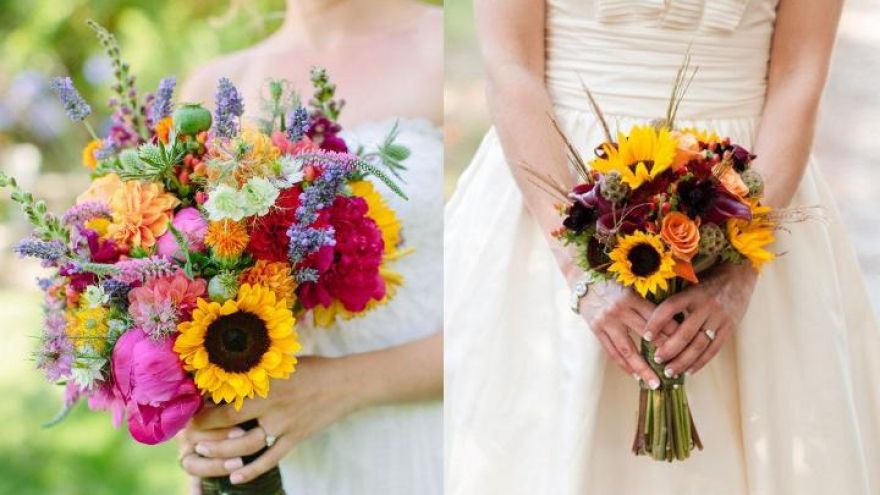 Fall is arguably one of the best seasons for wedding colors, especially if you're someone who has an affinity for dark and bold color combinations that will easily stand out against your stunning white dress. With that being said, there are surely dozens of different types of flowers that you can get your hands on once the weather starts to cool and creating your own unique bouquet is just as easy as creating one in the summer.
Below are some of our favorite fall wedding bouquet ideas that are prettier than nearly every bouquet we've set our sights on.
Tip 1: Adding in Special Add-Ons
One of the most spectacular things that we love about a fall bouquet is that you don't have to rely solely on flowers and greenery, there are plenty of add-ons that you can put in the floral arrangement as well. Not only does this help to add a little bit of depth and dimension to the bouquet, but it also helps to make it more unique and gives people something to look at.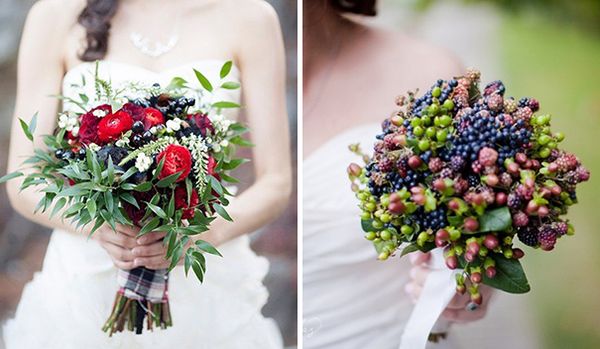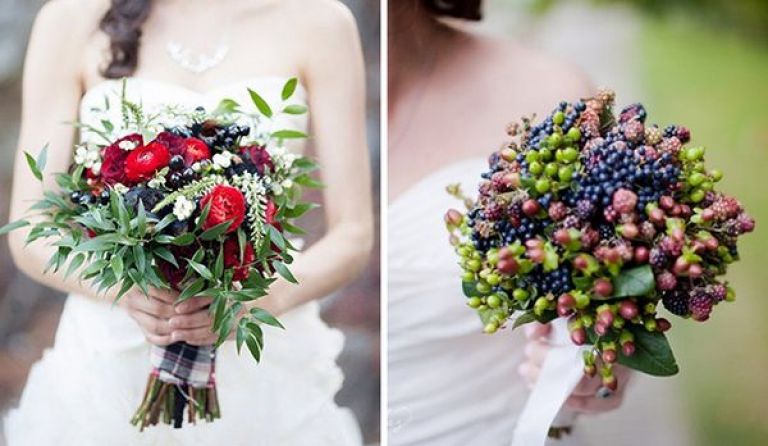 There are plenty of different types of add-ons that you can use, however, our favorites are berries, different types of grasses, and even branches. Depending on your personal aesthetic you can choose additional features that are more feminine, such as thin blades of tall grass and deep burgundy berries or you can opt for more eclectic options such as thin twigs and draping leaves. If you're really brave, you can even consider adding some fruits into the bouquet that work perfectly with the colors you've chosen for the flowers.
Tip 2: Deciding on Muted Tones
If you're not the type of bride that likes to go big and bold, then there's absolutely no reason as to why you can't opt for more muted tones in your bouquet. This is also a more modern and contemporary way to create flower arrangements that will flow perfectly with your dress and your bridal party's dresses as well. We love the combination of white and gentle green flowers, such as white roses and lily of the valley paired with a strikingly colored accent to bring the entire bouquet together.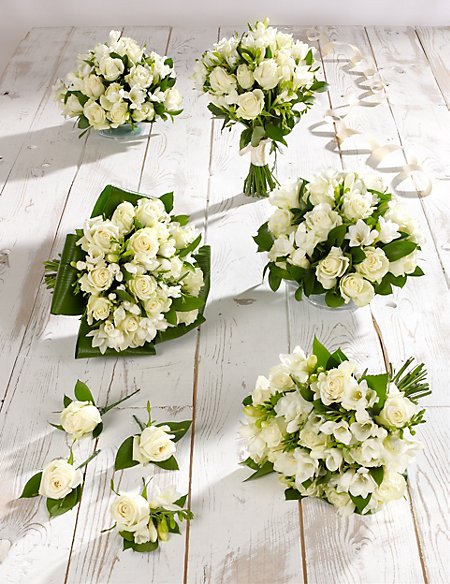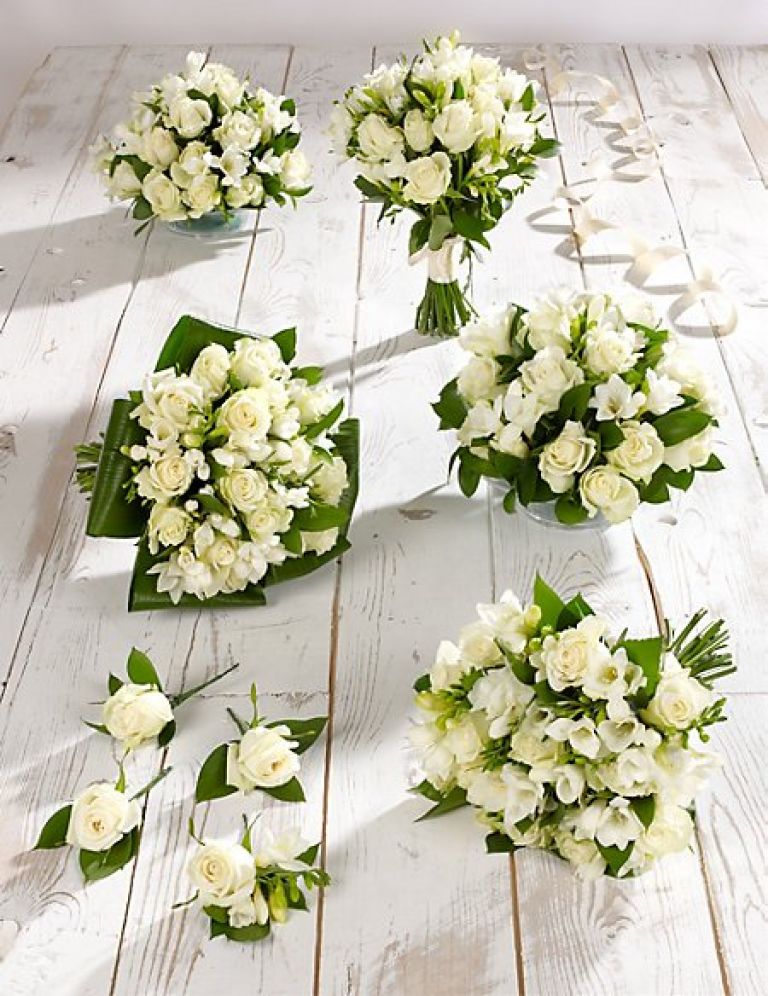 Imagine, you have a bouquet filled with beautifully fragrant and stunning flowers such as spray roses and then you can border the bouquet with a brand of deep red maple leaves. The options are endless when it comes to sticking to neutral colors and you can guarantee your flowers won't take away from any other accessory that you're wearing.
Tip 3: Thistles are an Amazing Option
As previously mentioned, there are plenty of things that you can reach for in the fall when you're designing your bouquet, especially if you want to create something that is different from anything else you've seen. You can guarantee that most people wouldn't have thistles thrown in with their flowers, however, their spikey and aesthetically pleasing design will work perfectly with more dainty and delicate flowers.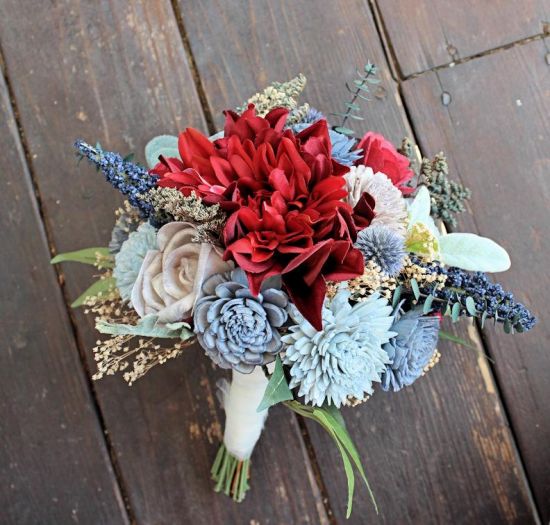 Thistles help to create a natural balance between femininity and strength, which is why you should consider adding them to your arrangements.
Tip 4: Ombre Flowers
You would be surprised at the sheer amount of things that florists can do to flowers to make them appear different than any other flower on the market and this is something that you should consider using to your advantage. We love the idea of creating an ombre look with the help of harvest colors ranging from deep red to deep orange, especially with flowers that have stunning petals.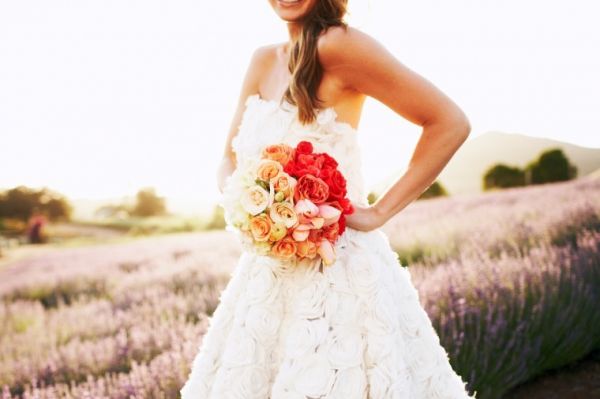 Your florist will essentially dye the petals so that they easily transition from one color to another without looking tacky or store-bought and there are a lot of colors that you can choose from. With the combination of ombre flowers, wildflowers, and a couple of white accents, you'll have a stunning arrangement to look forward to.
Tip 5: Pastels and Velvets
You might be wondering, how can you add velvet elements to a bouquet without it looking too over the top? With the combination of soft pastels and velvet accents, you'll have the ideal romantic and soft bouquet to use to your advantage. We love the idea of pairing mint floral pieces together with autumnal textures, like velvet, to create a pretty and iconic bouquet that your guests won't soon forget.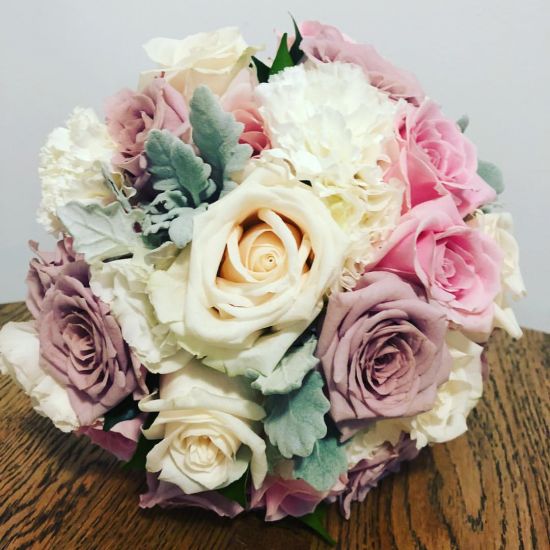 Consider adding pinks, whites, pastel blues, and lamb's ear to your bouquet for the base pieces and then add in a couple of tougher accents such as berries for the perfect display.
Tip 6: Feathered Bouquets
As the sixth and final tip for creating unique Fall bouquets, you can always use more natural elements, such as feathers, to bring a whole look together. As something that is easily more on the eclectic side of design, there's nothing more spectacular than a bouquet filled with different types of feathers and other natural pieces such as twigs. It's the perfect way to create a rustic arrangement that will stand out against your white dress and it's very nonfloral, which makes it perfect for brides who aren't particularly fans of flowers.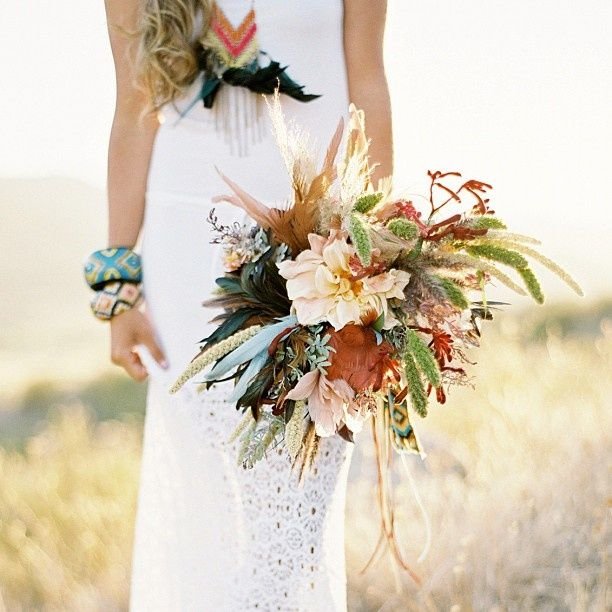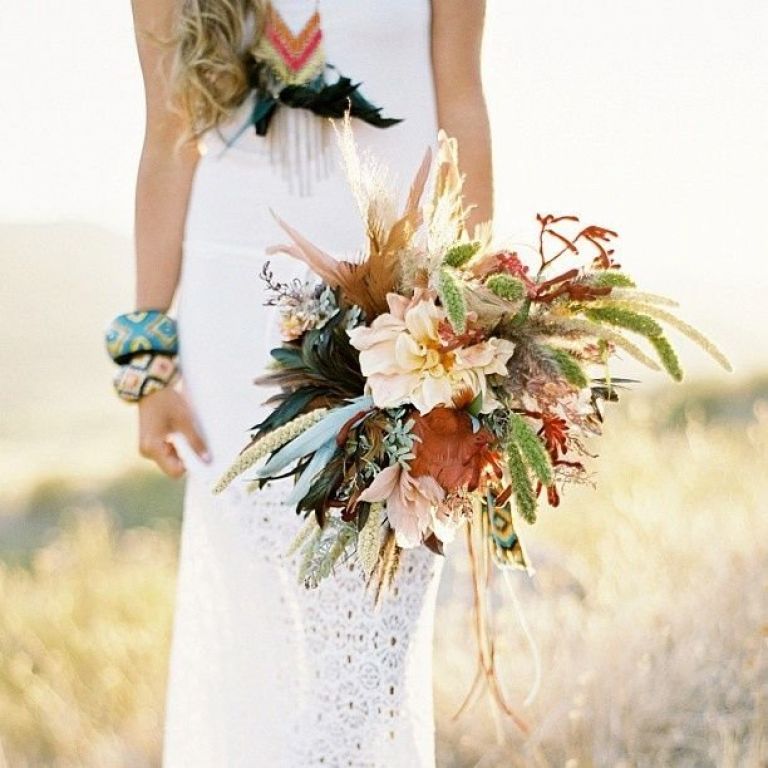 What makes feathered bouquets so amazing is that you don't only need to rely on them to make your entire bouquet, you can also add them into your existing floral arrangements as a little pop of texture and depth as well. The options are endless, all you have to do is get a little creative and you'll have a very unique bouquet to carry down the aisle.
Final Thoughts
Picking the flowers for your wedding can be quite overwhelming for many brides and you would be surprised at the sheer amount of soon-to-be-married couples that change their floral arrangements a couple of months before the big day. When you're getting married in the fall, there are plenty of different features that you can add to your traditional bouquet or floral arrangements that can elevate it to a whole other level. No matter if you're looking for a way to make an impact, such as with feathers or berries, or if you're looking for a more muted design, such as relying on neutral colored flowers and pastels, there are plenty of options that you can easily choose from.
Pin for later