10 White Bridal Shower Dresses We Completely Fell in Love With!
last updated:
Apr 09, 2019
1657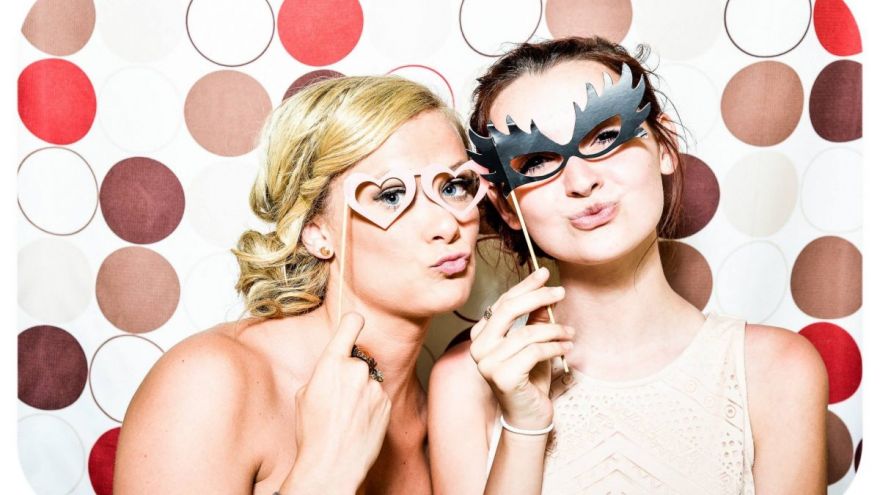 Although your bridal shower dress might not seem as important as your wedding dress, it's another outfit that you are sure to remember over the years. The last thing you'd want to have to deal with is a lackluster dress that takes away from the elegance of your shower, which is why finding the perfect outfit is of such importance. Most brides opt for white dresses for their shower, and for good reason, as you want to be the center of attention as the guest of honor.
With hundreds of dresses to choose from, we have picked 10 of the top rated bridal shower dresses on the market. Each has their own unique features that you're sure to fall in love with and they are designed with such beautiful craftsmanship that they will easily become one of the most cherished pieces in your closet.
1. PattyBoutik Off-Shoulder Floral Lace Dress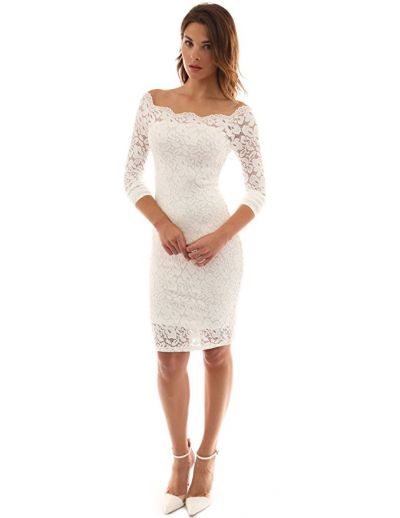 As one of the few tight-fitting dresses on this list, the PattyBoutik dress is designed to show off all of your most stunning features meanwhile accentuating your waist and your bust with ease. The one thing that sets this garment apart from the competition is its ornate lace detailing that adds a stunning femininity without going too over the top.
The exterior lace is sheer and the dress also comes with a thick opaque white lining underneath which helps to add a little bit of dimension to the dress. We also love the off-shoulder design that gently hands on the edges of your arms and is finished off with a delicate lace trim around your collar.
Constructed out of nylon and spandex, this tube dress is perfect for someone who is looking for a form-fitting garment that is still easy enough to walk in for hours.
2. Lyrur Women's Halter Bodycon Dress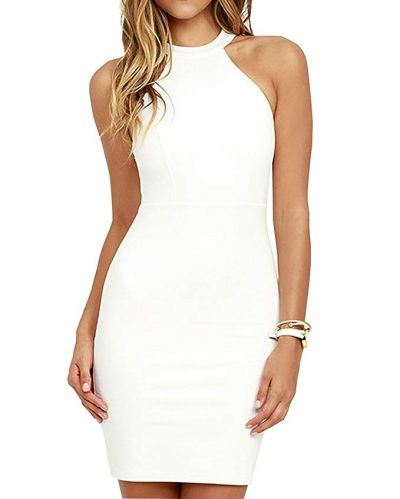 Bodycon dresses are a phenomenal choice for women who are interested in showing off all of their best features and if you're looking for a garment that is quite formal in the front with a flair of youthfulness in the back, the Lyrur dress is exactly what you should consider. Its shorter hemline is ideal for brides who are ready to show off their pre-wedding physique without edging too close to clubwear, however, it still accentuates all of your features for a stunning silhouette.
The front is plain white with a beautiful halter neck and then on the back of the dress, you have a luxurious keyhole back bordered by elegant lace that adds the perfect amount of wedding flair to the garment. You can also guarantee that it's breathable as it's constructed out of a cotton and polyester blend.
3. KIMLILY V-Neck Lace Swing Dress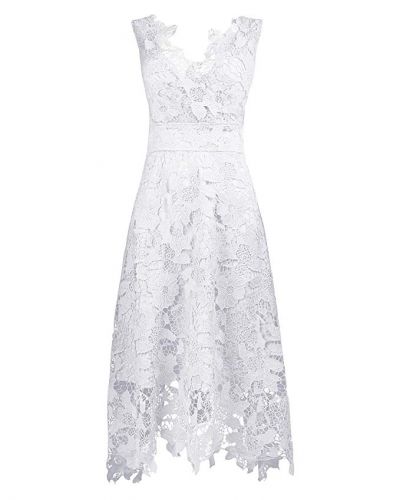 In comparison to the two previous form-fitting dresses, the KIMLILY dress is the perfect combination of elegance, beauty, and femininity that you might be looking for. With its cinched waist and flowing mid-length skirt, there are plenty of ornate features that you'll appreciate about this dress.
At first glance, you can tell that it was crafted with the everyday bride in mind, making it quite adaptable to plenty of different types of showers and it exudes confidence in areas that other dresses might not. The intricate lace detailing around the neckline also offers an additional ounce of class and we absolutely love the lace trim as well.
4. Bridesmay V-neck Floral Cocktail Dress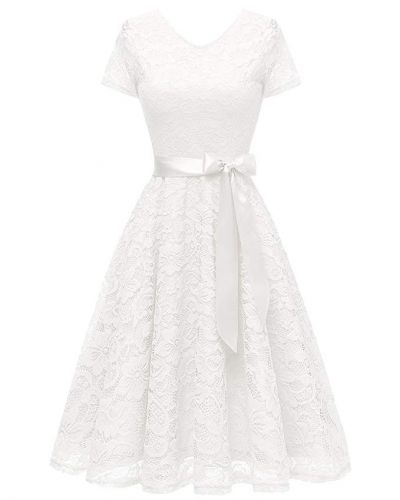 Vintage appeal is perfect for plenty of soon-to-be brides and with the authentic vintage cut of the Bridesmay V-neck Floral Cocktail Dress, you'll have the perfect Southern inspired dress to wear on your special day. In fact, this could even be a great option for your actual wedding day if you're throwing an outdoor extravaganza. Covered in luxurious floral lace, the Bridesmay dress will have all eyes on you, and we especially love the cut of the skirt as it flows perfectly with the form-fitting bodice.
As an extra touch, the satin ribbon waistband helps to break up the lace pattern covering the entire dress, making it slightly more modern.
5. Milumia Off-Shoulder Loose Mini Dress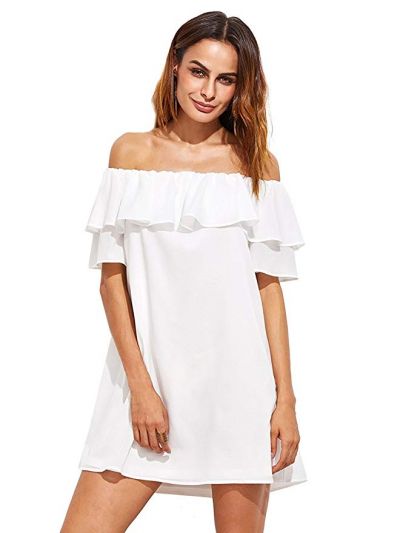 If comfort is what you're looking for then look no further as the Milumia Off-Shoulder dress is equipped with everything you need to stay cool on a warm summer evening. The luxurious off-shoulder design helps to add a little bit of definition to the rest of the garment and the elegant ruffles are ideal for the everyday woman that's looking for something young, fresh, and modern.
You'll also fall in love with how this dress blows in the breeze, easily making it one of the most breathable and adaptable dresses on this list for any body type.
6. KOH KOH Sleeveless Flowy Casual Gown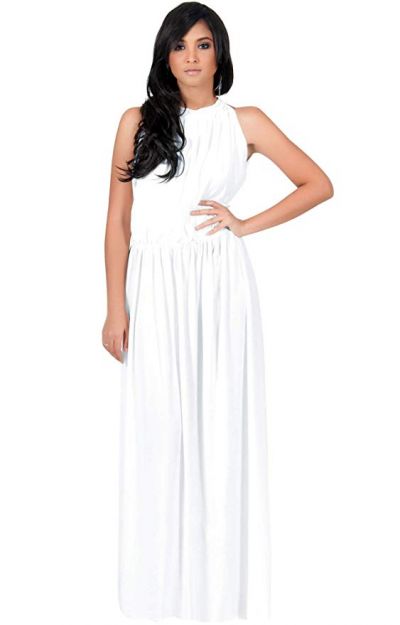 Perfect for brides who are looking for a floor length dress to wear for their shower, this gown is the perfect formal maxi dress that will show off your best features for any occasion. The cinched waist is ideal for maintaining your body's shape and the high shoulder clasps offer a more ornate Greek-goddess aesthetic.
7. VEIISAR Sleeveless Lace Cocktail Dress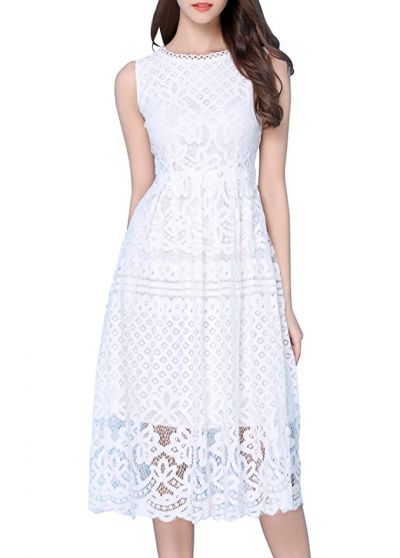 Fit and flare dresses are quite popular, especially for showers, and the VEIISAR dress is no different. It has a more obvious lace pattern than the other dresses on this list, but that's what makes it the perfect option for a less formal and more party-oriented bridal shower. You'll love the cinched waist and high neckline that is a little more conservative than most cocktail dresses but still adds some high-fashion elements to the entire garment.
8. Yikomi Summer Halter Cocktail Dress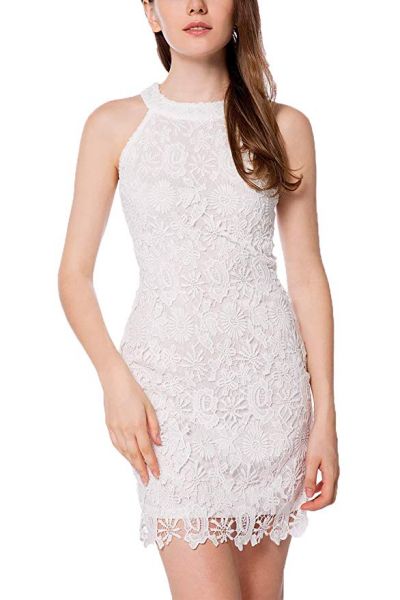 As another lace number that is perfect for any bridal shower, this dress is perfect for women who are ready to flaunt their pre-wedding bodies. Its relatively short hem is perfect for keeping your legs free and cool for dancing the night away and the high neck halter design adds a modern elegance to the entire dress. We specifically love the lace details across the entire garment as it adds more of a bridal feel to the entire outfit and it can easily be paired with different accessories.
9. French Connection Whisper Sleeveless Dress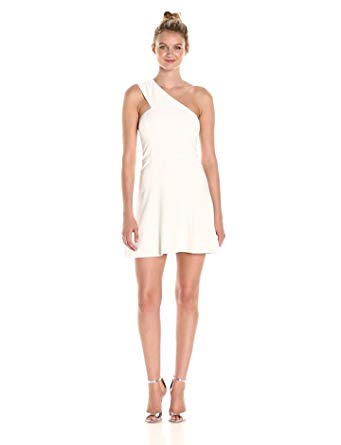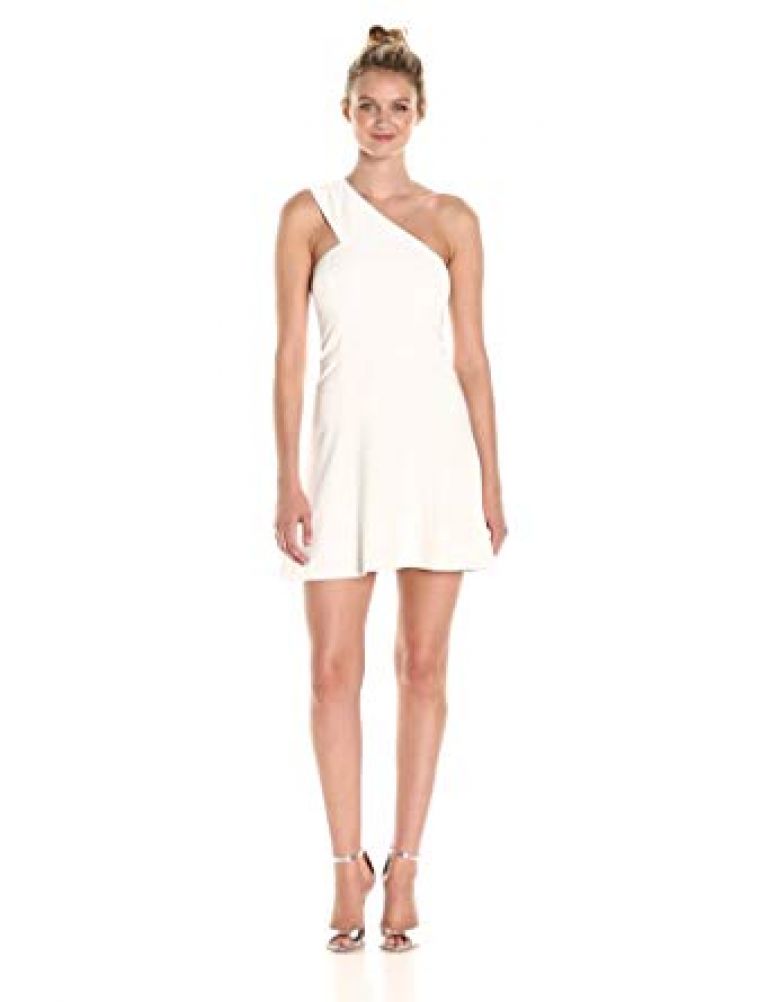 Available in over 20 different styles, the French Connection dress is the perfect choice for a modern bride who loves the idea of a dress that is beyond the norm. However, it still exudes bridal flair as it has similar features to some haute couture gowns that you would see on the runway. What really catches the eye with this dress is its across-the-shoulder strap that transforms an ordinary dress into something spectacular and easily wearable for multiple occasions.
10. WOOSEA Women's Pleated Swing Dress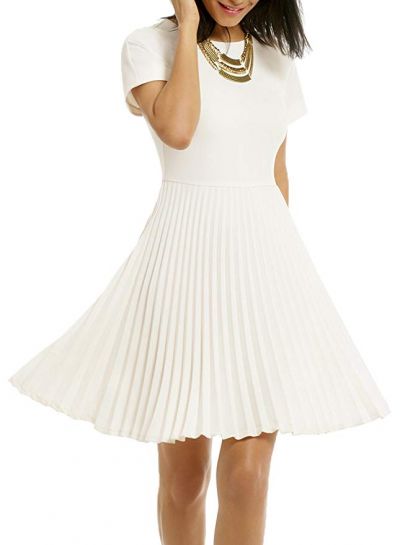 If you're looking for a dress that is easy to wear for women of all ages, the WOOSEA dress is your best choice as it combines both authentic vintage features and more modern and youthful features as well. The plain white bodice with t-shirt sleeves gives off a more conservative and formal appeal and the pleated swing skirt shows that you're the type of woman who still loves to have fun. This is the perfect dress for an afternoon luncheon or an early evening bridal shower, not to mention you'll love spinning in circles and watching the beautiful movement of the pleated skirt.
Final Thoughts
Finding the perfect bridal shower dress can be a chore in itself, especially after trying to find the perfect wedding dress. With that being said, these 10 styles are ideal for women of all ages and all styles, giving you more time to spend with your soon-to-be spouse and less time prowling the internet for an elegant, modern, or innovative garment to wear for your special day.
Pin for later