What is Washi Tape? (Bonus: Our Favorite Washi Tapes on Amazon!)
last updated:
Nov 10, 2020
1569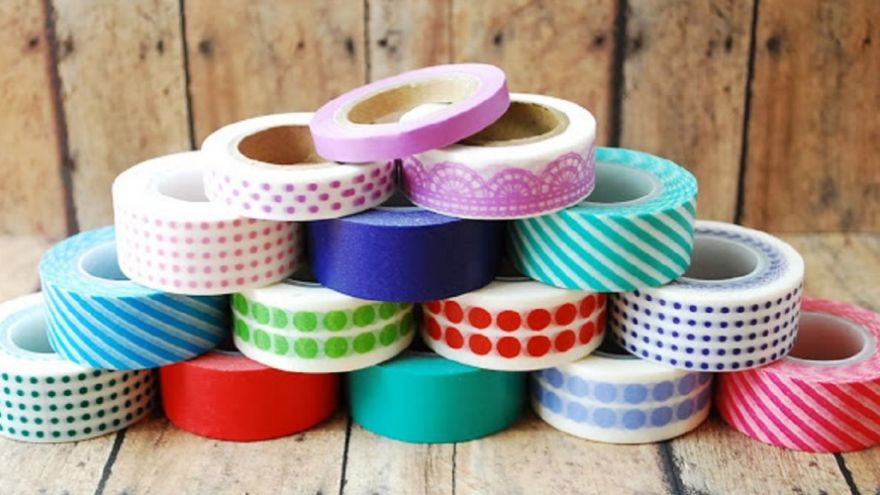 We have a confession to make: We are totally obsessed these days with washi tape! It has become the most exciting addition to our craft supply kit, and the more we use it, the more ideas we think of for future projects.
How do you feel about washi tape? Is it your favorite crafting item, or are you one of the unlucky ones who hasn't heard of it yet?
It has been around for a while now, but we feel like it has really gained a lot of popularity in the last few years. We love it for its affordability, usability, and flexibility!
Who doesn't love a craft supply that is affordable, easy to use, and versatile enough to use with all sorts of crafting projects? From home decor to party supplies, to organizational projects – you can add it to just about any of your crafting projects.
If you aren't on the washi tape train just yet, keep reading! By the end of this article, we are sure you will be convinced you need to go out and buy some right away.
Better yet, we are going to share our favorite washi tapes that you can buy on Amazon! Why leave your house? Order some tape online, and while you are waiting for it to be delivered, plan your next crafting project.
Here is everything you need to know about washi tape, as well as our top picks for the best washi tapes you can buy on Amazon.
What is Washi Tape?
Let's start at the beginning. What is washi tape? Basically, it is similar to masking tape, but with added flexibility.
We also find it to be super durable, making it a great option for decorations that you want to use year after year. It also comes in a huge variety of colors, patterns, and widths, giving you so much freedom when it comes to planning your designs.
What we may love the most about washi tape is how easy it is to work with. It's a great, safe craft item to use with children. Washi tape is incredibly easy to tear – similar to masking tape, and not at all like duct tape which can feel nearly impossible to work with.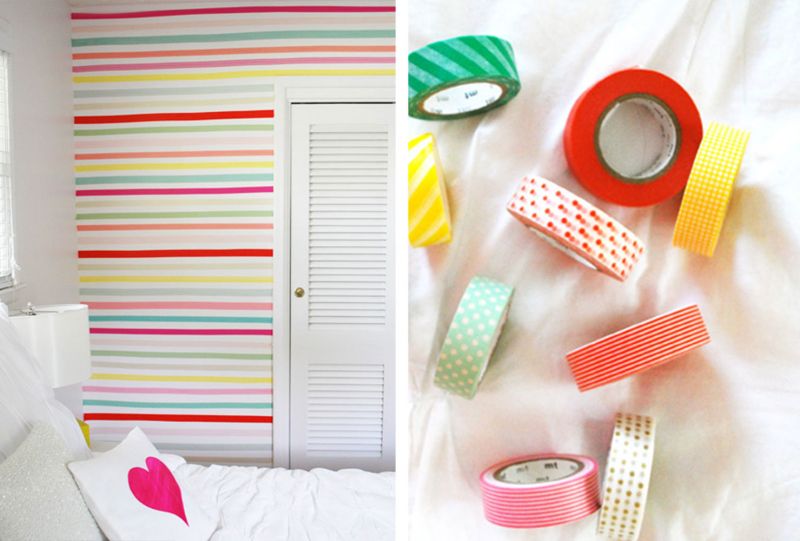 Best of all, it is safe to use on just about any surface! It is easy to remove and does not leave behind any type of residue, and it also won't remove paint or stain with it.
If you live in an apartment or dorm room and want to decorate your walls but are terrified of damaging the paint and don't want to (or can't use) nails or other types of adhesive – washi tape is your perfect solution.
Washi tape easily sticks to walls and comes off in a breeze without causing any damage or removing any paint.
Even if you are able to use nails or paint your walls, sometimes washi tape is a better alternative if you want to make some changes but aren't sure if you want to permanently do so.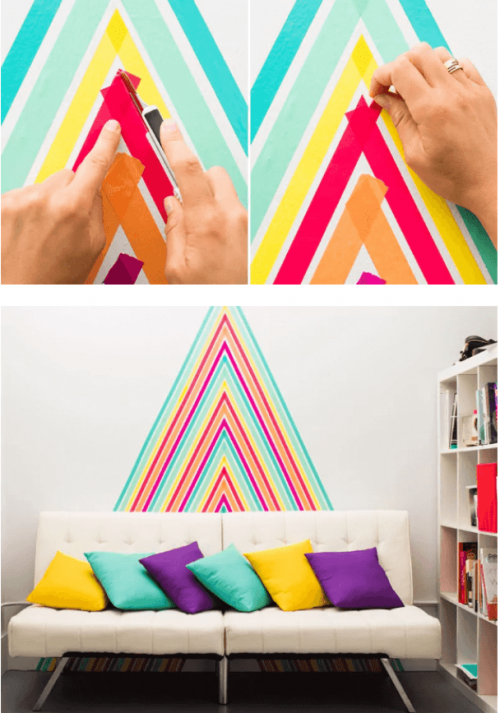 Get creative with your washi tape and see how you like it. If you do, great! If not- remove the tape and move on! There are so many fun uses for it, which makes it obvious why it is such a fan favorite craft supply.
Finally, washi tape is really easy to find at just about any craft store, and it is also pretty affordable.
Who doesn't like that? Speaking of shopping for washi tape – if you are interested in buying some of your own and getting crafty, check out our top picks that you can purchase in just a few clicks on Amazon!
Best Washi Tapes on Amazon
1. DIY Glitter Washi Tape Set – 40 Rolls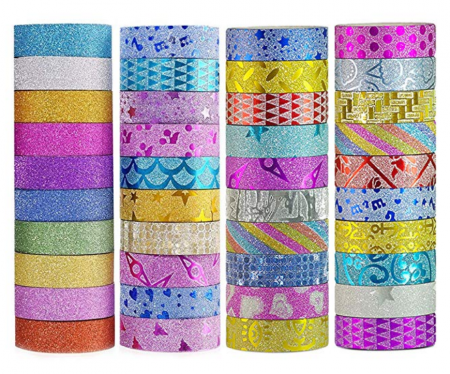 First up, if you love glitter, how could you resist these gorgeous washi tapes? We love that you get 40 entire rolls of tape that come in a variety of solid colors and fun patterns.
Best of all, the glitter used is eco-friendly and won't fall off, so you don't have to worry about getting glitter all over your house!
If you love festive colors, this is a great set to consider and would work perfectly for party decorations. We are having fun just thinking about all the fun projects we could create with this tape!
2. Molshine Set of 6 (7.6yd/roll) Natural Color Washi Masking Tape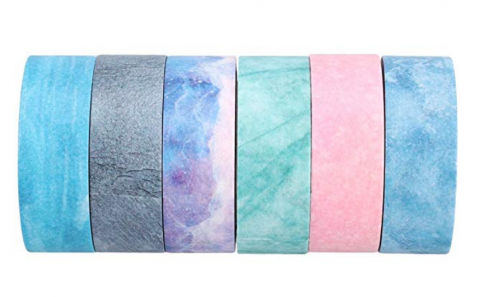 If you were worried that you have to get bright bold colors with your washi tape, you would be wrong! While there's nothing wrong with that, if you prefer a more muted color palette, this set is perfect for you.
This set gives you 6 rolls of absolutely gorgeous washi tape that have a watercolor effect to them, which we just love. In muted pastel colors, this set fits exactly what is trending right now in design – making it a great set if you want to make some home decor pieces that are totally in style.
3. Agutape 48 Rolls Washi Tape Set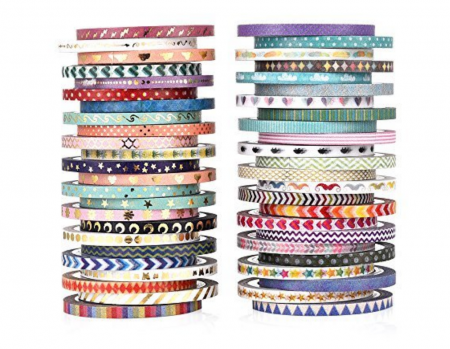 This awesome set of washi tape comes with 48 (yes, 48!) rolls of washi tape that has a thinner width than most, which is great if you want to create more subtle designs.
We love what a wide variety of patterns this set has, all complete with gold foil designs that make the tape look more expensive than it is.
As a result, your final projects will look like they cost a fortune, but you'll know the truth- they didn't!
These tapes have a width of just 3 millimeters, making them a great choice for smaller projects and for creating gorgeous thin frames or stripes for all your various craft projects.
4. Knaid Floral Washi Masking Tape Set + Tape Dispenser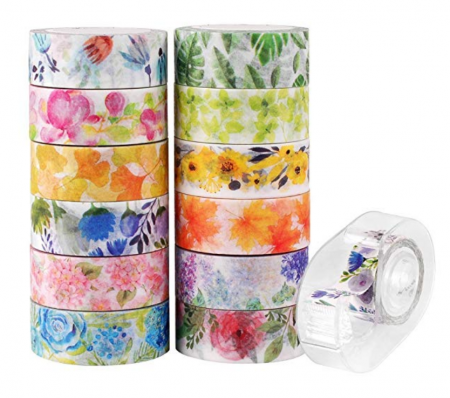 Who doesn't love a good floral pattern? We know we do! For that reason, we love this set of floral washi tapes. You get 12 rolls of tape that each has its own unique floral pattern, complete with all different color palettes.
Some are more bright, some are more subtle, but all are equally beautiful!
If you are looking for ways to add florals into your designs without having to purchase actual flowers, this is a great option! Who wants to replace flowers every few days, when you could have a permanent and equally gorgeous solution instead? Sign us up! Best of all, this set also comes with a tape dispenser, making it easier than ever to tear your tape and get to crafting!
5. YUKUNTANG Washi Masking Tape Set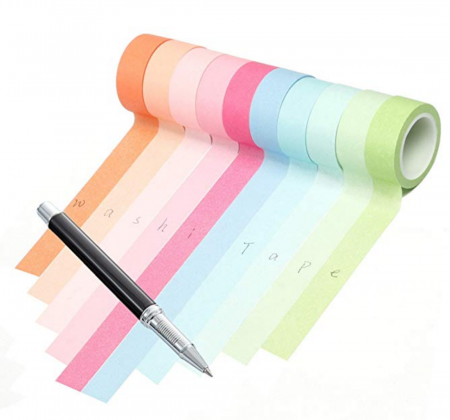 Finally, if you just want a simple set of washi tape that comes in a variety of plain shades- no patterns, no textures, nothing, this is the set for you.
However, don't think that we are knocking on this simple set – it may actually be our favorite! We love the gorgeous array of hues you get in this set- 28 rolls all in a unique shade that includes both neutrals and more bold shades.
This is one of the most versatile sets you will find, as you will always be able to find a shade that matches whatever project you could possibly dream up!
Whether you are labeling containers in your kitchen, decorating for a party, or anything in between, you can find the right shade in this set of tape.
Wrapping Up
Are you convinced yet? Washi tape is one of the best items you could add to your craft supplies collection. There are such a variety of colors, widths, patterns, and textures, you can easily find washi tape that fits your design style and personality.
With affordable pricing, and with it being so easy to use, why not give it a try and see how creative you can get?
What's your favorite craft supply? Do you like getting your hands dirty, or are you a little neater and proper? Let us know!
Pin for later