This product is listed here: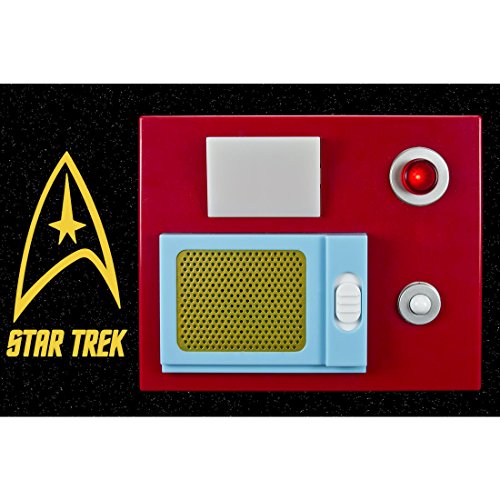 ThinkGeek Star Trek Electronic Door Chime – Motion-Sensitive
If you have a Star Trek fan in your life (chances are that you do) we are here to make sure you will delight even the most devoted Trekkie with a special gift that you have totally thought about (we promise to keep your secret). As you might be aware, this lot is overly loyal and is always eager to receive, buy and collect Star Trek toys, books, DVDs, soundtrack CDS and anything with a Star Trek theme and memorabilia.
The good thing is, there is a bit of just about anything including this Star Trek electronic door chime by ThinkGeek. Bring the future to them complete with the gadgets and the gizmos that they would so love to have. Ask any geek out there, and they tell you that their one dream is to have the 23rd gadgets right here in the 21st century. And this wish can partly come true with this motion-sensitive door chime.
Detailed information about ThinkGeek Star Trek Electronic Door Chime – Motion-Sensitive
It is modeled to look like the communicator panels on the wall near the doors at the cabins and has the same sounds as the ones in the show. It has two sound settings which include sound effect to signify door opening and a red alert alarm.
In addition, this gadget is designed with a push button in front which when pressed makes the communicator whistle sound. And if someone wishes to disable the sounds, they can set it off.
WHY WE LIKE IT?
It's motion sensitive
It's a fun collectible
It has two sound settings
A replica of the one in the show
WHY WE dont LIKE IT?
None
What we love about this product
In the original series, the door chime was one of the wall communicator panels, and this particular one is a replica of the one that appeared in the show. Any Trekkie will be thrilled to have this gadget, so order it with confidence because you are about to make someone ecstatic.