This product is listed here: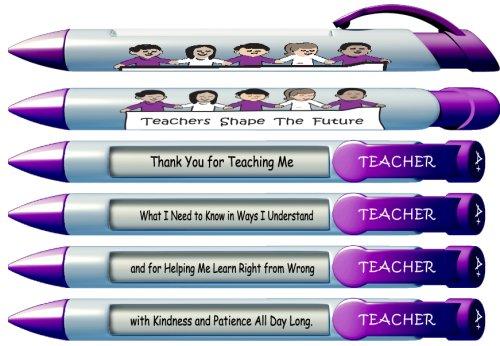 Teachers Shape The Future Pens
A small token of appreciation for the person who has done all the hard work to encourage and inspire us won't go unnoticed, especially when you gift this beautiful pen set with rotating messages! Choosing a writing tool might seem like a simple task but only a teacher understands the importance and value of a good writing tool.
Detailed information about Teachers Shape The Future Pens
Spending hours on marking papers up and grading will do that to you and if anything that makes the job less painful is the right pen which can make all the difference. This way you can at least give your teacher a sigh of relief by showing you care and the rotating messages will surely keep them going to do their best. The messages keep changing with every click so every time your favorite teacher picks one of them it urges them to write more. What better way to show your mentors that they really matter and you're nothing without them?