This product is listed here: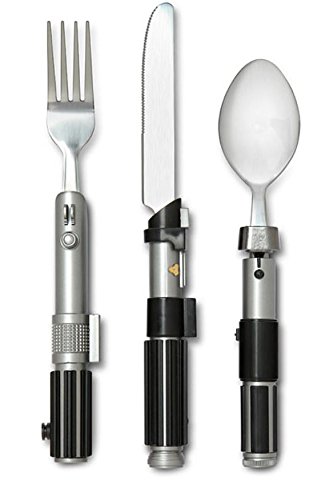 Star Wars Utensil Set
In the recent past, TV shows and movies have come up with ways of entertaining the fans even more. This is by introducing merchandise that matches the film to give the fan a personal feel for the characters. Star Wars has been most people favorite, and if you follow it, you are more than sure it is an exceptional one.
For this reason, why not get yourself or a friend some Star Wars merchandise to remind them of the great moments they have enjoyed watching the series. This set of utensils includes a fork, knife, and spoon and would be a lovely surprise gift for any Star Wars fan.
Detailed information about Star Wars Utensil Set
The three items are made of a combination of stainless steel and food grade plastic. These are safe for use and work just like any other set would do. From Star Wars description, there is a Luke fork, Yoda spoon, and Vader knife. The design does not allow the upper parts to retract back to the handle.
Virtually, the design is like that of usual utensils just that this one has a touch of Star wars added to it. The pieces are suitable for use by adults as well as children. It is essential to take note that the set is not dishwasher safe. It is advisable to hand wash to maintain the quality of the stainless steel and plastic.