This product is listed here: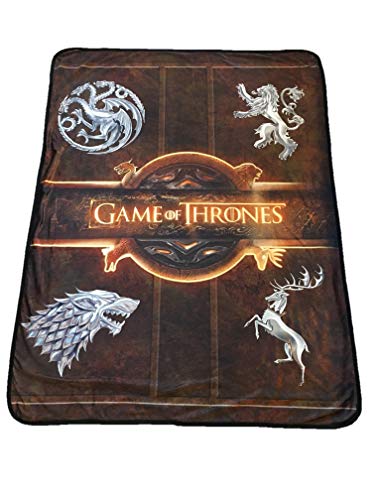 Rabbit Tanaka Game of Thrones Blanket – House Sigil Fleece Throw
"Winter is Coming"! These are words too familiar to Game of Thrones fans which had heavy meaning behind them.
It was a warning used by characters and House Stark as a cue to stay prepared for the dark period. The North had enemies, including the ones in the Kings' Landing and not forgetting the white Walkers and the Night King.
And so, it goes without saying; any GOT fan should always be prepared for the Winter.
They might not do it as the Northerners did, but with this soft fleece throw blanket featuring GOT logo and house sigis from some of the most popular royal houses of Westeros, winter will not catch them by surprise.
This throw blanket by Rabbit Tanaka will make an excellent gift for a GOT enthusiast.
And even though the show came to an end, with this blanket, the fan in your life can now have a memento to remind them of this captivating story that had a stole the hearts of many.
They will always have a perfect companion with this soft fleece throw when they are re-watching the HBO show and behind the scenes during the chilly winter nights.
Detailed information about Rabbit Tanaka Game of Thrones Blanket – House Sigil Fleece Throw
The sigils details surround the Game of Thrones families. The details are clear, crisp, and are perfectly layered on a leather-like background.
The blanket itself, it's made of super soft and cozy polyester fleece material.
It is exceptionally comfortable, soft, and lightweight, making it suitable for all four-season use.
Measuring approximately 46" x 60", this throw blanket is perfectly sized for a sofa, bed and a chair.
WHY WE LIKE IT?
Features clear details from the show including the house sigil and title logo
Made of high quality and super soft polyester fleece fabric
A great collectible and gift for GOT fans
It's machine washable
Big enough to fit on a sofa, chair or bed
Lightweight
WHY WE dont LIKE IT?
None
What we love about this product
This is an officially licensed merchandise from the HBO's most loved and acclaimed series. Any avid fan and collector will be pleased to add it to their collection.
It features house sigils banners from the four of the most popular houses in Westeros which include House Stark, House of Lannister, House Targaryens, and House Baratheon.