This product is listed here: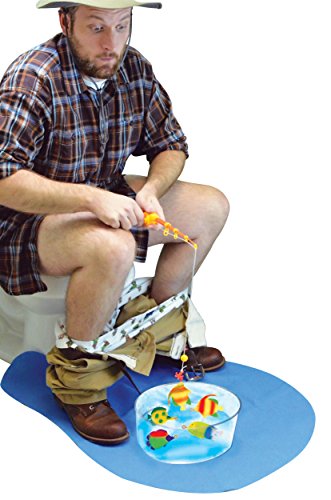 Potty Fisher Toilet Fishing Game
Some people get bored sitting on the toilet. After all, there are only so many times that the bathroom tiles can be counted. Now with this new toilet game from Fairly Odd Novelties, the person who spends a lot of time in the bathroom can have something to do rather than count tiles or inspect the spider's web in the corner of the room.
This is a great gift for any of your friends or family and especially useful if the recipient is an avid fisherman or just likes to spend a long time sitting on the toilet, whether by necessity or because it's the only time they can get any peace and quiet. The set includes a plastic waterproof mat, four plastic fish, a rod, a clear plastic bowl and a 'Do Not Disturb Sign'.
Detailed information about Potty Fisher Toilet Fishing Game
This is a fun toilet game for anyone who likes to spend time relaxing in the bathroom. If Potty Fishing isn't your scene then don't forget that Fairly Odd Novelties also sells Potty Putter, the bathroom golf putting the game.
This will make a wonderful gift for anyone of any age as long as they like to spend a long time sitting on the toilet. The manufacturer, however, recommends that children under the age of three years do not use this game as there are small parts that are a choking hazard.
WHY WE LIKE IT?
This is a great toilet based game along the same lines as Potty Putter golf game
This is fun for everyone in the family but especially for those who spend a long time sitting on the toilet
It is better than counting bath tiles!
WHY WE dont LIKE IT?
None
What we love about this product
The idea behind the game is for the person to sit on the toilet and hopefully hook all four of the fish before he or she has finished their business. The toilet fisherman need only pack a flask of tea and a few sandwiches and go fishing in the bathroom for an hour or so. Just one thing that should be done is to make sure that no one else wants to use the toilet first otherwise the fisherman will not be very popular.