This product is listed here: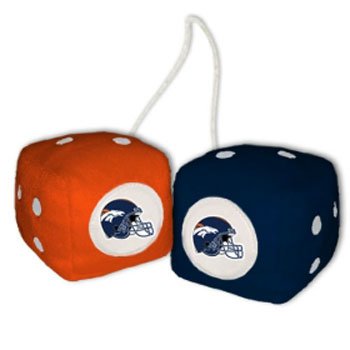 NFL Fuzzy Dice
Do you have a sports fan in your gift list for the upcoming holiday season? Or is that special man in your life into all things football? If this the case then you shouldn't be in a dilemma over what kind of gift to get for a football fan or one that is into sports. We already have you covered with the best gift idea. It's none other than this NFL Fuzzy dice from Fremont Die.
Anyone who is into sports and football will definitely be delighted to have this pair of fuzzy dice in their possession. The set includes two dice in different vibrant colors which represent the team's colors. Each die is made from 100% polyester fiber, which is a high-quality plush material. Each of the die measures about 3X3 inches in size, which is just about the right size to beautifully display in a car or the office desk or on a kid's study desk.
Detailed information about NFL Fuzzy Dice
The set not only comes with two different team colors but each of the die is designed with the team's logo. The set features printed screen logos which are officially licensed. This makes them authentic and real, and any sports fan will be proud to own these amazing set. It will be a great sports collectible or a treasured keepsake.
But what makes this set of NFL Fuzzy dice a great choice is the fact that they can actually be hung anywhere.
WHY WE LIKE IT?
Made 100% from polyester fiber
Comes connected to a nylon string to make it easy to hang them
They come different team colors and logos
WHY WE dont LIKE IT?
The strings are shorter than expected
What we love about this product
Each die is attached to a nylon string to allow the owner to hang it in their favorite spot. The receiver can proudly hang the set in their car, office, man cave or if given to a kid, they can hang it anywhere in their room. It's the perfect gift that will always remind them of their favorite team.