This product is listed here: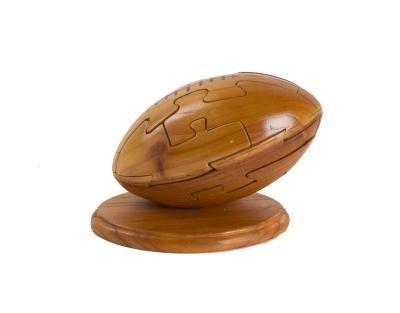 CHH Sports Football Puzzle
This CHH Sports Football Puzzle is the perfect gift for the football fan, child, student, working adult, or intellectual in your life. It is a great addition to a desk or den. No worries if the football fan in your life is not one for puzzles, the solution is included in the box. This is a fun game and a challenge for people trying to get the creative juices flowing at work. Maybe you just need to keep your hands busy during a conference call or are trying to work through some problem. This puzzle is fun, 3D, and just challenging enough that you have to focus, but it is not impossible to figure out.
Detailed information about CHH Sports Football Puzzle
This is a high-quality wooden puzzle which looks nice even as a decor on desks. The pedestal and shine of the wood make it look professional and clean. The ball itself is 6 inches by 3.5 inches by 5 inches. For reference, it should sit comfortably in the palm of your hand. So it is big enough to be noticed but not so big as to be cumbersome on a desk or in a room.