This product is listed here: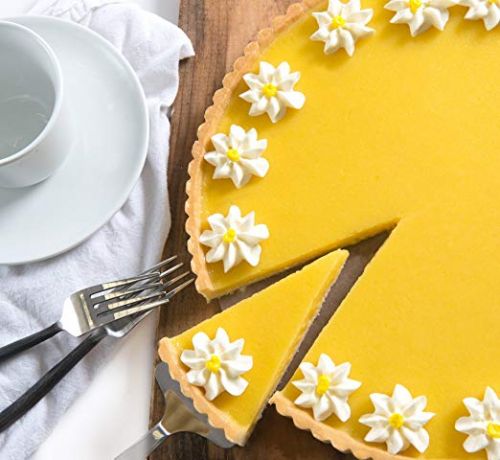 Lemon Flower Tart
What could be more delicious than a lemon tart as a dessert with a cup of tea? The lemon tart from David's Cookies is a delicious lemon-flavored curd poured into a biscuit base with edible buttercream flower decorations around the rim.
The tart itself weighs 1lb 14oz and serves twelve people (the slices are pre-cut so you don't even have to worry about slicing). When this is shipped from the manufacturer it is packed frozen into a cooler with dry ice to keep it as fresh as possible. The lemon tart is Kosher certified, but is not vegetarian and is not dairy free.
The lemon curd used to make this delicious tart is not too sweet and not too sour. It is a creamy filling to a butter cookie shell. It definitely has the look and taste of spring and summer and will brighten up the table of any home in the middle of winter.
Detailed information about Lemon Flower Tart
Buy one for holiday treats, for birthdays or for a Christmas party. Many people order one of these in place of a birthday cake and are extremely satisfied with the product when it arrives. The advantage of the tart being pre-cut is that it is possible to defrost just the correct amount of slices you need.
Buy this as a birthday treat for children or adults alike. Everyone will enjoy the exciting lemony taste and if you pour cream or custard over the tart then the combination of flavors and textures will be even better than eating it dry.
WHY WE LIKE IT?
This delicious lemon curd tart is made with lots of good wholesome ingredients
Delivered frozen to your home or place of work
This is a delicious alternative to a birthday cake
The tart arrives presliced and will serve up to twelve people
WHY WE dont LIKE IT?
Contains the following common food allergens: eggs, soy, wheat, milk
What we love about this product
The lemon tart will arrive either fully or partially frozen and is quite safe to refreeze until needed.