This product is listed here: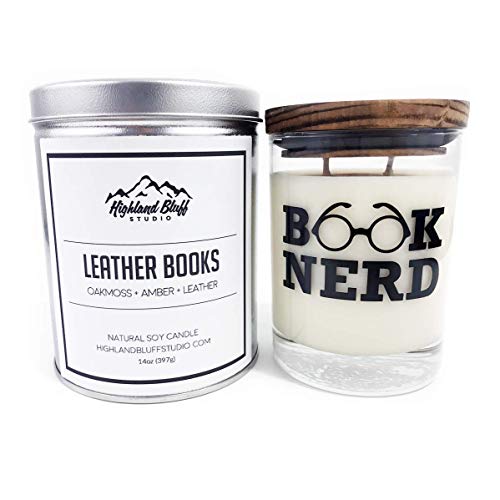 Leather Books Soy Candle
Forget about the smell of freshly baked cookies, or apple pie, or the most expensive perfume or even freshly cleaned laundry. For a book a nerd, nothing truly beats the smell of books. The combination of the well-thumbed pages, the paper, adhesives and ink result to a nostalgic book smell that stays etched into your memory.
The book, when inhaled, the smell goes deep as the lungs can allow, and for a book lover, this is pure bliss. Its fun, it's engaging and touching. It cultivates a deep connection that only an avid reader can understand. For this reason, if you are looking for ways to spread love to the book lover in your life and show them that you care for them, nothing will warm their hearts like the leather books soy candles from Highland Bluff Studio.
Detailed information about Leather Books Soy Candle
The 14 oz soy candles will provide the smell of books or the venerable old library. It will nostalgically transport a reader to a world filled with books, curiosity, wisdom, anticipation, and longing for knowledge. This is not just a book scent. It's a distinct rich smell of ink, old paper, leather binding and volumes of books that beautifully line up the shelves in a library. This book smell is heavenly, its bliss and its nostalgic.
The scents which include musky leather, sweet amber, and woodsy oakmoss nicely combine to provide the reader with a magical, whimsical and mysterious atmosphere. The candles will transform their reading space into a library and fill the room with anticipation.
WHY WE LIKE IT?
Quality candles with a book smell
A great gift for a book lover
WHY WE dont LIKE IT?
None
What we love about this product
The scent is what a book lover lives for. It brings about great anticipation. It reminds one of that excited strange feeling one gets when they pick a legendary book and secretly shiver, just a little bit before they open the book and get lost as they flip from page to page reading the stories and the words of wisdom by the author.