How to Make Sure to Nail Your Wedding Menu!
last updated:
Aug 05, 2019
2141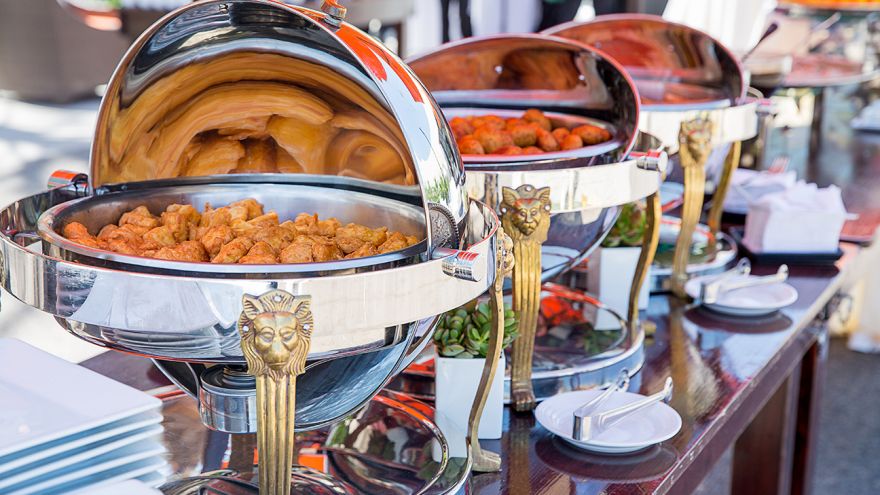 There are so many fun and exciting details about planning a wedding! For many, what may be most exciting is the food! This is your chance to really wow your guests and enjoy a delicious lunch, dinner, or even brunch with your friends and family. Planning a wedding menu can feel overwhelming, and that is totally understandable, but remember – it should also be fun!
While you want to try and make all of your guests happy, you also want to make sure you are serving something that you and your groom are happy about.
This is your chance to show a little bit of personality and serve something that you both really like.
In years past there were a lot of hard and fast rules you had to follow when it came to planning a wedding menu. While there are still several rules you really should stick to (which we will discuss below) there is a lot more flexibility today to do what you want!
If you don't want a proper sit down 4-course dinner, don't have it! If your dream is to have a doughnut wall instead of a traditional wedding cake, have the doughnut wall!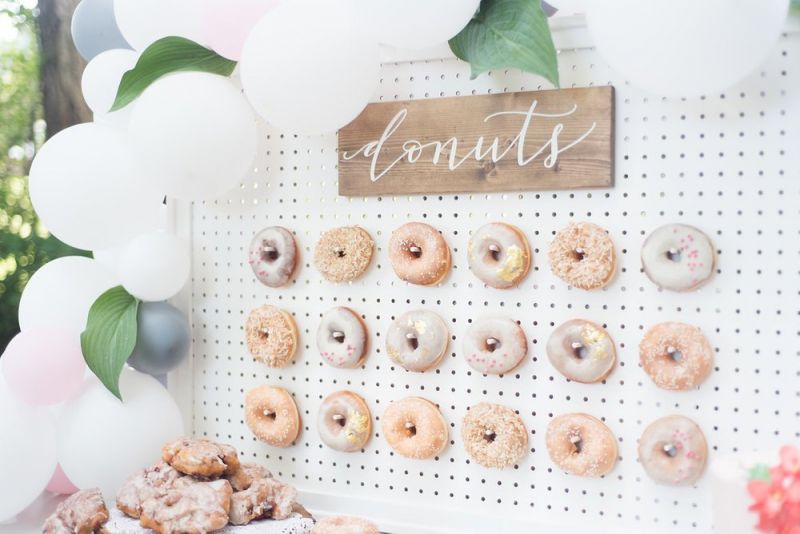 It is always important to remember that this is your wedding, and not anyone else's! While you do want to consider your guests and their dietary restrictions and simply their overall comfort, you also want to consider what the wedding menu of your dreams looks like so that you can try and get as close to that as possible!
With all that said, how do you make sure you nail your wedding menu? What major etiquette rules still apply? Where can you have some fun? We are here to answer all of those questions and more!
Here are the 5 main things you need to keep in mind so that everyone agrees that you totally nailed your wedding menu.
Always Have Options
This is probably the one 'traditional' tip that you should keep when it comes to planning your wedding menu.
While you may have a very specific vision of what you want to serve, the reality is that your guests are almost sure to have a variety of dietary or health restrictions.
Are you inviting anyone who is vegetarian or vegan? What about people who can't have gluten? What about those with food allergies?
While it is your wedding, that means it is your responsibility to ensure there are food options that will work for all of your guests.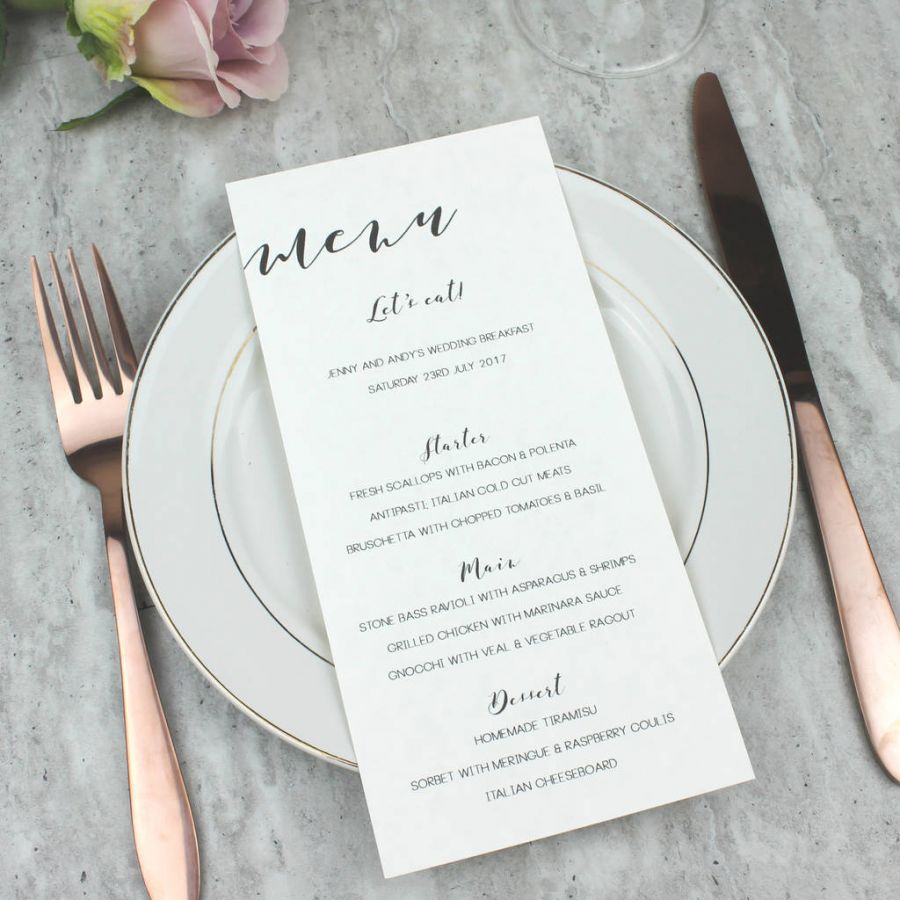 Make sure you plan your guest list early and check with your guests about any allergies or restrictions. In some cases, you may be able to have a small serving made of something unique if you are only dealing with one or two guests that have specific needs.
In general, we recommend that you have a variety of options that fall into these main categories: the main dish that features beef, the main dish that features chicken or pork, and the main dish that is vegetarian.
Beyond that, the sky's the limit! There is no reason to not serve unique dishes if that is what you want, but you do always want to be respectful of your guests. They are traveling a long way and taking the time to be at your wedding – you want them to feel welcome!
Think Outside the Box
There are plenty of traditional wedding menus that you could look up online. While there isn't anything wrong with that, and if your wedding vision has always been something very traditional, go for it!
However, an increasing amount of couples want to do something unique for their menu, and we think you should absolutely go for it. Think outside the box.
So, what does that mean? It may mean the actual food itself, but it could also mean the presentation! Mashed potatoes are a popular food item served, but why not make it more unique by serving mashed potato shooters?
Serve up individual portions in a martini glass and have a station where they can add toppings like shredded cheese, bacon, or chives. This takes an ordinary food item and turns it into something interesting and fun!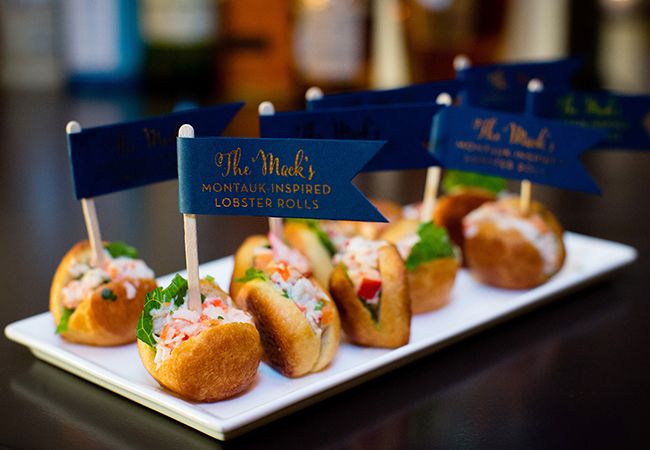 You don't have to come up with a unique menu filled with items no one has heard of, but you can get creative in other ways so that your wedding menu stands out from the rest.
Find the right balance that works for you and have fun with it! Do you have a favorite food dish? What about your fiance? Consider including those items as well that serve as a personal touch.
Ask For Help
As with any aspect of wedding planning, it is almost always better to ask for help! More than likely you will be working with a wedding caterer (and if you are having more than 10-15 guests we highly recommend you hire a caterer) and they are a great resource that you should rely on as you plan your menu.
Because this is what they do for a living they are sure to have some really great ideas that they can share with you.
Perhaps they really loved what they did at a wedding last year, or are about to cater a wedding that sounds like something you would love. Pick their brains and see if they can help you come up with a really great menu!
Something else to keep in mind is that your caterer can also help ensure that your dreams can actually become a reality. If you maybe have a little bit too much planned, they can point out where you maybe should cut back.
Do you have a set budget? They can tell you if it is doable given your menu suggestions and guest count. Keep them involved in your entire process so there are no surprises coming your way last minute!
Go Local
Something to consider as you plan your menu or pick your caterer is if you want to include local ingredients. This is an option that more and more couples are opting for, and it is a great unique touch to put on your menu.
Not only are you likely to get to eat some unique local flavors, but you are also supporting local businesses and farms which is a great way to help out your local community.
Also, keep in mind what season you are getting married in and think about some seasonal dishes that you could include. A fall wedding- perhaps a pumpkin souffle.
Summer wedding? Why not have a fresh fruit display?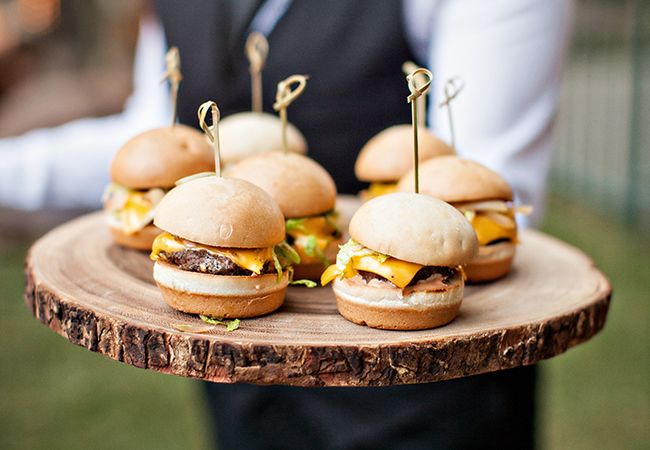 If you are serious about your local community and also want to come up with a unique and delicious wedding menu, going with local ingredients is a great way to make that happen.
Search for caterers that work with local restaurants and farms and ask them what they would recommend serving based on when you are getting married. They may even have suggestions you hadn't thought of yourself!
Don't Forget About Dessert
Finally – don't forget about dessert! For many couples (and guests) this is a major part of the wedding menu.
While plenty of couples still go with a traditional wedding cake, you can either choose to go with a unique flavored cake, or go in a totally new direction!
A lot of couples are choosing to go with individual-sized desserts – such as doughnuts, cupcakes, or macaroons. This is a great way to put a unique spin on a classic wedding menu item.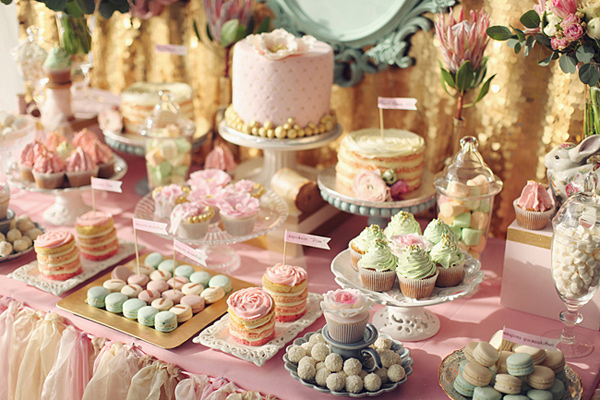 You can still have a wedding cake, especially if you want to cut the cake with your new husband or wife. However, consider having a smaller cake that is more or less for show and then also has a variety of dessert options available to eat!
As we mentioned earlier consider a unique presentation as a way to kick up your menu and turn it into something truly memorable (and of course- delicious!) Best of all, you certainly have to try anything you would serve your guest s- and who doesn't enjoy a nice long day tasting various sweet treats? Sign us up!
Bonus: Start Early!
Now that you have some great ideas about what to serve, don't wait to turn those ideas into action. The earlier you get started with planning your dinner the better. It is inevitable that you will run into some roadblocks, and you don't want to be pressed for time when it comes to something so important!
Speak with your caterer and make sure that what you want can happen. Ensure you are sticking to your budget, or see where you might need to make some adjustments. These things take time, so get started now!
With a little patience and plenty of brainstorming you can come up with the greatest, most unique, and personalized wedding menu that your guests will remember for years to come!
Make sure to keep these tips in mind as you plan and you are sure to come up with an exceptional menu.
Pin for later