Unique Wedding Cake Toppers We Found on Amazon!
last updated:
Sep 03, 2018
3534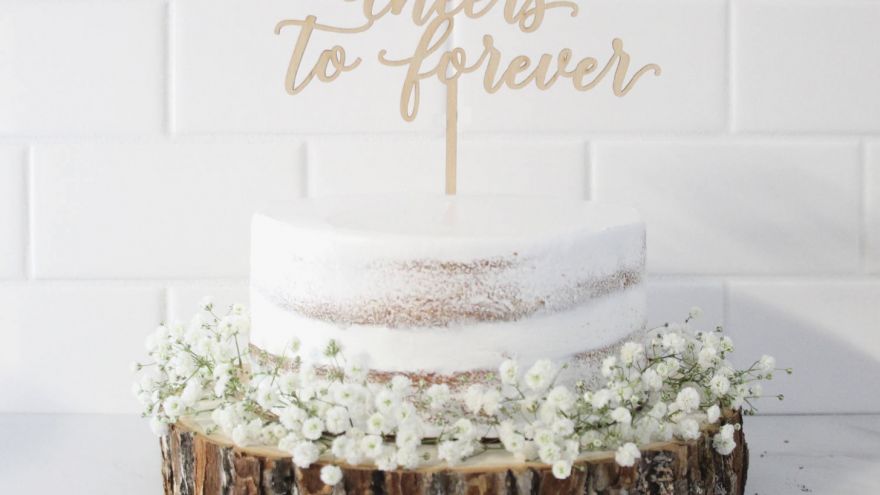 As one of the most important parts of your special day, you've undoubtedly chosen a cake or assortment of desserts that your guests are sure to enjoy. To put the final stamp on your wedding sweets, you're going to need the perfect topper, however, you deserve something that is slightly outside of what people would typically expect to see. We've created a list of the most unique wedding cake toppers that are applicable to a wide variety of different marriages and aesthetics.
1. "Better Together" Topper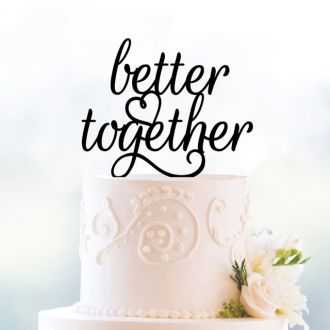 Instead of relying on the traditional figurines that you see on top of wedding cakes, why not opt for something that is a little more modern and shows off the entire purpose of your wedding? The "Better Together" Topper is a great option for wedding cakes, however, it can also be used for cupcakes and even large spreads of tarts and other treats.
Each one of the signs is created made-to-order, so you will have a truly unique sign that no one else has had before. Also, you have the ability to completely personalize the sign, as you can choose the size to accommodate the size of your cake. You can also send a personalized design if you'd like something a little different than what is shown in the stock image.
2. Wooden Wedding Cake Topper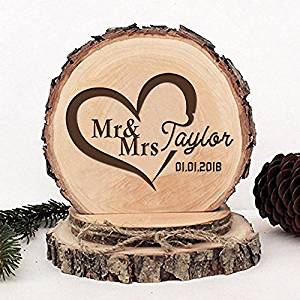 Are you planning an outdoor wedding or perhaps you're someone who is going for a more earthy and bohemian wedding aesthetic? The Wooden Wedding Cake Topper is truly something that you've never seen before, especially as it's made out of a slice of a tree stump that can be personally engraved with any message you desire. It adds the perfect rustic appeal to a traditional wedding cake and you have complete control over what you'd like to have engraved, making it perfect for your special day.
All of the pieces that you need for assembly come with the product, and there are a variety of arrangements that you can do depending on how you'd like your topper to sit on your wedding cake.
3. The Nightmare Before Christmas Topper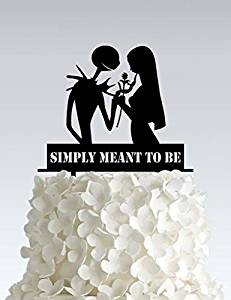 If you're a couple who has always had a passion for spooky movies with a brilliant romantic subplot, you've undoubtedly watched The Nightmare Before Christmas. As one of Tim Burton's most successful movies, it tells the tale of Jack and Sally and how they fall in love over Jack's plan to take over Christmas instead of focusing solely on Halloween. The "Simply Meant to Be" Topper is a direct quote from the song sung between the two when they finally admit that they have fallen in love with one another.
This wedding cake topper is constructed out of acrylic and is available in a wide variety of colors, making it perfect for unique wedding cakes. You'll also surely appreciate the perfectly laser cut figurines of both Jack and Sally on the left side of the topper, right before they fall into their very first kiss. It's a romantic topper for the most unique couple that has always had an affinity for things outside of the norm.
4. Full Family Wedding Cake Topper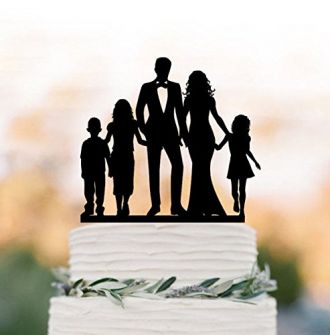 Not every couple fits the traditional mold of husband and wife, as there are plenty of families that join together when vows are said. As the perfect option for a soon-to-be blended family or a couple who already has children before getting married, the Full Family Wedding Cake Topper has a classic and elegant appeal. Not only does it look spectacular, but it also shows the love that you have for the other members of your family, especially your children.
Similar to the "Simply Meant to Be" wedding cake topper, you can choose from an assortment of colors depending on the aesthetic of your wedding. Also, there are plenty of familial arrangements that you can choose from that perfectly accommodates the size and gender of your family members. There's nothing that quite says, "I do" more than recognizing that your children are just as important as the bride and groom on your wedding day.
5. Rustic Wood Bride, Groom, and Pets Wedding Topper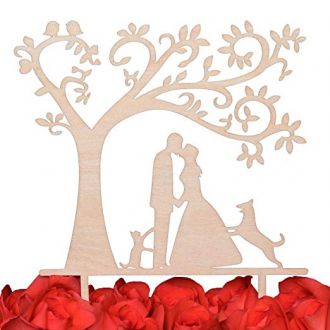 If you haven't had the opportunity to try for kids yet, it's quite likely that you already have a full house of furry little children. Ideal for couples who have pets, the Rustic Wood Bride, Groom, and Pets Wedding Topper includes all of the most important people in your life on your special day. Above all else, the rustic wood appearance of the silhouette cutout wedding topper is what sets it apart from other designs because it exudes beauty and innovation at the same time.
Designed for cakes at 6 or more inches, this exquisitely detailed wedding cake topper surely focuses on the most subtle features which are what make it the ideal ornate decoration for your desserts. Above all else, it's made out of food-safe materials and is easily stored away in a box after your wedding to keep as a memento or to be used throughout the years.
6. Love Cake Topper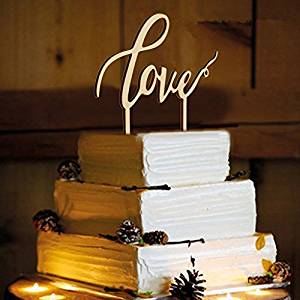 When you and your significant other decide to tie the knot, there's nothing that describes that moment more than the word, "Love". The Love Cake Topper is the perfect choice for a modern wedding and a couple that is looking for a more contemporary topper compared to the other designs on this list. It's unique in the sense that it offers a beautiful aesthetic without any images of brides and grooms but still accentuates the true feeling of everyone in the room.
Designed using gold glitter acrylic, you'll easily be able to stick the topper into any sized dessert and it can easily be washed and stored for future use. You'll also appreciate the true-gold color that sparkles in the light.
Final Thoughts
Adding the final decorations to your wedding cake will tie your entire dessert table together, and with the right topper, you can transform a bland cake into something beautiful and memorable. With plenty of different designs for you to choose from, there's surely something unique for every couple.
Pin for later