This product is listed here: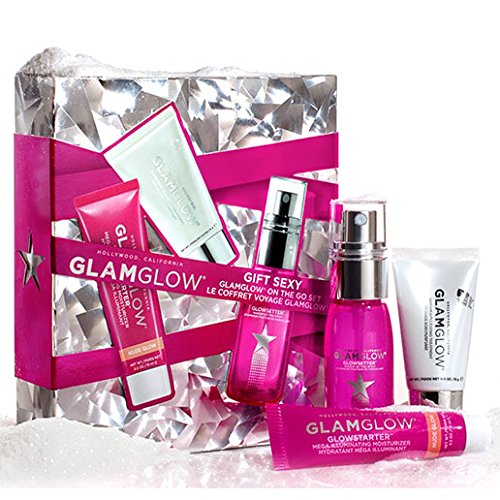 GLAMGLOW On The Go Set Trio Holiday Set
GLAMGLOW's Glow on the Go set brings three superstar products together in one collection. The products are highly effective on their own, but when used together they can provide you with a flawless complexion. The trio includes three products: Supermud Clearing Treatment, Glowstarter Mega Illuminating Moisturizer, and Glowsetter Makeup Setting Spray, to prep your skin for makeup application and keep it lasting all day. No matter your skin type, this set can transform your complexion to bright and radiant, eliminating redness and smoothing out any rough or patchy texture.
Detailed information about GLAMGLOW On The Go Set Trio Holiday Set
The eye-catching hot pink and silver gift box would make this an amazing gift. The Supermud Clearing Treatment fights redness, acne, and other common skin issues so that your skin transforms into a clean, clear glow, whether you want to have a smooth canvas for makeup or just let your skin look its best. This is including superstar ingredients like activated charcoal, eucalyptus leaf, and clay to pull unwanted oil and dirt from your skin. In a study, 94% of participants said their skin looked renewed.
The Glowstarter Mega Illuminating Moisturizer hydrates dry and combination skin, with pearl particles that reflect light. It blurs out any flaws on your skin for a luminous, healthy finish. Vitamins and hyaluronic acid combine with green tea and shea butter to infuse the skin with moisture and antioxidants.