DIY Wedding Bouquet: The Best Flower Combinations According to Popular Florists
last updated:
May 30, 2019
2228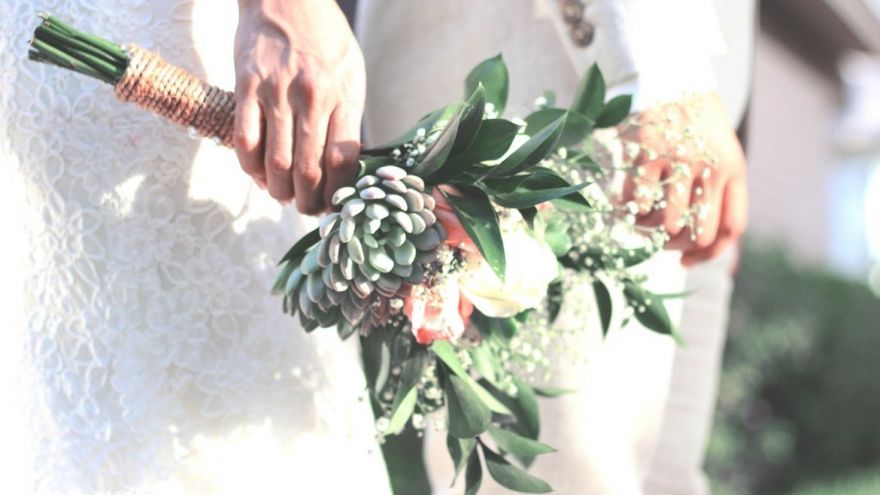 Finding individual flowers that will look stunning in your wedding bouquet is easy enough, but it can be tough to find the right combinations. You'll want flowers that play off of your dress, the venue, and that work well together to set the right impression.
In most cases, brides are responsible for naming all of the flowers they want in their bouquet, rather than their florist deciding for them. We've found all of the top-rated flower combinations, according to popular florists, for your own DIY wedding bouquet.
1. Dried Flowers, Grass, and Ferns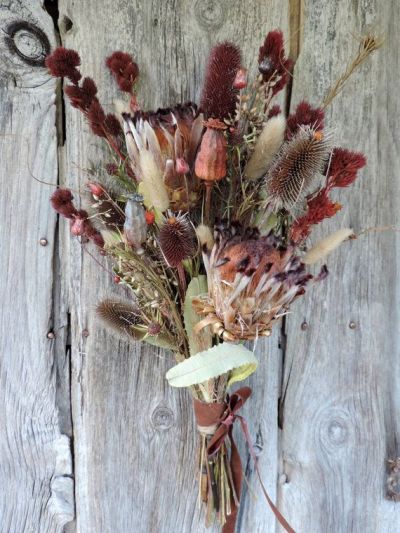 If you're planning more of a rustic wedding, there's no need to opt for fresh and vibrant flowers. You can take advantage of the beauty of preserved arrangements from dried grasses and flowers. These bouquets work perfectly in outdoor settings or even barn weddings where you want to capture the true Bohemian flavor of the venue. There are plenty of options to consider when it comes to creating these types of bouquets.
In terms of adding a little bit of life to your bouquet, we highly recommend considering ferns. Ferns are typically inexpensive and easy to get your hands on, which makes them perfect for DIY enthusiasts. Plus, they'll add a pop of natural color to your bouquet that will offset the colors in the rest of the wedding.
Our favorite dried flowers and grasses to consider are:
Grasses
Pampas grass
Wheat Stalks
Bunny Tails
Fountain grass
Dried Flowers
Lavender
Baby's breath
Daisies
Thistles
Get your dried flowers from Afloral.
2. Ombre Bouquets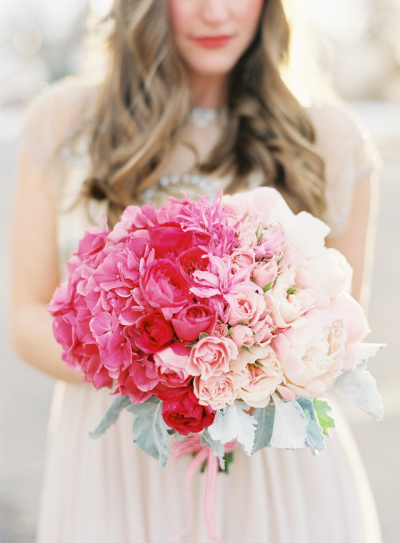 Ombre bridal bouquets are a fantastic idea for a bride that is looking for a soft transition of color that is feminine, stunning, and immaculately designed. With that said, as you're making your own floral arrangements, you'll need to make sure you choose the right colors of flowers. Ombre bouquets are easily achieved by using roses and other types of stock flowers, as they can be dyed in a variety of different colors.
The best part about these types of bouquets is that you can choose from relatively any flower that is easily dyed to create the perfect transition. The recommended flowers for the perfect ombre bouquet include:
Sweet peas
Garden roses
Ranunculus
Daisies
Hydrangeas
Carnations
Queen Anne's lace
3. Colorful and Cheerful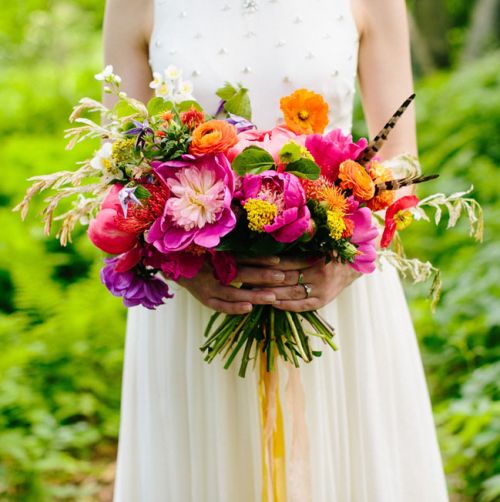 Not every bride is interested in using the traditional flowers you'd typically see in a bouquet, such as baby's breath and roses. You might be one of the many that like to take a ride on the wild side and opt for something that is far more vibrant, colorful, and cheerful. When creating a colorful bouquet, there are hundreds of flowers that you can choose from, especially if you opt for dyed varieties.
With that said, there are also plenty of flowers that are vibrant all on their own and when combined, create the perfect natural display of beauty. If you're someone with a bright and charismatic personality, the combination of these flowers is highly recommended.
The best flowers for a vibrant and cheerful bouquet include:
Scabiosa
Garden roses
Anemones
Sweet peas
Ranunculus
Carnations
Peonies
Pincushions
Tulips
Daffodils
4. Subdued Bouquet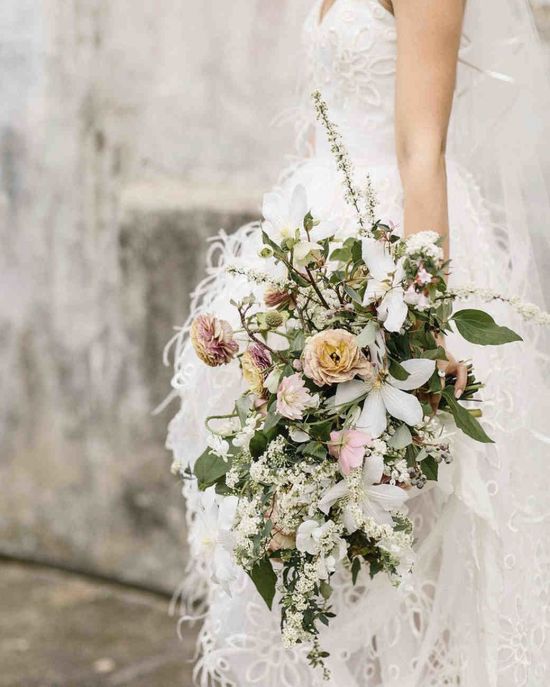 A bouquet with more subdued colors is quite similar to the dried grasses, flowers, and ferns bouquet we discussed previously. However, it has a more vintage appeal rather than a rustic appeal. You can easily find an assortment of flowers that have less vibrant colors, so they don't take away from the other aspects of your wedding. We also love how easily these bouquets are photographed and how soft they are against your wedding dress.
Subdued bouquets have become incredibly popular amongst younger couples who have a passion for authenticity and romance. With the combination of these flowers, you set the right impression and show that the most important part of the day is sealing your vows with your significant other.
The best flowers that you can use for a DIY subdued bouquet include:
Ranunculus
Lilac
Bleeding heart
Hellebore
Clematis
5. Clean and Modern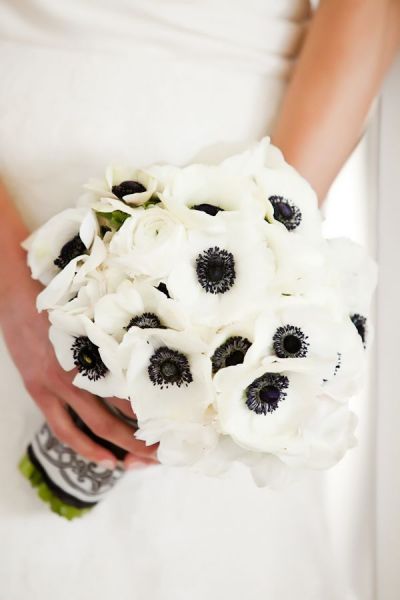 There's nothing that says, "I'm getting married" more than a bright white modern bouquet. The best part is that you can choose from an assortment of structurally beautiful flowers that compliment each other with ease. In addition, you won't have to worry about finding different shades and variations that work well together. Most of the flowers in a modern bouquet will be heartier, rather than soft, but they will certainly stand out against the classical design of your dress.
What we love about clean and modern bouquets is that they work perfectly for brides of any kind. Whether you're wearing a striking princess gown or a structured pantsuit, you'll have a bouquet that compliments your style.
The most recommended flowers to use for a modern bouquet include:
White orchids
Lilies
Cala lilies
Ferns
Dahlias
6. Cascading Bouquets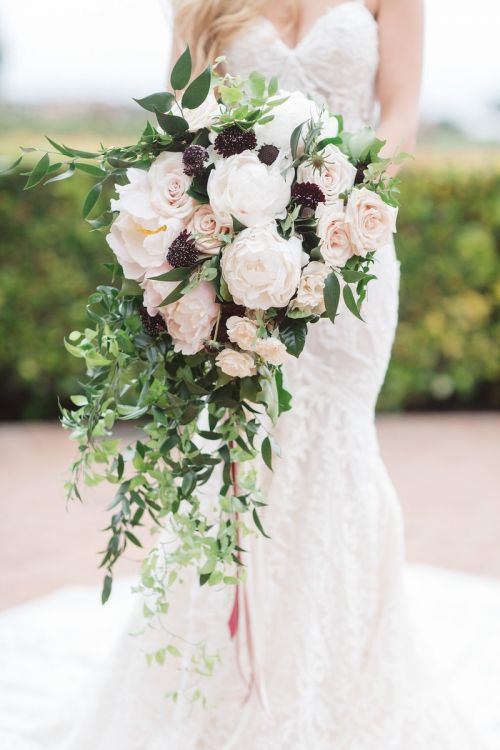 Are you the type of bride who loves to make an impression that people aren't soon to forget? Cascading bouquets are the perfect way to compliment any dress, especially if you have a long train or a long veil. Their main purpose is to create a flowing design that gently floats to the ground in front of you as you walk down the aisle. One of the best parts is that you'll be able to save a lot on individual flowers, as some of the pieces are great options for fillers.
With a cascading bouquet, you'll have a concentration of flowers in a color of your choosing at the top and then elegant ivy or vinery flowing down from the bottom of the bouquet. It's our favorite option for an outdoor wedding or a unique venue filled with greenery and floral accents.
The best flowers that you can use for cascading bouquets include:
Protea
Orchids
Lilies
Clematis Vine
Gomphrena
Ivy
No matter what type of bride you are, you can guarantee you'll be able to find the perfect floral arrangement. These are just a few examples of popular bouquet ideas from fantastic florists around the world. All you have to do is choose the perfect flowers, combine them using your creativity, and you'll have the bouquet of your dreams.
Pin for later