This product is listed here: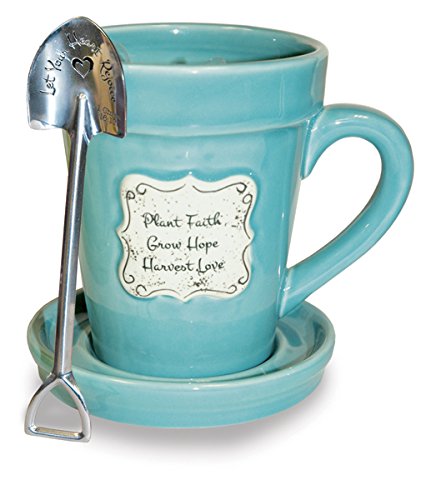 Divinity Boutique 22865 Flower Pot
The people who choose gardening as a hobby in this life are always the type of person who enjoys nature and can often find God or at least a meaning in the entire natural world. This gift is intended specifically for them. If you have a loved one for whom gardening is a joy and a pleasure and who also puts their faith in God, then this is the gift that you must give to them. The Flower Pot Plant Faith Cup from Divinity Boutique is a 'must have' for all gardener's who put their faith in God.
Detailed information about Divinity Boutique 22865 Flower Pot
The product consists of a drinking mug in the shape of a flower pot with a saucer that doubles as a lid. The lid helps keep the hot drink at the correct temperature and prevents flies and other insects from falling into the hot liquid when out in the garden. On the side of the mug, there is a white plaque with an uplifting inscription to perhaps help the owner through a difficult time in their life or inspire them to live a good and helpful life.
There is even something else that comes with the set too. The mug and saucer come with a stainless steel spoon in the shape of a garden spade with a few words from the Scriptures engraved onto the blade. The spoon can either be used to stir your hot drink or even if you prefer, dig some holes for seed planting!
WHY WE LIKE IT?
This drinking mug set with engraved spoon will make a perfect gift for a loved one in your life who enjoys gardening and has a faith in God
The item is completely dishwasher proof (including the spoon) and is also safe to place inside a microwave oven (not the spoon!)
This thoughtful gift will inspire the owner while providing a useful hot drink mug and saucer set
The mug and saucer sets come in three beautiful colors
WHY WE dont LIKE IT?
None
What we love about this product
This seller takes pride in providing joyful products that inspire one's faith in God and encourages people to strive for the better things in life.