This product is listed here: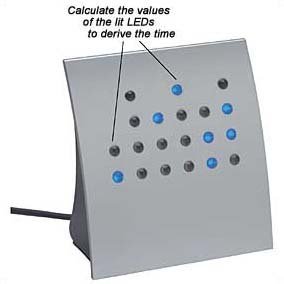 Crystal Blue "Powers of 2" BCD & Direct Binary Clock
When you think of watches and clocks, we always picture them with numbers displayed on the small glass screen to signify time. But the art of telling of time can get more fun and interesting if one was able to do it hi-tech-style with this crystal blue" Powers of 2″ binary clock. This clock is unique and will be an excellent gift to the tech-savvy person in your life including the geeks and nerds.
It will be a joy to be able to tell time through the changing patterns displayed on the light display. The clock uses the binary code system to indicate time which is basically the language used by computers. The binary coding of numbers appears in pattern from an array of LED lights which are neatly inlaid in an elegant chrome body.
Detailed information about Crystal Blue "Powers of 2" BCD & Direct Binary Clock
It is quite easy to learn and read as it comes with instructions to orient the user on how to read it. Within just a few minutes of practice, one will be able to tell what it time is by simply adding the values indicated on the blue LED lights in each column.
The incredible "powers of 2' has DIM settings which allows one to adjust the brightness of the LED lights to suit their environment. It will also automatically sense 60Hz or 50Hz. It's very accurate and quite fascinating to watch. The unit is big enough to read the lights and compact enough to sit on a desktop without taking too much space.
WHY WE LIKE IT?
A unique binary coded clock with LED lights
Features BCD and direct binary modes
Works in 12 and 24-hour modes
It has brightness settings to suit a different environment
Tells time accurately
Comes with instructions on how to read the lights
Easy to read
WHY WE dont LIKE IT?
None
What we love about this product
Don't be fooled by the light show! This fancy device is an actual working clock that can tell time accurately. It features two modes which include binary coded decimals (BCD) and direct binary mode, and each can be displayed in 12 or 24-hour time.