Best Travel Gadgets We Swear by and Would Never Travel Without
last updated:
Aug 13, 2019
1333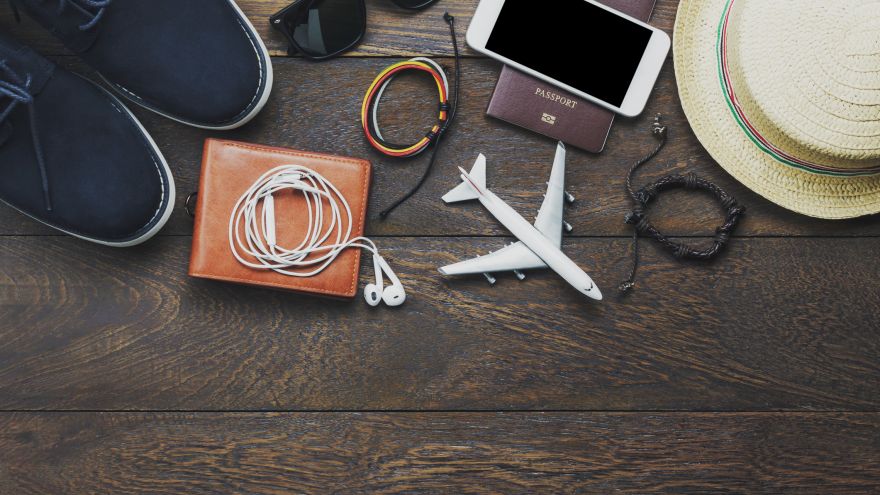 When planning a vacation, there's a lot to remember ranging from the clothes you'll need to the travel gadgets you'll want to bring along. After years of flights, train rides, and even road trips, we've come up with a list of the best travel gadgets you need to have for your upcoming trip.
Trust us, your life will never be the same again after getting your hands on these phenomenal accessories.
Best travel gadgets According to Our Team!
1.Etekcity Luggage Scale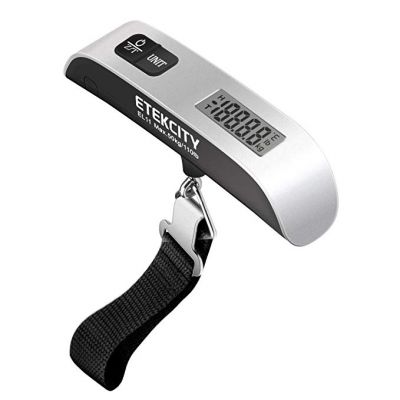 Are you ever stuck in a predicament when you can't tell whether your luggage is over the weight allowance for the airline? Instead of going to the airport and having to empty out a few items so that you can avoid overage charges, we highly recommend buying a luggage scale.
This one is our favorite for the following reasons:
High-Accuracy Sensor: The built-in sensor on the scale measures up to 110 pounds to give you an incredibly accurate reading.
Luggage Hook: If you want to keep the scale on you, you can easily attach it to your luggage using the luggage hook. It also comes with a built-in thermometer so you can know whether your belongings were kept in an ideal climate.
Auto-Off: After weighing, the scale automatically turns itself off to preserve its battery power.
2. BAGSMART Electronics Organizer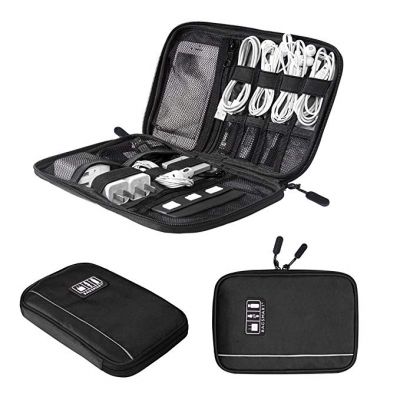 There's nothing better than being able to keep all of your electronics in the same place without twisted and gnarled cables. Storing your belongings effectively will also reduce your chances of having to replace chargers because they get all tangled.
This organizer is by far one of our favorites for the following reasons:
Multiple Compartments: There is a wide array of different places for you to store all of your electronics and accessories safely. There are several different sleeves for chargers and power bricks, as well as sleeves for your devices themselves. You'll also appreciate the smaller pockets designed for storage devices, such as SD cards.
High-Quality: Somehow, this electronics organizer is very lightweight and slim yet still features high-quality elements, such as heavy-duty materials that are water repellent and dust-proof.
3. SublimeWare Power Plug Adapter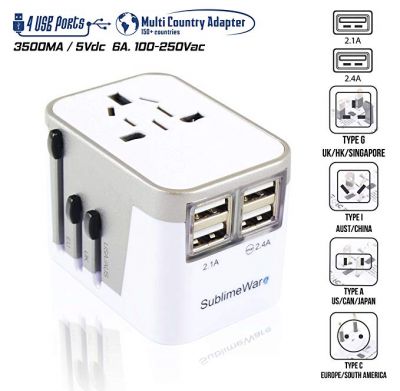 This is especially important if you're taking a trip overseas, as you'll want to make sure your electronics will be able to be charged for everyday use and emergencies.
The SublimeWare Power Plug Adapter is our favorite travel adapter for many reasons, including:
Widely Compatible: Compatible with type C, A, G, I, and F plugs, you'll be able to charge your devices in over 150 countries ranging from China to the United States.
4-Device Charging: You can easily charge up to 4 devices at the same time with this adapter, as it features 4 separate USB ports.
Smart Charging: To protect your devices from changes in currents, overcharging, and more, the intelligent ports automatically detect the device plugged into the adapter and adjust the current accordingly.
4. Ronessy Travel Fan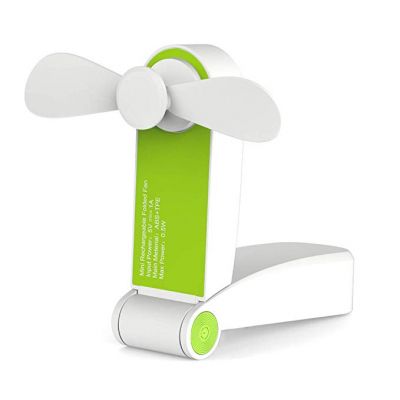 Have you ever been stuck on the tarmac without any air circulation in the plane's cabin? It can be frustrating and uncomfortable, especially if you're in a tropical location.
With Ronessy Travel, you have the ability to keep yourself cool in all situations without taking up too much space in your carry-on. Some of the most interesting features of the fan include:
Auto-Folding Blades: The blades of the fan will automatically fold when it is turned off, which helps to make it more compact.
Strong Airflow: There are 2 airflow speeds to choose from, low and high. On the lowest setting, the fan will last up to 5 hours and on the highest setting, 2.5 hours.
Quick-Charging: Instead of using traditional batteries, you can easily charge the fan using the included micro USB charging cable.
5. Wacaco Minipresso
It's far too often you find yourself in a hotel room without a coffee maker or at least one that can handle a decent cup of espresso. Instead of going to a local café and spending money on an espresso in the morning, you can easily make your own in your hotel room.
Designed to work with Nespresso capsules, this miniature espresso maker is a life-changing best travel gadgets to have. Some of its most interesting features include:
Hand-Operated: Without needing compressed air or electricity, this espresso maker is entirely hand-operated. All you have to do is push a few times and the espresso will be perfectly extracted.
Handheld Design: It is incredibly lightweight and easy to manage, which is what makes it ideal for travel, as it won't take up a lot of space in your luggage.
6. Miamica Laundry Bag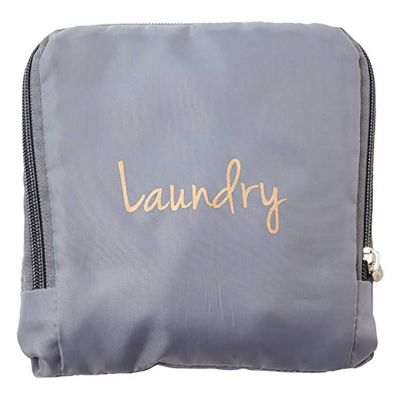 Spending a lot of money on in-house laundry services when traveling is unnecessary when you're able to separate your dirty clothes from the clean ones.
Instead of attempting to fold everything nicely in a plastic bag, we highly recommend using a reusable laundry bag that is equally as stylish as it is functional. The most impressive features of the Miamica Laundry Bag include:
Expandable: You can fully expand the bag to accommodate more clothing, depending on how many dirty articles you have. You can then make it more compact with the help of the built-in drawstring.
Microfiber: The interior lining is made of microfiber, which helps the bag to be both tear-resistant and moisture resistant.
7. Alpine Rivers Neck Wallet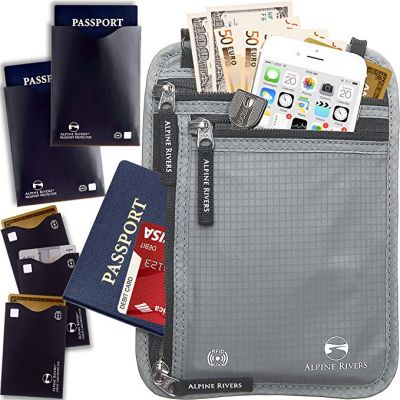 Cyber theft is more prevalent in today's day and age than it has ever been and protecting your finances while abroad is of the utmost importance. With the help of the Alpine Rivers Neck Wallet, you'll have RFID-blocking technology at your disposal to keep your personal information protected.
The most interesting features of the wallet include:
High-Quality Design: The materials used to create the wallet are water-resistant and are also tear-resistant, so thieves won't be able to cut through the material to snatch your belongings. You'll also appreciate the durable YKK zippers and reinforced stitching.
Comfortable to Wear: With the help of the breathable FeelSoft material, you'll easily be able to wear the wallet on your body without chafing.
RFID-Blocking Lining: The interior lining of the wallet is designed to ward off high-tech pickpockets that might want to steal your credit card information, passport information, and more.
Final Thoughts
Traveling has the ability to become much simpler when you have all of the perfect devices to use to your advantage. By adding these 7 essentials best travel gadgets to your luggage, you'll be well organized and well prepared for anything.
Pin for later