10 Super Tech Gadgets that Make for a Perfect Gift!
last updated:
Apr 11, 2019
4656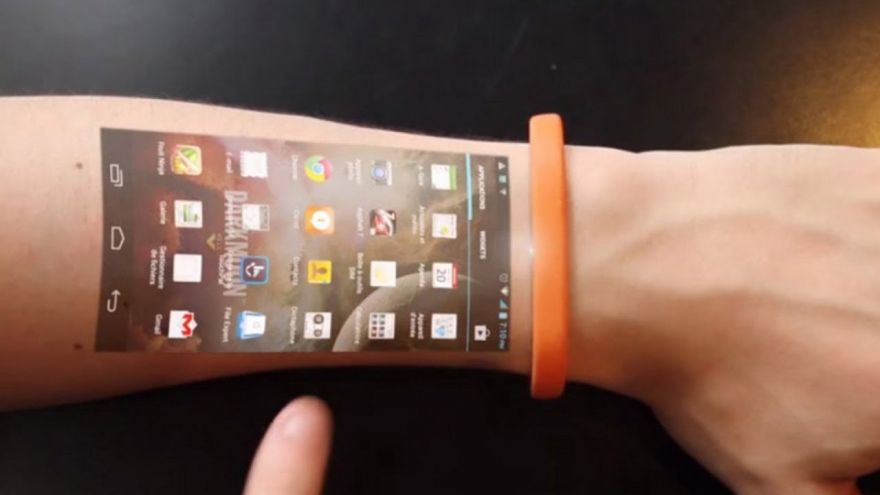 If you don't have a geek in your family, then you will undoubtedly have one among your friends. It's that person who is among the first to take up new technology and goes wild over gadgets. So when you're looking for a gift for a geek, how do you get them something they don't already have, and also meet their geek criteria? Here are a few suggestions of stuff that's sure to get your geek grinning with glee!
Anovos Star Trek Vulcan Earbuds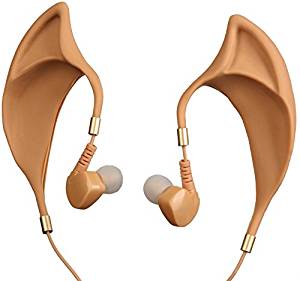 You could say that not all geeks are Star Trek fans, but all Star Trek fans are geeks by definition. So what better way of gifting a Star Trek fan and a geek with earbuds that double as Vulcan ears, as worn by Spock. These earbuds come in wired and wireless versions, and the prosthetics are tinted the color of the makeup warn my Leonard Nimoy when playing the Spock character. Once the wireless version is charged up, it can run for up to five hours depending upon the volume. The unit has a built-in microphone and volume controls, ready for the user to say 'beam me up, Scottie!'
Progressive Prepworks ProKeeper Bread Box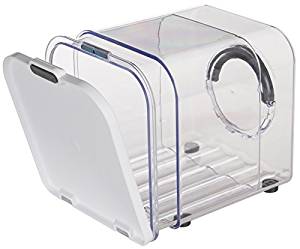 Here's something that any kitchen can't do without. The problem has always been how to keep bread fresh. Once air gets at a loaf, it can go stale very quickly. The Progressive ProKeeper Bread Box is an excellent way of stopping bread going stale by reducing the amount of air surrounding a loaf by using an innovative collapsible design. As you use up the loaf of bread the box collapses in size, thus reducing the amount of air circulating around and keeping it fresher. A vent on the side of the box can be opened for dry climates and day-old bread, or closed for humid atmospheres to keep bread fresh. The door of the bread box doubles as a cutting board.
Nonda Zus Smart Backup Car Camera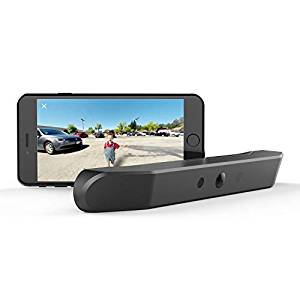 For those of us who can't afford top-end luxury cars, there's a super tech gadget that'll improve the parking skills of the geekiest geek. The Nonda Zus backup camera is easily attached to the rear number plate of the vehicle. As it is battery powered, there is no need for expensive installation and wiring. There is also no need for a custom screen in the cabin of the vehicle, as the device transmits to any smartphone.
The 170-degree field of vision helps with parallel parking and backing into tight spaces, and it also has a night vision capability. The camera comes complete with two rechargeable lithium-ion batteries which last up to three months.
Wacaco Nanopresso Portable Manual Espresso Machine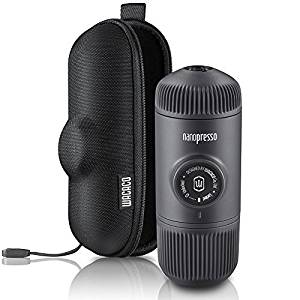 Everyone likes a cup of coffee when on the go. But what happens when you have the desire for an espresso, and you're halfway up a mountain or in the middle of a lake, miles away from the nearest coffee shop? The answer is obviously the Wacaco Nanopresso portable espresso machine. With the filter basket full of fine ground coffee and the 80ml reservoir full with boiling water, it's just a matter of using the newly patented pumping system to brew a delicious espresso. The pump pressurizes the coffee maker to 18psi, higher than many domestic espresso machines. The device weighs less than 12 ozs and comes in a robust carrying case, so is ideal for those on the go.
Raycono Portable UVC LED Sterilizer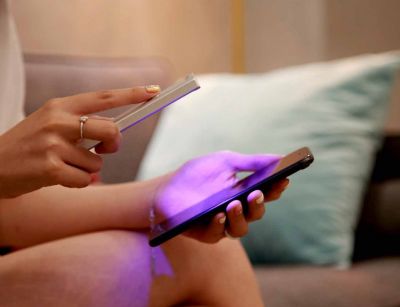 Parents traveling with babies always have a problem with keeping things like the feeding bottle sterile. The Raycono Portable UVC Sterilizer can do that and a whole lot more. The sterilizer kills 99.9% of germs and bacteria, giving users complete peace of mind. It can be used on any type of surface or material, and any shape. Holding the Raycono sterilizer for three seconds turns on the device. With it no more than five centimeters, or two inches away from the object needed to be sterilized, holding it close for ten seconds should be enough to kill all the nasties. The sterilizer should operate for up to a month on one battery charge.
Y-Brush 10-Second Deep Cleaning Toothbrush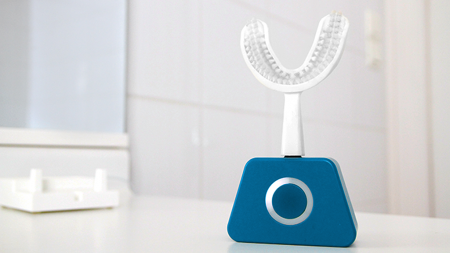 We all know to keep our teeth looking their best we need to brush at least twice a day, but how many of us actually do it. The common excuse of 'I don't have enough time,' is a thing of the past with the Y-Brush system, as it cleans all your teeth in just ten seconds. The shaped mouthpiece is like a gum shield used by sportsmen, or the device used by dentists for making impressions.
Using it is just as simple as a toothbrush. Apply toothpaste to the nylon bristles within the Y-Brush, place over the upper teeth, switch on and bite on the device for five seconds. Repeat the process with the lower teeth, and rinse. Your teeth are now perfectly clean.
Griffin Cove USB 5-Port Charging Station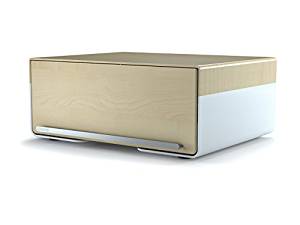 Every geek loves to have lots of devices, and they all need charging, which means cables are trailing all over the place. However, every geek's significant other usually doesn't appreciate it quite as much. The Griffin Cove is the answer for the geek who wants to charge lots of devices, and the significant other who would like it all hidden away. The station has room to charge up to five tablets and smartphones. The door on the front slides away to reveal trays inside for all the devices, and five USB ports provide up to 12w each. The door can also be tilted and used as a stand for a tablet or smartphone, while still being charged.
FoodCycler Eco-Friendly Food Recycler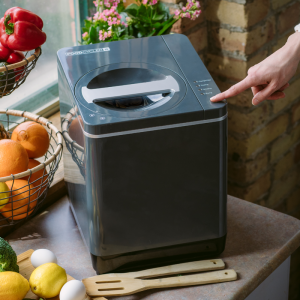 We're all being urged to recycle more. Getting rid of paper, glass bottles, and plastic packaging is pretty straightforward, but food waste can be a problem, especially if you live in an apartment. The smells of rotting food can be awful. However, the FoodCycler FC-30 is an odorless and safe way to turn food waste into compost ready for the kitchen garden. The machine takes up little space, and can be hidden away anywhere close to an electrical outlet. The device heats up a kilogram of food waste to 180F during its three-hour cycle. In the end, you are left with a soil additive rich in nutrients.
Kinesis Freestyle Edge Split Gaming Keyboard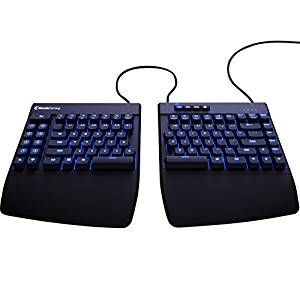 Geeks can be gamers too! As any gamer will tell you, having the right setup can make gaming so much more enjoyable. That's why this set up is so versatile for the player, and those who use keyboards regularly. The two halves of the keyboard can be placed up to twenty inches away from each other, allowing the pieces to be positioned in just the right spot to be perfect ergonomically. The keyboard enables operation with one hand, and to have a mouse between the two halves. The SmartSet programming engine means the keyboard can be linked to any computer without the need to load software or drivers and has onboard memory to save any customized settings.
Ledger Nano S Cryptocurrency Hardware Wallet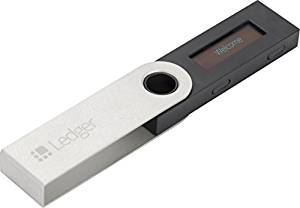 If your geek is really a geek, he or she will surely be into Bitcoin and cryptocurrency. For that, they are going to need a wallet to keep it in. The wallet allows the user to check transactions in Bitcoin, Ethereum, Ripple, and Altcoins. It has inbuilt security with private keys and the OLED display. Operations within the wallet are regulated by a PIN code for extra peace of mind. The wallet can send and receive payments, check the status of your accounts, and manage multiple currency addresses.
Pin for later