The Most Resistant Carry-On Luggage you Should Invest in (If You Travel Frequently)
last updated:
Aug 22, 2018
1694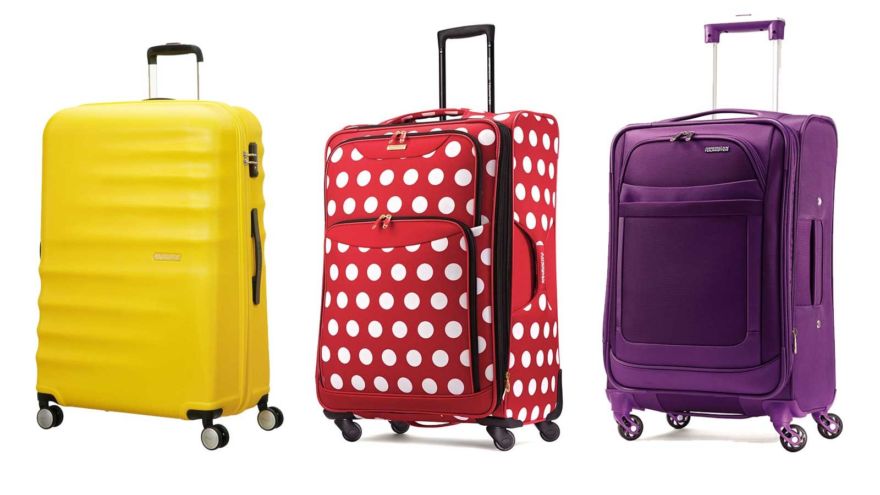 it's impossible to predict the amount of wear and tear your luggage is going to experience over time, especially if you're the type of person that spends the majority of their time on planes. Even though you have complete control over your carry-ons, it doesn't mean that they won't encounter pushy passengers or other people trying to shove their belongings against yours.
In this guide, we'll go over the most resistant carry-on luggage options that will offer superior durability and build quality over the long run.
1. Rockland Melbourne 20" Carry-On Luggage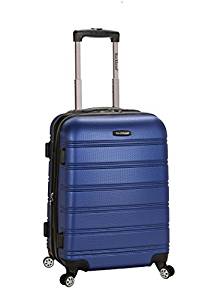 If you're the type of traveler that isn't interested in bright colors or unique designs and you want a classic yet aesthetically pleasing piece of carry-on luggage, the Rockland Melbourne 20" Carry-On Luggage is your best bet. It comes with plenty of features that help to protect the bag and all of your belongings, including:
Durable ABS material: You can guarantee that the material used on the exterior of the Rockland Melbourne 20" Carry-On Luggage is built to last as it's made out of ABS material, which repels stains, water, and damage while still remains lightweight and easy to carry.
Multi-directional wheels: Rolling your bag from one location to another has never been easier with multi-directional wheels as you won't have to worry about carrying your carry-on a certain way to get it rolling.
Aluminum telescoping handle: For added strength and resilience, the telescopic handle is constructed out of high-quality aluminum and easily retracts inside of the bag.
2. Delsey Parish Helium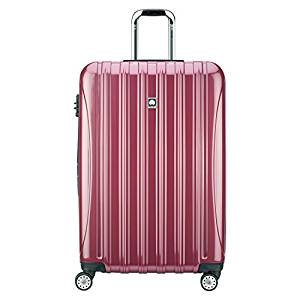 Commonly known as one of the most high-quality luggage brands on the market, the Delsey Parish Helium Aero Carry-On Luggage is a great partner for adults, teens, and children who travel often. You'll be able to choose from an assortment of color options, however, it has plenty of durable features that you'll appreciate, especially if you spend a lot of time on planes.
Ergonomic maneuverability: When you start moving your luggage, you'll notice just how easy it is as the double spinner wheels will put absolutely no weight on your warm.
Lined compartments: To ensure that your belongings are kept safe, all of the pockets inside of the luggage are fully lined and give you easy access to anything you need. You'll also be able to use a zippered divider, web straps, and more.
Polycarbonate exterior: The hard shell of the luggage is constructed entirely out of polycarbonate which not only protects your belongings from damage as a result of falls but from many other things as well, including weather.
3. Coolife Rolling Travel Duffel Bag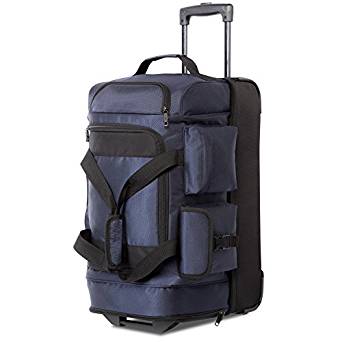 This particular carry-on might not have a renowned luggage brand attached to its name, however, it has plenty of versatile options that will surely make sure that your bag is kept in the best condition possible.
With the Coolife Rolling Travel Duffel Bag, you'll have plenty of storage space, easy to access pockets, and no need to worry about any damage to the exterior materials of your luggage. This means that you can even take the chance and stow it away rather than carry it on the plane, depending on your preferences.
Some of the best features include:
840D cloth construction: 840D cloth is a phenomenal feature to have on your luggage as it's incredibly lightweight but far more durable than the majority of other materials on the market. It's entirely resistant to abrasions, tears, and punctures, which also gives your bags an extra ounce of theft protection.
Plenty of packing options: Not only will you have access to 8 individual pockets, you'll also have two main compartments that can be combined for one extra large compartment, giving you more than enough space for everything you need.
Reinforced handles: The cloth handles on the bag have been sufficiently reinforced so you can choose to either roll your duffel bag carry-on or carry it.
Retractable handle: To protect the handle, it fully retracts into the bag and can be hidden away with the help of the integrated zipper pocket.
4. Unitravel Vintage Fashion Suitcase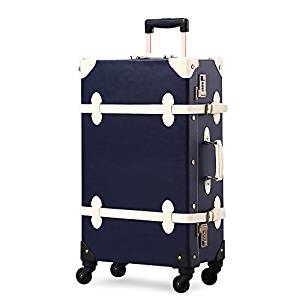 Ideal for the type of traveler that is looking for a modern carry-on with a vintage appeal, the Unitravel Vintage Fashion Suitcase is the perfect partner. You can immediately tell that this luggage was crafted with the utmost attention to detail and it will surely be set apart when compared to the other types of luggage at the airport. Similar to the Rockland Melbourne luggage, tthis suitcase has plenty of durable features you'll surely appreciate.
Polycarbonate and ABS material: All of the materials used to construct the Unitravel Vintage Fashion Suitcase are of the highest quality and are a combination of polycarbonate and ABS. This helps to make sure that your luggage is protected against scratches. It also offers a textured finish that helps to repel dirt and liquids.
Smooth-rolling wheels: For an easier time navigating your carry-on through the airport, the smooth-rolling wheels are 360-degree spinners, giving you more than enough maneuverability for all of your needs.
Ergonomic aluminum telescoping handle: As a little bit of extra comfort when you're navigating your suitcase, the telescoping handle is designed to be as ergonomic as possible. Additionally, it's constructed out of tough aluminum, which is an additional durable feature.
What to Look for in Durable Carry-On Luggage
The main thing to remember when you start searching for the perfect luggage for your frequent trips is that you're going to need something that is going to stand up against scratches and wear and tear. Even people who take the time to be overly cautious of their luggage are prone to see some scratches or dings the more often they find themselves flying.
With the help of these 4 phenomenal carry-on options, you'll be able to find something for every person in your family. Not to mention you'll finally have the peace of mind knowing that all of your belongings will be fully protected for the duration of your travels over the coming years.
Pin for later