Packing Tips: Here's How to Fit Everything You Planned To Pack!
last updated:
May 22, 2019
1277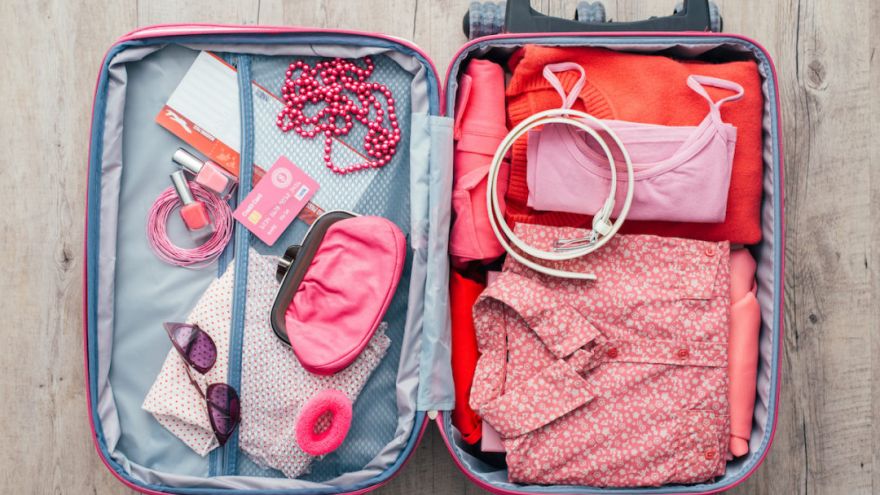 Visiting exotic locations around the world can be an amazing experience for anyone. However, packing for your trip can be a hassle, especially without some essential packing tips.
If you're heading out on your first vacation, knowing how to pack effortlessly will help you to save time and effort. Even if you've traveled before, there's no harm in improving your skills!
The following tips are highly recommended for any type of trip, whether it's overnight or a week-long vacation.
1. Using Plastic Bags
Plastic bags, such as sandwich bags, are an invaluable resource when it comes to packing. They give you the ability to separate smaller components and help to keep everything organized as well. With plastic bags, you even have the opportunity to save more space in your bag, as all of your toiletries won't be strewn throughout your bag.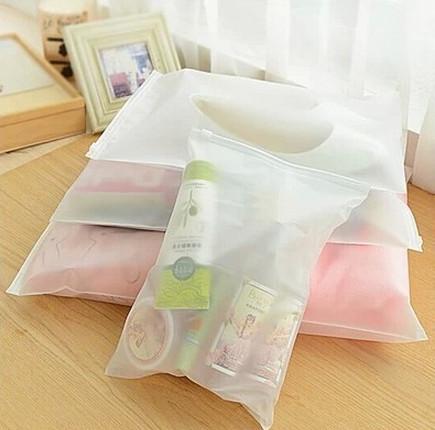 It's also important to note that for many, plastic bags are a necessity, as explained by the TSA. If you are packing liquids on your carry-on, they must be packed in a plastic bag and stored in the front of your carry-on.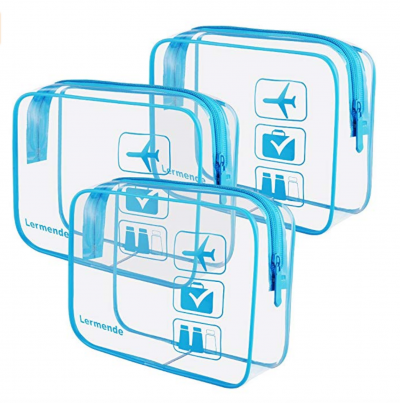 Get the TSA approved toiletry bags here
2. Finding Compression Bags
Compression bags are a fantastic space-saver, however, they can also wreak havoc on the weight of your luggage. These bags are designed to hold all of your clothes and can then be compressed using a vacuum to make the clothes smaller. If you've never used one before, it's an amazing thing to see as a large bag will be condensed much smaller than you'd imagine.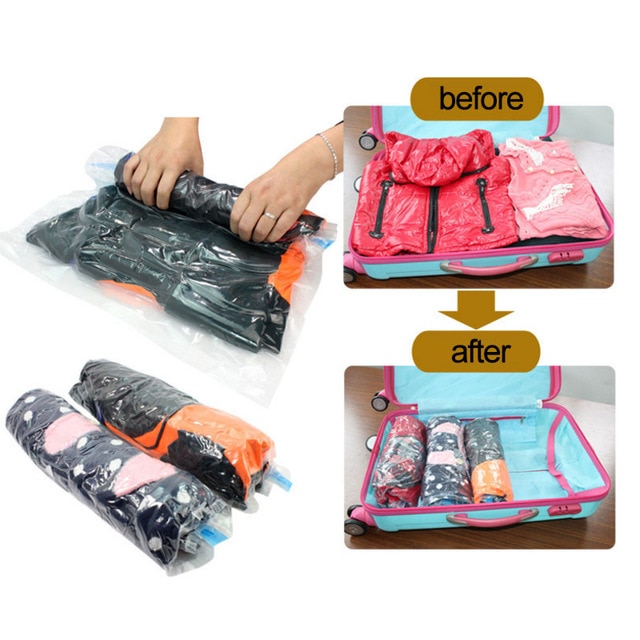 You'll certainly be able to store a lot of clothes using compression bags, but it's important to make sure you're not over packing. Especially with air travel, the heavier your bag is, the more expensive the luggage fees will be.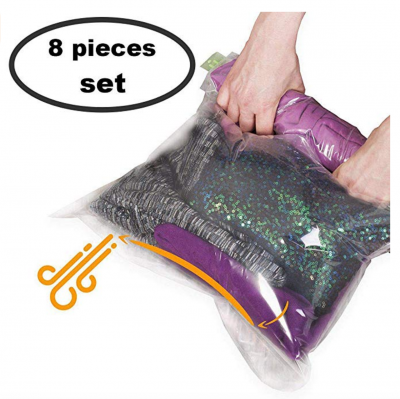 3. Roll Everything
One of our tried and tested methods for fitting more in your luggage is to take the time to roll everything before putting it in your suitcase or bag. Compared to simply throwing in folded clothes, rolled clothes will take up far less space. You won't have to worry about spending extra money on compression bags to free up space for other items.
When rolling your clothes, pay close attention to how you do it, as you can either avoid wrinkles entirely or make items more wrinkled.
4. Use Every Compartment
Most suitcases at least come with one large mesh compartment and a couple of pockets on the outside. It's important to remember that these storage areas are there for a reason, and they can surely help you to save more space than ever before.
For example, instead of trying to fit all of your clothes and undergarments in the main compartment, consider putting the undergarments in the mesh compartment.
You might also find that putting flip-flops and other types of thin footwear can fit in the front or side pockets of your luggage. You'll be able to free up more space inside of the suitcase for important garments and keep your shoes separated.
5. Make a Packing List
It's easy to open your closet and look at all of the clothes you want to bring with you on vacation, but, are they all necessary? The best thing that you can do before starting to pack is to make a list of the essentials. You'll also want to make sure you're as specific as possible, for example, instead of writing "pants", emphasize that you want 1 pair of leggings, 1 pair of jeans, and 3 pairs of shorts.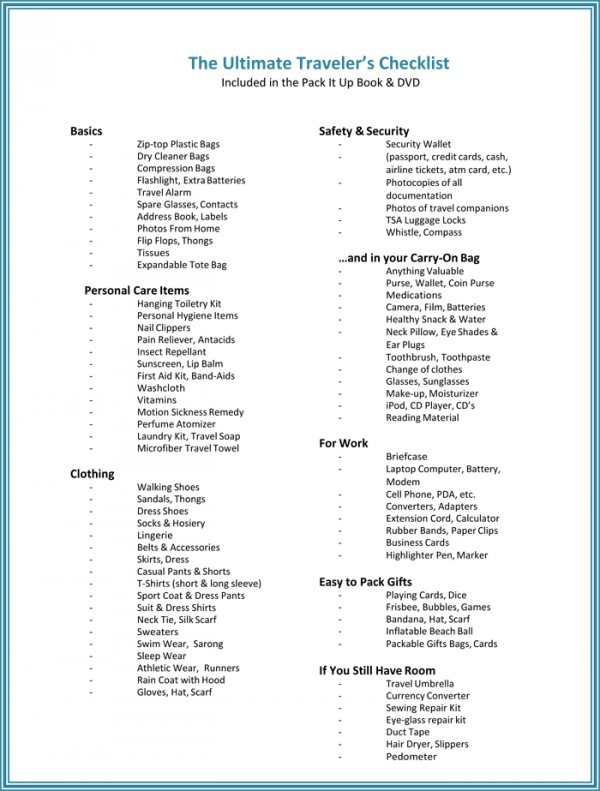 Staying organized is the first key to success when you need to figure out how to fit a lot of stuff in your luggage. As long as you are able to follow through with the list and stick to it, you'll be able to get ready for your trip in no time. By the end, you may even find that there's a little bit of extra room for additional items you want to bring along.
6. Don't Be Afraid of Carry-Ons
A lot of people assume that because they have a suitcase, they aren't allowed to bring a carry-on as well. In fact, most airlines give you the ability to bring a checked bag, a carry-on, and a personal item, such as a backpack or a purse. If you're heading out on a very important trip where you need a lot of storage space, invest in a three-piece travel set. They will typically come with a large suitcase that is supposed to be checked, a smaller suitcase for your carry-on, and a travel bag for any smaller items you want to keep on you.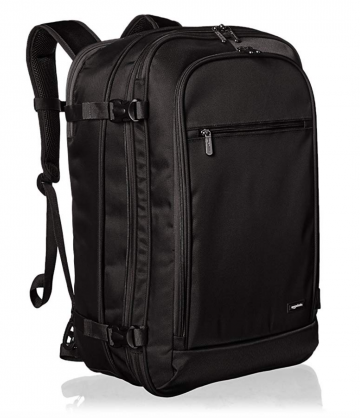 The best part about carry-ons is that you might get lucky when it comes time to board the plane. Most airlines run out of overhead compartment space, which means they'll gate check your bag for you. You won't have to worry about wheeling around a carry-on through different airports, as all of your luggage will be checked for free.
7. Using the Secure Straps
Take a look inside of your suitcase. You might notice there are two to four straps with buckles on them. These straps are designed to help keep your belongings secure once you close your luggage and stand it up. They are also one of the most important things to use to lessen the size of your luggage.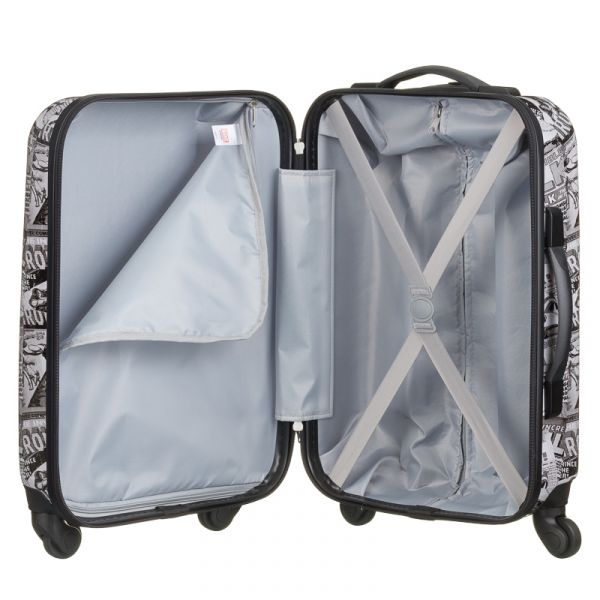 You can use the secure straps at the very end to condense everything that you have packed. Alternatively, you can also use them to secure half of your belongings so that you can fit more on top of the bottom layer. Packing is all about experimentation and you'll want to find and create innovative ways to fit more in your luggage.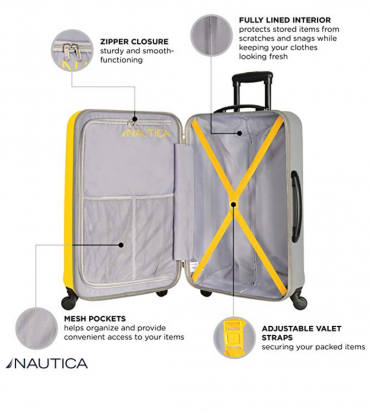 Regardless of if you're going on a road trip or flying to a different country, knowing how to pack efficiently is of the utmost importance. The main objective of any traveler is to make sure they're not bringing too much but still bringing exactly what they need for their trip. With these tips, you'll be prepared for absolutely anything and everything.
Pin for later