The Best Coffee Machine: We share Our 5 Favorite Ones!
last updated:
Jul 01, 2019
1684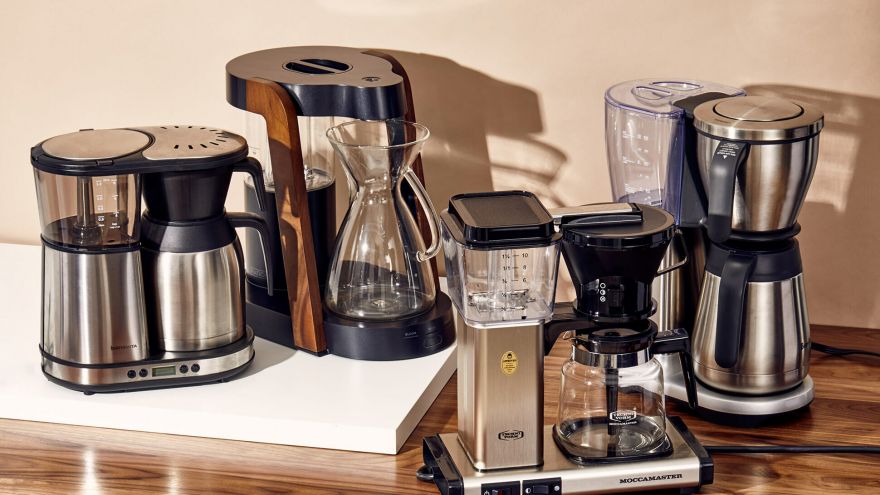 In order to become an at-home barista, one of the first things you'll need is the best coffee machine that you can get your hands on, and trust us, there are plenty out there!
Making coffee at home is something that's a regular occurrence for plenty of people, however, if you're someone who spends a lot of money at your local café, you'd be surprised at how much you could save if you made your coffee at home.
We've found our 5 favorite and top-rated coffee machines that are equally as easy to use as a traditional percolator.
1. Mr. Coffee Café Barista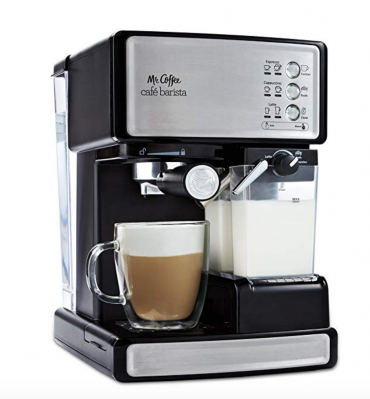 Available at a very affordable price when compared to luxury coffee makers, the Mr. Coffee Café Barista is an espresso, cappuccino, and latte maker, which gives you the ability to experience deep and luxurious caffeinated beverages at the beginning of every day.
It offers a 15-bar pump system that brews the deepest and most robust espresso possible meanwhile offering semi-automatic operation for your ease of use. There's also an integrated milk frother that takes all of the hassles out of getting the perfect amount of foam per cup.
With other great features such as easy to fill water and milk reservoirs, a one-touch control panel, and a reasonable cord length, it surely has a lot to offer beginner and veteran coffee makers alike.
2. Keurig K575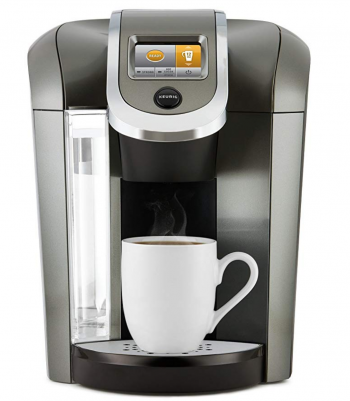 Available for a little less than the Mr. Coffee Café Barista, the Keurig K575 is easily one of the most adaptable coffee makers on the market that accentuates the idea of having an easy cup of Joe first thing in the morning.
Although you won't be able to brew a perfect shot of espresso, Keurigs are useful for traditional coffee, hot chocolate, and even steamed cider.
What we love the most about the Keurig K575 is that it's so versatile, as you can opt to either use it with individual K-cups or you can buy a reusable K-cup and fill it with your own coffee.
This machine has the ability to brew 10+ cups of coffee with a single fill and brews from 4 ounces to 12 ounces, as well as a carafe (up to 30 ounces).
You also have complete control over the strength of your coffee, as you can choose your desired brew strength and even the temperature of the water.
Above all else, when plugged in, your Keurig always has hot water on demand, so all you have to do is push a single button to brew and you're ready to go.
3. Technivorm Moccamaster 59162 KGB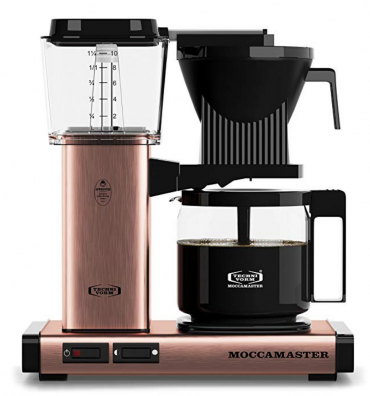 If you're not operating on a tight budget and you're looking for a very high-end and luxurious coffee maker, the Technivorm Moccamaster 59162 KGB is a great option.
Available in over 16 different colors, you can easily find the right aesthetic for your kitchen and you'll finally be able to brew coffee like a true professional.
With the Technivorm Moccamaster 59162 KGB, you will receive an auto drip-stop basket for brewing the coffee and a high-quality glass carafe.
It also offers an incredibly quiet brewing process that is designed to fill an entire carafe in 6 minutes or less with the help of the modern copper boiling element that easily controls brewing temperatures.
For safety, you'll appreciate the auto-off feature that shuts the coffee maker down once the water reservoir is empty.
4. Cuisinart DCC-3200 PerfecTemp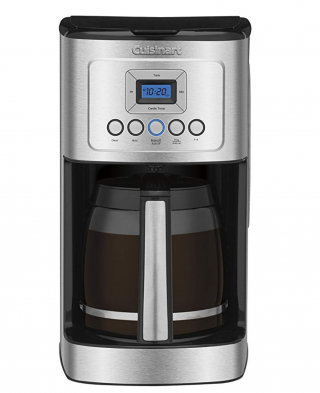 Apart from all of the fancy and high-tech coffee brewers on the market, it can be great to get your hands on a traditional model that will do its job with ease, which is where the Cuisinart DCC-3200 comes into play.
Everything that makes your coffee taste delicious is within the machine and it does everything for you, so you don't have to worry about fidgeting with too many parts and mechanisms, however, you still have a reasonable amount of control over your brewing options.
For example, you'll be able to set a 24-hour programmer, a self-cleaning function, choose from different cup settings, and set an auto shutoff timer (up to 4 hours).
You'll also be able to adjust the temperature control depending on your personal preference as well as the brewing strength of the machine.
What we love the most about the Cuisinart DCC-3200 PerfecTemp is that it comes with a commercial permanent filter and the warming plate also has an adjustable temperature.
5. Hamilton Beach 49980A Single Serve Coffee Maker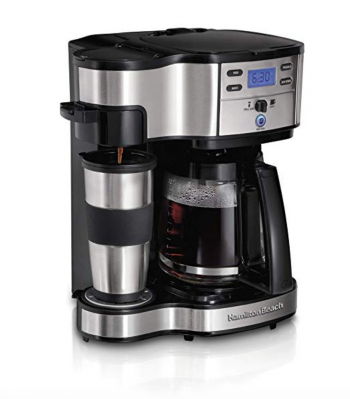 The least expensive coffee maker on this list could easily become your favorite, especially if you're looking for a simple machine without all of the bells and whistles.
The Hamilton Beach 49980A is a machine that has been tested over the years. It gives you plenty of advantages for an affordable cost. You can choose between either single serve or full pot brewing, as a 12-cup glass carafe is included with your order.
There is also a special spout on the side of the coffee maker for travel mugs, if you want to fill your coffee while on the go.
Another interesting feature of this machine is that it works with disk-shaped brewing pods, though not K-cup packs, as those are trademarked.
As a fully programmable coffee maker that allows you to choose between regular and strong brewing options, there's plenty to appreciate with the Hamilton Beach 49980A maker.
Making the perfect pot of coffee every time can be tough for someone who doesn't have a lot of time in the morning to brew a pot like your local coffee shop does.
However, with the perfect coffee machine, you'll be able to make the most out of every cup that you have. No matter if you're looking for a single serve brewer or one that masters the art of making an entire carafe of coffee, these 5 models have plenty to offer.
With an onslaught of adjustable and programmable features, your new coffee maker will become your favorite small appliance after a single use.
Pin for later