This product is listed here: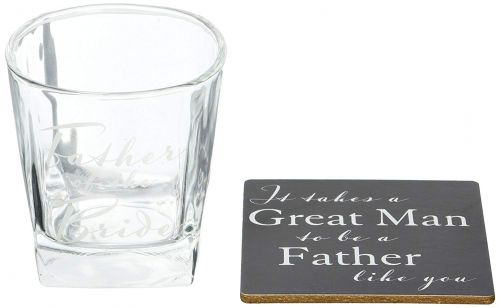 Amore by Juliana Whisky Glass & Coaster
Congratulations, you are getting married! This day is as special to you as it is to your parents, especially your dad who will probably cry inside seeing his daughter walk down the aisle (or visibly cry, if he is the type to wear his heart on his sleeve).
You are probably wondering what to give your dad as a token of your appreciation for taking care of you and getting you this far in life. Well, wonder no more! We have found the perfect gift for your amazing father – and that is the 'Father of the Bride' Whiskey Glass and Coaster gift set.
Detailed information about Amore by Juliana Whisky Glass & Coaster
The whiskey glass and coaster gift set comes with the Whiskey glass that has 'Father of the Bride' expertly printed on it in fancy lettering, and the Coaster itself does not disappoint with its fair share of sweet intimates imprinted on it.
The message on the coaster, printed in white and in legible and beautiful lettering, reads "it takes a great man to be a father like you", with emphasis on Great Man and Father, respectively - which in our opinion, will touch your father's heart so greatly he might shed a tear or two out of pure joy.
WHY WE LIKE IT?
The glass comes with a coaster
Made of high-quality glass
WHY WE dont LIKE IT?
None
What we love about this product
Whether dad is a drinking aficionado or not, he will definitely enjoy this lovely gift because of the touching messages it has on the set itself. It comes nicely packaged in a beautiful box that has 'thanks for helping to make our day so perfect!' imprinted on the cover so your father instantly knows how much he means to you.