10 Graduation Dresses For Less than $100!
last updated:
Apr 09, 2019
1732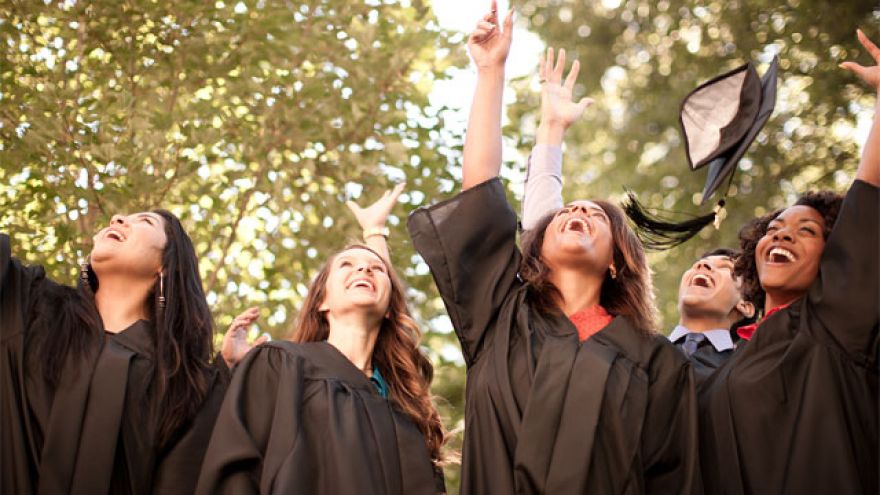 Are you getting ready to graduate? Congratulations! This is such an exciting time in life, and something you should be genuinely proud of. You worked hard! Now, it is time to enjoy all that hard work and celebrate with your graduation!
Whether you are graduating high school or college, it is still a major moment that is deserving of attention. Oh and of course, an excellent outfit! You are sure to take plenty of pictures (or if you weren't planning to- do it!) This is a milestone moment in your life that you will want to look back on and share with your kids one day (or just have some good content for all your #TBT pictures).
As a high school or college grad, it makes sense that you might not have the largest budget for your outfit, but that doesn't mean you have to sacrifice your style! You can look great on a budget, and we are here to prove it. We found 10 gorgeous dresses that are perfect for graduation. Best of all, they are all under $100! That's right!
If you need some style inspiration, and if you are looking to save money while doing so, you have come to the right place. All of these dresses will make you look and feel your best on your big day, and trust us, you deserve that! You have worked hard to make it to this point, so pat yourself on the back, and start shopping!
When looking for the best dresses for graduation, we considered both spring and winter graduations so that no matter where you live or what season you graduate, you have got some budget friendly style inspiration here to choose from!
Anne Klein Women's Classic Faux Wrap Dress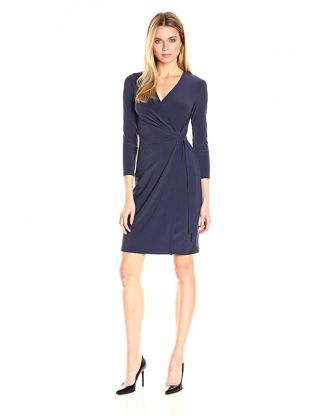 Is there anything more classic and sophisticated than a wrap dress? Not in our eyes! This is a perfect option for a graduation dress, and is something you will easily be able to wear again and again! The wrap silhouette is timeless and incredibly flattering, and we think you could easily wear this to a spring or winter graduation. Best of all? It comes in multiple colors!
Choose between black, dark indigo (pictured above), african violet, poppy, or 'orchid combo' which is a fun bright pattern that would be perfect for spring. The ¾ sleeves give this a modern spin and the v-neck makes it a bit more daring. If you want the look to be more conservative, easily place a camisole underneath! We love the versatility of this dress and think it should be at the top of your list to add to your wardrobe and to wear on your big day.
Lark & Ro Scuba Fit and Flare Dress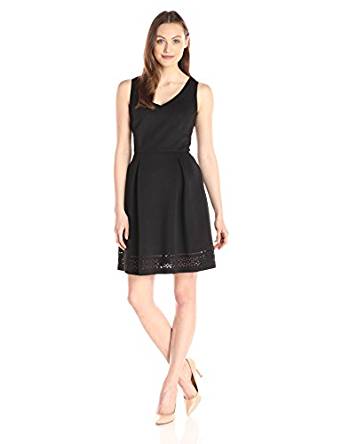 Is your style typically classic and tailored? Are neutral colors your favorite? Can you never resist a great little black dress? If you answered yes to any of those, this next fit and flare dress is a great option for you for your graduation! We love the laser cut detail at the bottom of this dress – it gives it such a unique look from your typical LBD.
Showing off just a little bit of leg, it still remains a completely appropriate dress for your graduation. The scuba material gives it just a slight stiffness that we absolutely love with a fit and flare silhouette. The exposed back zipper also makes this dress more modern and perfect for any young graduate. If you don't like the dress in black, you can also get it in a nice off-white shade. An excellent choice for either a spring or winter graduation, you can't go wrong with a nice black cocktail dress. You just can't!
Mud Pie Gameday Dress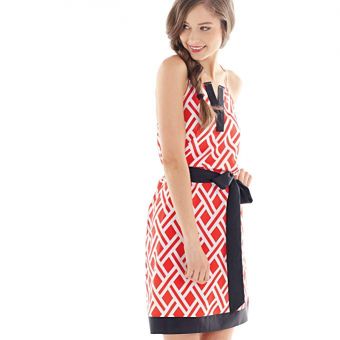 If you graduated from a big football school, this Gameday dress is the perfect option for you! Perfect for a spring graduation, this dress hits right above the knee and has sweet spaghetti straps and a bow detail at the waist. Coming in several main school colors, you can easily show off your school pride while also looking fashion forward! Choose between burgundy and white, burgundy and black, or red and black.
Perfect for football schools, this is also a great summer option for just about anyone, We love the contrast trim up at the neckline and bottom of the dress, and the geometric pattern is seriously cool and modern. We love that you can also easily wear this dress with heels or wedges, or keep it super casual with a flat pair of sandals. If you have a laid back, easy going style, this is a great dress option for you!
AX Paris Women's Floral Short Sleeved Midi Dress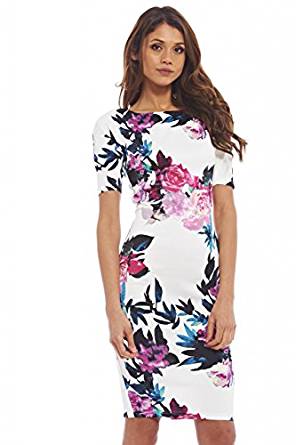 Graduating in the spring or the summer? This floral dress is for you! Complete with a sophisticated, sexy bodycon silhouette, and a modern midi length, this is a great choice for your graduation dress. While the tight fit is more of a sexy look, the longer sleeves and high neckline still make this a fairly conservative option and appropriate to wear to your graduation. Best of all, you have 14 floral patterns to choose from!
Whether you want a lighter color background, or a darker shade (say for a winter graduation) there are so many great options to choose from. We love the look of a midi dress and think it is the perfect, sophisticated way to look on your graduation day. Complete with a small back slit and just enough spandex to make the dress stretch and fit comfortably, this is a great choice to consider for your graduation.
REPHYLLIS Bodycon Dress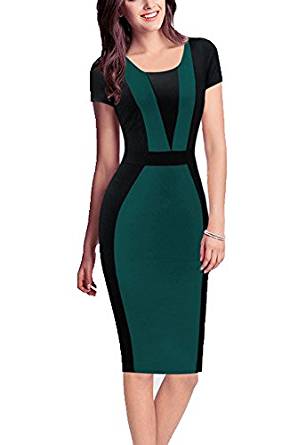 This is another bodycon dress, but we absolutely love the perfectly placed black detailing on the sides and front of the dress! This dress gives the illusion of having a completely tiny waist, and who doesn't want that?! Like with the previous dress, the fitted nature makes this dress more bold and sexy, but the high neckline and sleeves keeps it conservative. We love this deep emerald color and think it would be great to wear for a winter graduation. If you don't love the green, you can also get this dress in a deep red shade or a nude shade. This is a classic, sophisticated dress that will make you look mature, but not too mature!
The midi length ensures you won't show too much skin, which is helpful if you are graduating when temperatures will be a bit on the chilly side. Wear with a nice pair of heels and you will absolutely be best dressed at your graduation, no questions asked!
Sandra Darren Knit Dress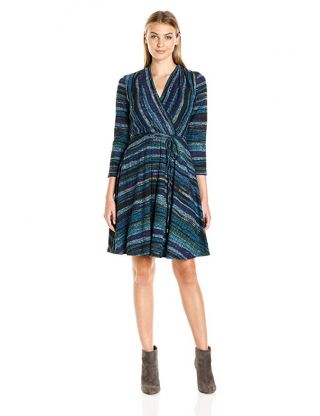 Are you graduating in winter? Is the weather and temperature a major factor when making your final decision? If so- this knit wrap dress is perfect! Made from a heavier material that will keep you warm, this is a great dress that is practical, but also not short on style. The dress has ¾ sleeves which helps the dress not look too heavy, and the shorter length also gives it a fresh look. Concerned about the cold? Wear this dress with stockings or tights to have you protected from head to toe!
We love that this is also a wrap dress and love that the waist tie will help define your waist, something that is important with heavier fabrics that can make you look wide. The beautiful jewel cool tones of this dress make it a perfect dress to wear in winter, and we know it would make for the perfect graduation dress. Best of all, it's also comfortable! Style and comfort- what a great combination!
MakeMeChic Bodycon Pencil Dress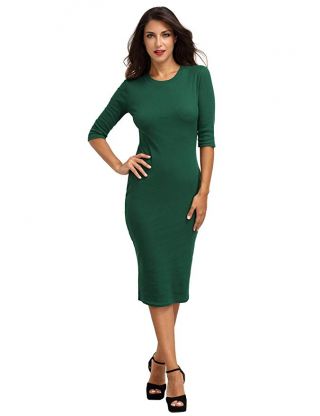 Looking to keep it classic and simple? This midi sheath dress is the one for you. With ¾ sleeves, a rounded neck, and longer midi length, this is the perfect graduation dress that is equal parts sexy and sophisticated! Accessorize with a statement necklace, or keep it simple for an effortless, tailored look. This forest green shade is beautiful and looks great on a variety of skin tones. You can also wear just about any shade shoe with it, meaning you won't have to spend extra money on a new pair of shoes to go along with the dress!
If you don't want a solid color, you can also get this dress in a beautiful blue and white pattern geometric pattern. Either way, this is a classic style dress that is perfect for graduation. Plus, it is completely stretchy and doesn't have a zipper, making it completely comfortable in addition to being stylish. We love it!
Julia Jordan Pleat Fit and Flair Jacquard Knit Dress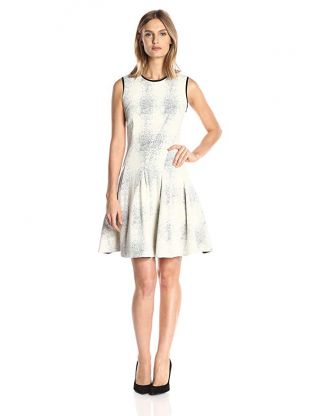 Do you want to add some pattern and texture to your graduation look, but still keep things simple and sophisticated? We hear you! We look a good jacquard print and this dress has just that in a beautiful fit and flare silhouette. Because it is sleeveless this would make a great spring graduation dress, and we love the black detailing at the neckline. Black and white is a timeless color combination and is perfect to wear any time of year, including graduation.
The knit fabric makes this dress look very expensive, but you are in luck because it isn't! Pair with a nice pair of heels or wedges for a gorgeous graduation look that is completely timeless. You will look back at pictures for years to come and be so glad you went with a dress like this one! This is also great if you don't want to wear something fitted but still want to have a mature look. Fit and flare dresses can sometimes look a little 'young' but not this dress!
Julian Taylor Printed Fit and Flare Cutout Dress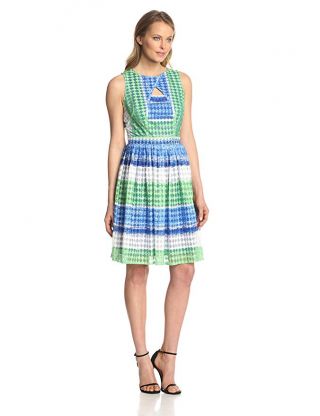 For a spring or summer graduation dress that is fun and youthful and fresh, we absolutely love this gorgeous blue and green fit and flare dress! The small cutout is interesting but not overly revealing, making this an appropriate dress to wear for graduation. It is sleeveless and knee length, perfect for those hot spring or summer graduation days! The fabric is a really unique print and we love the color palette with the blues greens and just a touch of white. You can easily dress this graduation dress up with heels, or make it more of a casual look with flats, which makes it more versatile than some of the other dresses on this list.
If you want something more bright and fun for your graduation dress (and why not- after all it is a celebration!) this is a great option that we totally love.
Lark & Ro Women's Flutter Cuff Shift Dress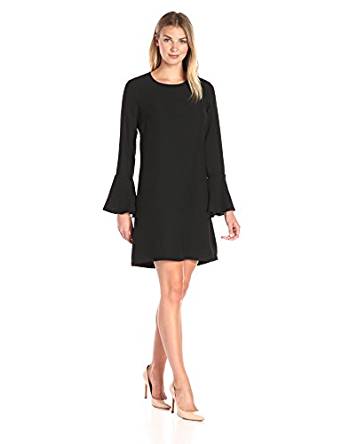 Finally, if you love a classic LBD but want to step it up just a notch or two for your graduation, we love this flared sleeve shift dress! Available in two colors- black, and a deep purple (very similar shades) this is a wonderful modern take on the classic black sheath dress. The long sleeves taper out for a really fun look- it's like bell bottoms for your arms! There is also a minor high-low hem with this dress, which makes it just that little bit more modern as well.
Overall, it is a fun dress that you could wear for a summer or winter graduation. Add some jewelry like a bold necklace or drop earrings, pair with heels, and you have a really unique, yet sophisticated look! While it is shorter in length, the long sleeves and high neckline keep it appropriate and it doesn't look like a revealing dress at all. Perfect for graduation!
Wrapping Up
So there you have it! What do you think? All of these dresses are so gorgeous and totally appropriate to wear to your graduation. Whether you want something looser, more tight fitting, brighter colors, or something more muted, there is something on this list. No matter your style, you can look like yourself, feel great, and most importantly, stay on budget!
Pin for later