10 Bachelorette Party Shirts for the "It" Girls!
last updated:
Jul 01, 2019
2814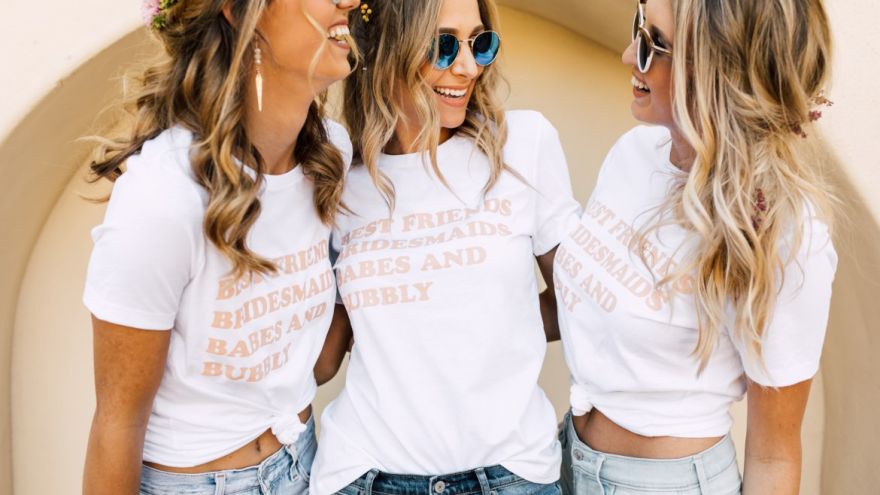 If there's one thing you're bound to remember for the rest of your married life (barring you don't drink too much!) it's your bachelorette party. There's nothing better than having your entire girl-squad equipped with trendy shirts that will not only get people talking but help to get everyone in the partying mood. With these 10 phenomenal designs, every "it" girl that's about the tie to knot will find the ideal shirt for her aesthetic. Below are our 10 favorite bachelorette party shirts for you and your crew.
1. "Bride Tribe"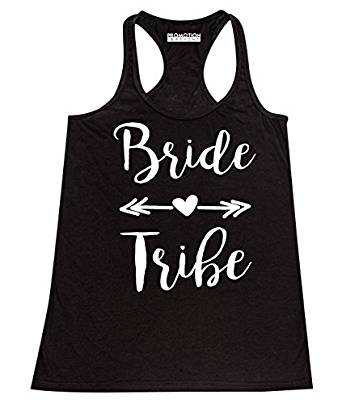 Everyone coming to your bachelorette party is likely a best friend or a close family member and what better way to celebrate your relationship than a shirt that includes them in your personal tribe? The Promotion & Beyond "Bride Tribe" shirt is available in over 5 different colors and you can choose to purchase each separately or in groups of 2.
What we love the most about these shirts is that they're racerback tanks which makes them easy to pair with hoodies for cooler weather or to wear on their own if the party is in the middle of the summer.
2. "Bride, Bridesmaid, Maid of Honor"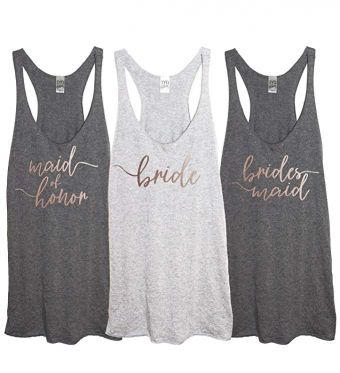 If you're looking for something that is a little more feminine and traditional, the "Bride, Bridesmaid, Maid of Honor" tanks are a great option as well. Similar to the "Bride Tribe" designs, these tank tops are racerbacks and have a beautiful rose gold scrolled font on the front with titles for each of the women closest to you on your special day. The best part is that you can even get one for yourself as well! We love the tri-blend material made of cotton, rayon, and polyester, which make these tanks incredibly breathable and wearable in all temperatures.
3. "I'm Getting Married, So We're Getting Drunk"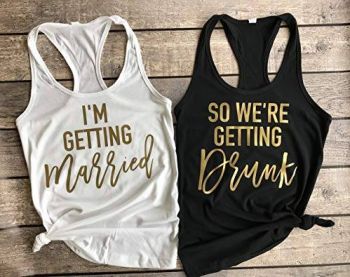 Perfect for the party girls, the "I'm Getting Married, So We're Getting Drunk" tank tops are the perfect way to set the mood right for your special night out on the town. The bride's tank top will read, "I'm getting married" in white and gold, and all of the people in her bride-squad will have matching shirts that read, "So we're getting drunk" in black and gold. Similar to the other shirts on this list, they are tank tops, highly breathable, and designed with the everyday bride in mind.
4. "Bride Squad"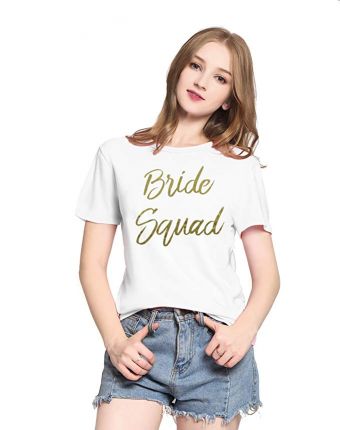 As another modern yet traditional way for the bridal party to show their support for the soon-to-be Mrs., the "Bride Squad" tee is comfortable and easy for everyone to wear. We especially love that it comes in both white and black, depending on your personal preferences and there is a title available for all of the most important women in your troupe ranging from the mother of the bride to a general member of the "Bride Squad".
Each shirt is made of 70% cotton and 30% polyester so they're easy to wash and have a loose fit, making them comfortable for a night out on the town.
5. "I Do" and "I Do Crew"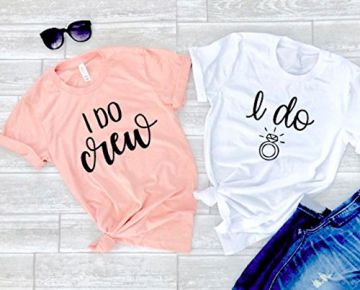 If you've never been the type of person to call your friends your "squad" then why not refer to them as your crew? The "I Do" and "I Do Crew" shirts are adorable and have the perfect aesthetic for younger brides and bridesmaids who are searching for the most Instagram-worthy tops. All of the women in your crew will have a stunning salmon pink shirt with scrolled writing that reads, "I do crew" and you as the bride will have a sparkling white shirt that reads, "I do" with a brilliant cartoon engagement ring on the front.
6. Bridal Party Title Tees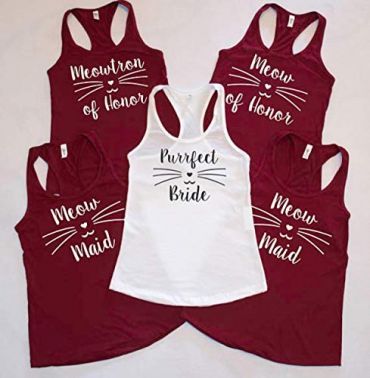 We love the unique design of the Bridal Party Title Tees, especially as they're much different than the other shirts on this list. Instead of simply having the generic title for each member of your bridal party, these shirts have the relation to you scratched out with the bridal title underneath, which is a cute and alternative way to show how much each person in your party means to you. For example, the maid of honor shirt has "Best friend" crossed out and "Maid of honor" written in cursive underneath.
Each shirt is made of 100% ring spun cotton, making it softer than any other tee on this list and as they are loose-fitting, you have several wearable options for them as well.
7. "Miss to Mrs with All My Bitches"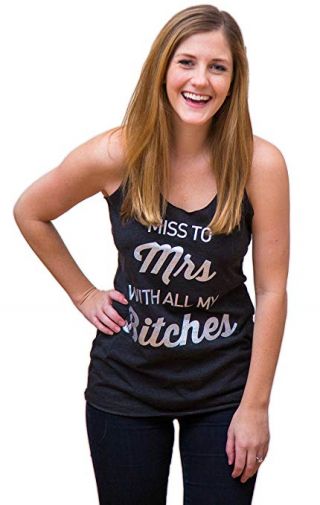 If you intend on heading out to the bars for your last howl before you become a married woman, you're going to love the "Miss to Mrs with All My Bitches" tee because it truly shows just how excited you are to be married to your forever-person. Available in both charcoal and white, you'll be able to choose the perfect color depending on what you're wearing for the evening. On the charcoal tank you have silver writing and on the white tank, the writing is black.
8. "I Said Yes!" "We Said Party!"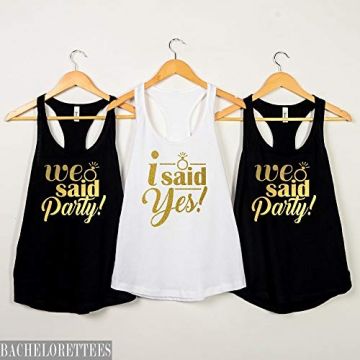 As another group of shirts that come with bride and bridesmaid options, the "I said yes!" "We said party!" tanks are a great option for the everyday bride who isn't looking to make too much of a statement but still wants to have some type of outfit coordination for their bachelorette party. We especially love the choice of fonts for these tanks as they show your excitement without being too over the top. We also love how they're very wearable for brides of any age.
9. "Feyonce" "We Be All Night #JustDrunk"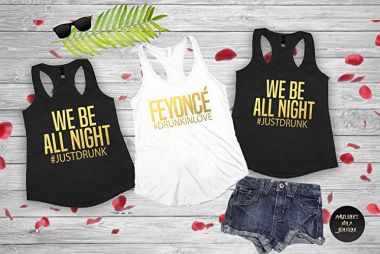 Perfect for the group of partiers who also happen to be fans of Beyonce, the "Feyonce" "We Be All Night #JustDrunk" tank tops are a comfortable option with the perfect foundation in pop culture. There's nothing better than being able to show your support for Queen Bey meanwhile making your way through the bars enjoying one of your last nights as a single lady with your girlfriends.
10. "Bride and Boujee" "Bad and Boozie"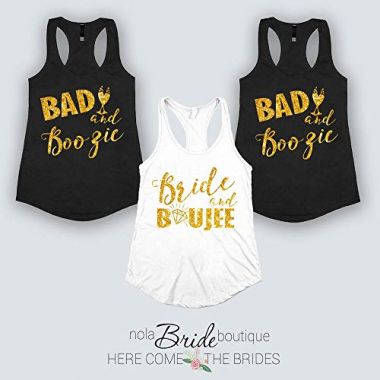 As another ensemble of shirts that are phenomenal for younger brides or people who have an affinity for the song, "Bad and Boujee", these pop culture bachelorette party tanks are equally as comfortable as they are show stopping. With a brilliant glittered gold font on the front of the shirts that spell out "Bride and Boujee" for the bride and "Bad and Boozie" for each of your bridesmaids, you'll surely be turning heads every time you walk into a new bar.
There's no time like the present to put your past behind you and look forward to your new future with a few drinks and some unique cocktails to help quell your nerves before the big day!
Final Thoughts
With dozens of different ways to show your thankfulness to the people attending your bachelorette, it might seem tough to find the right items for your group. With the help of these 10 great shirt ideas, you won't have to worry about dealing with sashes or buttons, as everyone will know who's with the bride's crew as soon as you walk through the door.
Pin for later