Buying a Wedding Ring on Amazon? Not Such a Crazy Idea! (We Found 10 Gorgeous Rings for Less Than 100 Bucks)
last updated:
Jul 01, 2019
1203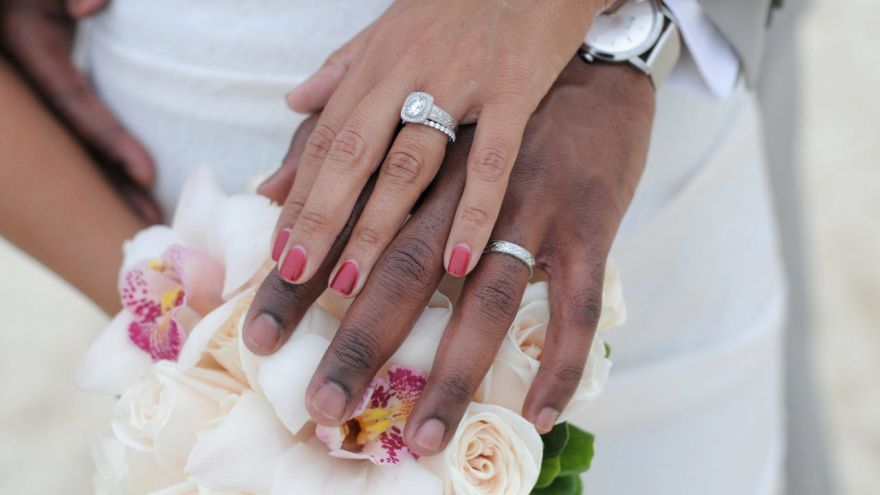 For many people, the idea of buying a wedding ring online could be relatively intimidating, especially as you aren't able to confirm the quality of the ring upon arrival. Luckily, Amazon has a fantastic return policy strict advertising policies that help to make sure you receive exactly what you ordered. If you're looking for different types of wedding rings for your upcoming big day, there are plenty of affordable options readily available.
We've curated ten of the top wedding rings on Amazon that you'll surely want to buy when it comes time for you to say your vows.
Rings for the Bride
Below are five great ring ideas for the bride that she's sure to fall in love with at first sight.
1. DOVEGGS Moissanite Wedding Band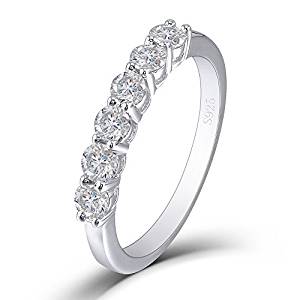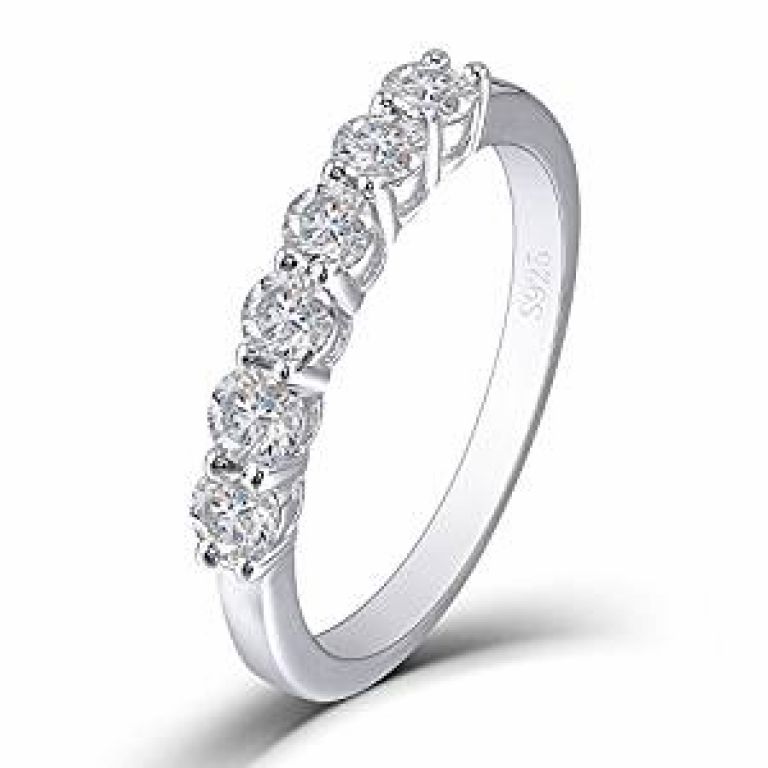 The DOVEGGS Moissanite Wedding Band is stunning as it features moissanite instead of diamonds, however, they have a near-colorless appearance that is quite similar to diamonds. Your ring will come with six separate gems with a total weight of 0.6 carats, which is the perfect addition to your existing engagement ring. During the manufacturing process, the moissanite is cut using specialty methods that help to enhance the brilliance of the stones, which makes them far more shinier than other materials that try to emulate the appearance of diamonds.
As for the band, it's created out of 925 sterling silver and coated with a thick rhodium plating, which is typically used to seal white gold. This helps to make sure that the ring will not tarnish and is entirely non-allergenic meanwhile preserving the beautiful shine of the band over the years.
2. Katarina Diamond Wedding Band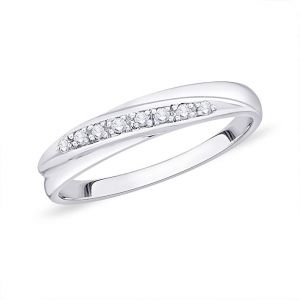 As another stunning sterling silver ring that has a very traditional and romantic appeal with prong-set white diamonds, this would be a ring that any woman would love to have to compliment her engagement ring. All of the stones are round faceted and are incredibly comfortable to have your finger without the worry of your stones getting caught during everyday tasks.
With the brilliant natural clarity of diamonds, you can guarantee that the Katarina Diamond Wedding Band will have a brilliance like no other. Also, we love the interested swirled design that emulates the joining of two sides, much like the union between you and your significant other. Crafted using the highest quality sterling silver possible, your rings will appear absolutely elevated and classic for every event.
3. Brilliant Diamond Yellow Gold Wedding Band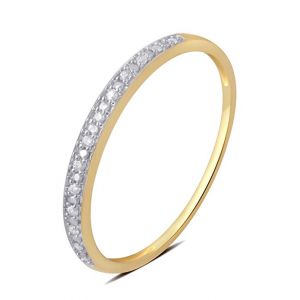 Get It Here
For the more simple brides that are looking for a wedding band that won't take away from her engagement ring, the Brilliant Diamond Yellow Gold Wedding Band is a beautiful option. With .05 carats worth of diamonds set in the front of the ring and the luxurious contrast of yellow gold for the band of the ring, it will surely compliment absolutely any engagement ring. All of the diamonds used in the band are conflict-free and have a minimum color of IJ and clarity of I3. Also, the band is made of 10K yellow gold and has a very low profile and thin frame, which is ideal for fingers of any size.
4. VIR Jewels Petite Diamond White Gold Wedding Band
If you're the type of person that loves some bling, this is the perfect wedding band for you. The VIR Jewels Petite Diamond White Gold Wedding Band is also available in yellow gold, depending on your preference, and both are 10K. With a diamond weight of 1/6 cttw and 13 beautifully prong set diamonds, you can guarantee that the shine will help to elevate your engagement ring as it hits the sun.
5. Tesori & Co Wedding Band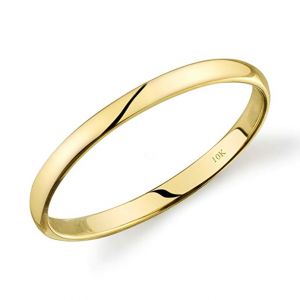 Designed with a 2mm width, this wedding band is the perfect option for brides who are looking for the simplest ring they can get their hands on. It's the ideal partner for an already luxurious wedding band that you won't want to take any attention from. The Tesori & Co Wedding Band is available in rose gold, white, or yellow gold, all three are 10K, making it comfortable to wear over the years. Also, you'll receive a metal purity stamp on the inside of the ring to show its authenticity.
Rings for Him
Now, it's time to discuss the top five rings for men on their special day, as there are plenty to choose from as well!
1. Decadence Polished Plain Wedding Band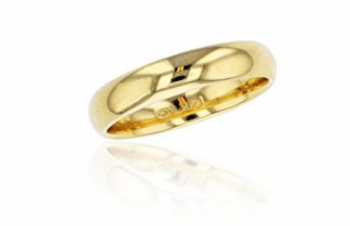 Similar to the Tesori & Co Wedding band, the Decadence Polished Plain Wedding Band is plain which makes it the perfect option for men who aren't interested in having a huge piece of jewelry on their finger. Available in 10K white and yellow gold, you'll be able to choose the perfect ring for the special day that doesn't have any distracting features such as metal stamping or gemstones.
Also, it's important to note that every Decadence Polished Plain Wedding Band goes through a 10-step manufacturing process to ensure the ring stays in its best condition for your entire life.
2. Alain Raphael Titanium Ring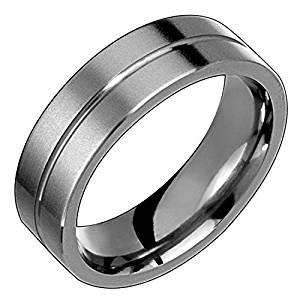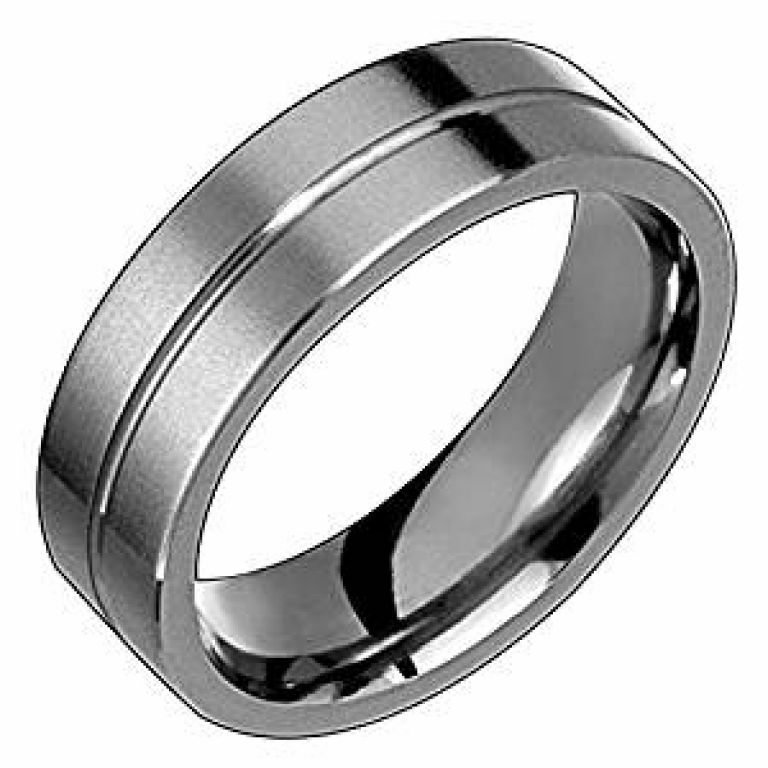 If you're trying to stay far away from the traditional idea of a wedding band, the Alain Raphael Titanium Ring is a great option as it's crafted out of dark titanium and offers a matte finish. With a modern single groove added to the center of the ring, it helps to add a little more definition without going too overboard.
We love the idea of the Alain Raphael Titanium Ring for a younger wedding or any man who is looking for something outside of the norm.
3. PCH Jewelers Deer Antler Ring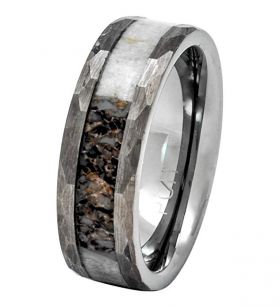 Perfect for the outdoorsman and avid hunter, the PCH Jewelers Deer Antler Ring offers an interesting appeal that you're guaranteed to not find anywhere else. Instead of relying on diamonds and other types of gemstones, the ring features encased whitetail deer antler and is surrounded by hammered tungsten carbide. As the PCH Jewelers Deer Antler Ring has natural elements inside of the band, each ring will come with different color variations so you are likely to have a ring that no one else in the world has.
4. PCH Jewelers Opal/Imitated Meteorite Wedding Band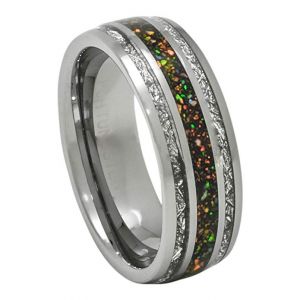 Another unique ring that you can guarantee very few people have, the PCH Jewelers Opal/Imitated Meteorite Wedding Band combines the brilliant sparkle of imitated meteorite and opal designed for someone who has an affinity for the beyond. The ring is encased in tungsten carbide and doesn't have any hammering which makes it smooth on the skin. With the imitated meteorite patterns, it glistens with a variety of vibrant colors that are sure to impress.
5. Metal Masters Co. Titanium Ring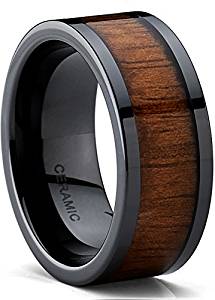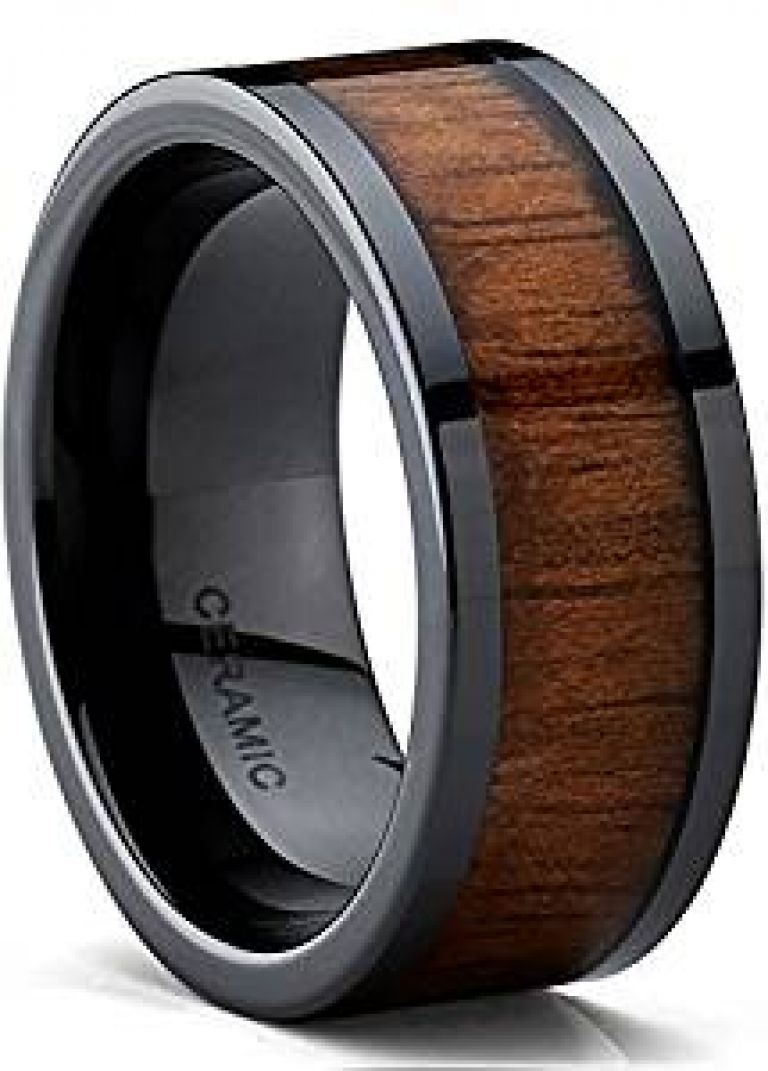 Perfect for a man that loves natural elements being incorporated in their jewelry, the Metal Masters Co. Titanium Ring features both real deer antler and a Koa wood inlay with the perfect combination of blacks, greys, and browns. The ring itself is crafted using lightweight titanium with a black shiny finish and there are two inlays, one made of Hawaiian Koa wood and the other made of deer antler. You'll also receive a ring box with your purchase, so it will be ready for your big day as soon as you receive it.
Final Thoughts
There are hundreds of different wedding band designs on the market and finding the right one for you and your soon-to-be spouse is easier than you think. With these 10 phenomenal designs, you're sure to find a design that will not only work perfectly with your engagement ring but that you'll also cherish for many years to come.
Pin for later