What to Wear to a Wedding (Men's Edition!)
last updated:
Jun 17, 2019
2333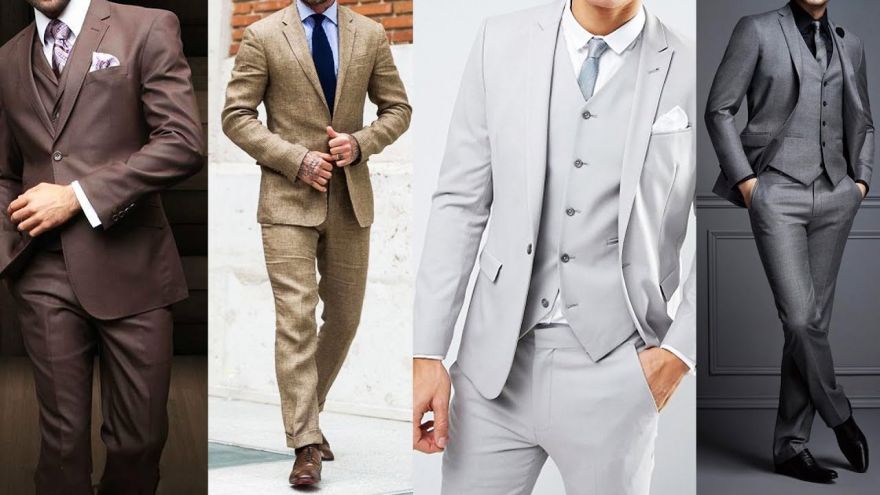 What to wear to a wedding? This is certainly a tough one to figure out, especially as a guest. Groomsmen typically have more guidelines for what to wear and where to find their clothes. As a guest, you're essentially on your own.
We've curated a list of fantastic pieces that you can pair together to create an exceptional wedding outfit. We've also included a couple of suit sets for someone who wants to look dashing without having to put a lot of effort into finding the perfect pieces!
Beach Wedding Outfit
There are plenty of couples that plan destination weddings and beach weddings. It's likely you won't want to wear a full suit, as you'll be hot and uncomfortable during the ceremony and the reception.
Instead, we highly recommend pairing these two items together as they will keep you cool and confident meanwhile making sure you look your best.
Top: Leisurely Pace Casual Long/Short Sleeve Shirt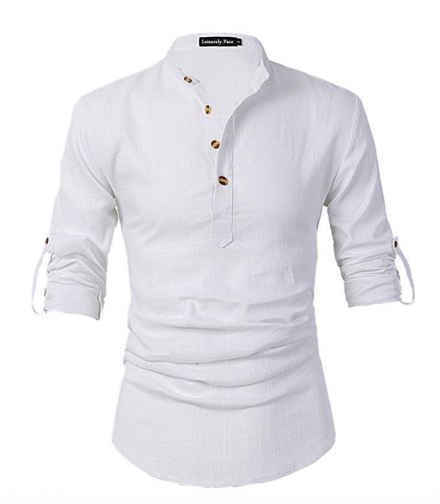 This shirt is available in 8 different colors, which is perfect for someone that wants to wear an outfit that compliments a tropical location without settling for white. It's breathable, incredibly soft, and able to be converted from a long sleeve to a short sleeve and vice versa.
Crafted out of 65% cotton and 35% polyester, you'll find the shirt has a similar texture to traditional linen, which is perfect for the beach. You'll also love the more casual details that help to pull the whole look together without going too over the top.
Bottoms: Amazon Brand 28 Palms Linen Pants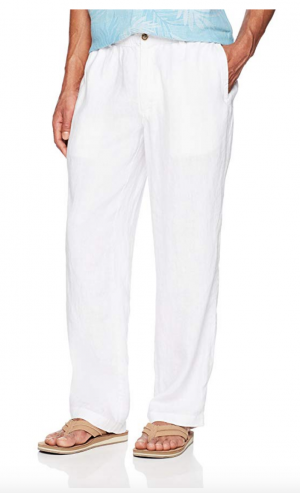 To complement the natural look of the Leisurely Pace top, we highly recommend the Amazon Brand linen pants. Also available in 7 colors, you can easily find the perfect pair to match the color of shirt you have chosen. Made from 100% linen, these are by far the most perfect pair of pants that you can wear to a casual beach wedding.
For added comfort, the waistband has an elasticized waist and a drawstring closure so you can have a relaxed fit while sitting during the ceremony and dancing during the reception. In addition, you'll appreciate the side pockets and back pockets with button accents.
Modern and Stylish Wedding
If you're the type of guy that wants to show off their stylish aesthetic without aging yourself, you'll love the combination of these two pieces. They are iconic for a modern wedding but one that is still laid back enough to where you aren't expected to wear a three-piece suit.
By opting to forego a suit jacket, you'll breathe a little bit of extra youthfulness into your wedding attire.
Top: Coofandy Formal Layered Top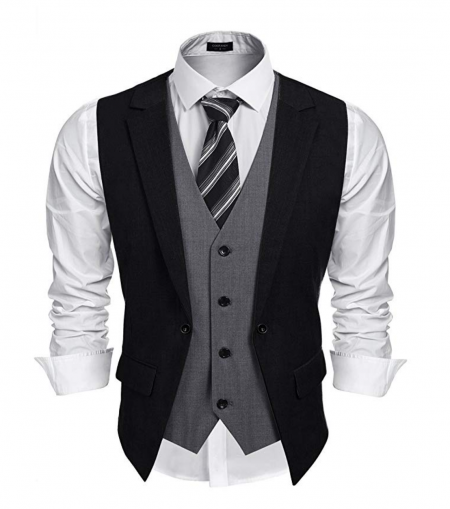 Everything that you need to wear for a wedding comes in this set. We also highly recommend it for other formal occasions such as special dinners, business meetings, and more. You'll be able to choose from 5 different color variations depending on your preference and personal style.
With the Coofandy formal layered top, you'll receive a slim fit vest, a lightweight button-down shirt, a tie, and a third suit vest that goes on top of all of the other layers. Each piece is crafted with keen attention to detail so that you can feel comfortable and confident all day and night.
We especially love that every piece is made from mainly polyester, so you can guarantee it is breathable and soft against the skin instead of being itchy like most wedding attire.
Bottoms: Match Men's Slim Tapered Pants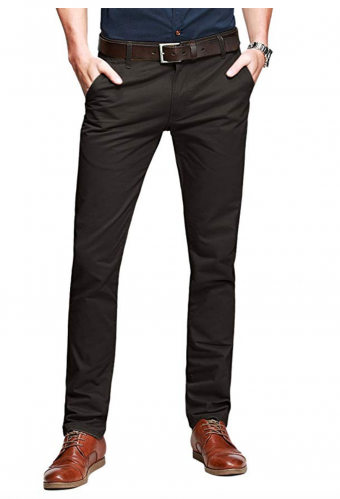 The only way to bring this look together is to match the modern and stylish top with a great pair of slim fit pants. The Match Men's slim pants are our favorite pair as they look phenomenal on absolutely anyone. You'll also love how there are over 30 different colors to choose from.
Made from 100% cotton, these pants will keep your legs comfortable and flexible without having to worry about feeling restricted. They feature a button and zipper closure for optimal security and the structure you would expect from high-end dress pants.
Formal Traditional Weddings
There's nothing wrong with opting for a traditional suit when it comes to weddings. You'll need an option that will complement the venue without taking any attention away from the guests of honor.
We've found two all-inclusive suit sets that arrive with everything you need. From the bowtie to the pants, you get everything to pull the perfect wedding look together.
Suit Set 1: YFFUSHI Men's Slim Fit 3-Piece Suit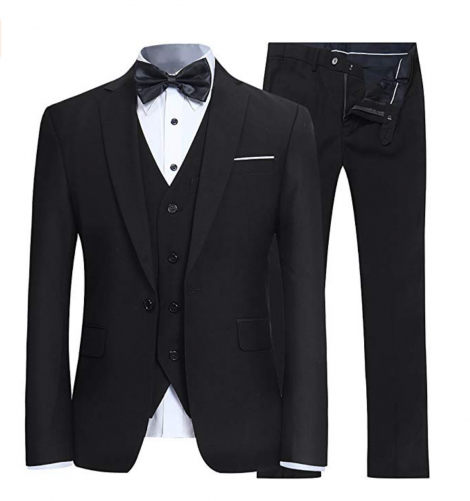 As the name suggests, the YFFUSHI 3-piece suit arrives with a buttoned blazer, tuxedo vest, and trousers. You will also receive a bowtie or a tie, depending on the color you choose. Compared to other suits that you would typically rent, this one is crafted using 70% polyester and 30% viscose. The material guaranteed flexibility, comfort, and breathability.
One of the main features that we love about this set is that all of the inner linings are made primarily from polyester. This helps wick away moisture, prevent you from sweating, and keep you cool throughout the evening. We also love the phenomenal slim fit design with 3D draping that accentuates all of your best features.
The main thing to remember is that as the suit is slim fit and vintage style, it will have a tighter fit than most other suits. We highly recommend getting accurate measurements before choosing your size.
Suit Set 2: Ween Charm Men's Suit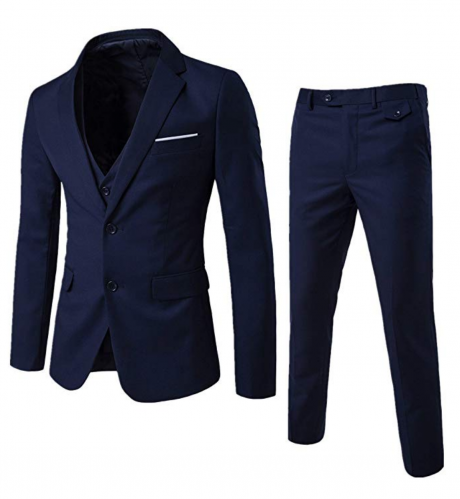 The Ween suit looks luxurious and is designed with impeccable attention to detail. The suit is available in an array of colors ranging from sky blue to deep burgundy.
All of the pieces are made primarily from polyester so that they keep you cool, confident, and comfortable. You'll also find that the suit will maintain its shape after wearing it multiple times.
The stunning jacket has a notched lapel and is single-breasted with a 2-button closure. There are also 2 front pockets with coordinating flaps and 2 inner pockets for your valuables. We especially love the sleeve buttons that act as accents on either side of the jacket.
The pants are highly adjustable as the waistband is expandable so you can create a more customized fit. The pants also feature slanted side pockets for even more storage. As the final piece, the interior vest works perfectly with the jacket, adding an extra ounce of sophistication to the whole outfit.
With one of these many options, what to wear to a wedding is not an issue anymore. You can easily put the perfect wedding outfit together with little to no effort. We guarantee you will look better than you have ever looked and you'll finally have the confidence you deserve.
Pin for later