Best Wedding Reception Songs According to None Other Than Our Office Team!
last updated:
Oct 01, 2018
2226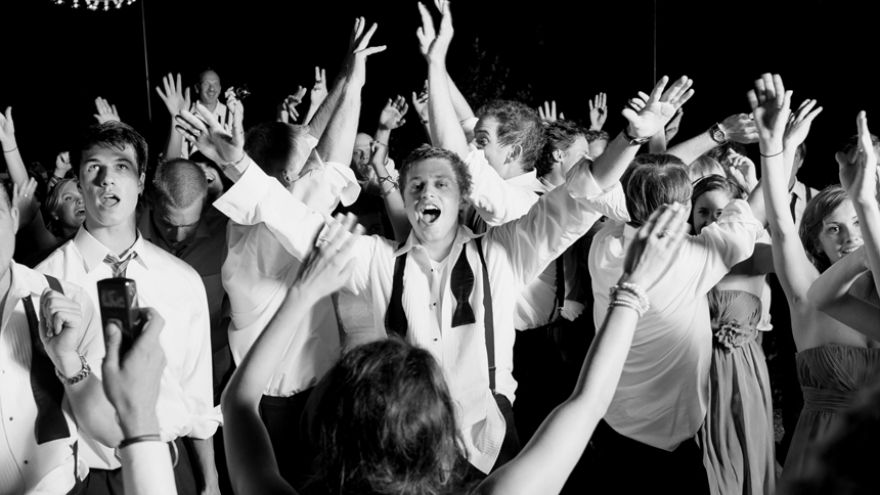 Getting married is likely going to be one of the biggest days of your life and what better way to celebrate this monument than with the perfect soundtrack? Once all of the happy tears have been shed and it's time to party, you're going to want an idea of what songs you absolutely have to include during your reception. If you've hired a DJ, it's likely that you'll want them to play the current top 100 depending on the time of year you're sealing your vows, however, there are several classic songs that you should always make sure are played.
Below are our favorite wedding reception songs that are most likely to get your guests in the partying mood and dancing the night away.
The Best Wedding Reception Songs from the 70s
The 70s were a decade filled with love and happiness but also filled with some of the greatest hits that we still sing to this day. Here are all of the most influential 70s songs that you should definitely include in your reception music list for your middle-aged guests and general music lovers.
1. My Sharona – The Knack
Like a song that has the perfect melody to bob your head to, My Sharona by The Knack is certainly one of the most quintessential 70s songs.
2. Bennie and the Jets – Elton John
You can guarantee that absolutely everyone is going to know the lyrics to the chorus of Bennie and the Jets, which will get the whole crowd singing together.
3. Stayin' Alive – Bee Gees
Why not take out your awesome disco dance moves and hit the dancefloor with your loved ones? Stayin' Alive is probably one of the best dance songs from this decade that everyone will be able to appreciate.
4. Do Ya Think I'm Sexy? – Rod Stewart
Searching for a song that is going to give you some of the most memorable moments captured on film and video? This timeless Rod Stewart hit is sure to impress.
The Best Wedding Reception Songs from the 80s
Arguably one of the best decades for party music, there is an endless supply of 80s songs that you should certainly take into consideration when creating your own personalized reception music list.
1. I Wanna Dance with Somebody – Whitney Houston
There's nothing more touching than a great Whitney Houston song but instead of pulling you deep into your emotions, I Wanna Dance with Somebody will help you to let loose and celebrate your special day.
2. Billie Jean – Michael Jackson
We'd have to say that relatively any Michael Jackson song would make the perfect addition to your wedding reception, though Billie Jean is our office's favorite!
3. Super Freak – Rick James
Have you ever wondered what dance moves Aunt Dolores has been hiding from the family? This song is sure to get it out of her and get her onto the dance floor.
4. Rebel Yell – Billy Idol
Similar to Michael Jackson, we'd have to say that nearly every Billy Idol song is appropriate for getting the crowd up and moving, Rebel Yell is certainly one of the most iconic.
The Best Wedding Reception Songs from the 90s
Competing with the 80s, the 90s are also filled with phenomenal party-esque music that is applicable to guests of all ages. From MC Hammer to more Michael Jackson, you can guarantee you're likely to find dozens of songs from this decade that will appease your ears.
1. Let Me Clear My Throat – DJ Kool
Perfect for kids who loved heading to the club when they were in their teens during the 90s, Let Me Clear My Throat is another classic that will have everyone rapping together to its eccentric yet catchy lyrics.
2. No Scrubs – TLC
It's true, you won't want any scrubs, which is why you've married your soul mate. If you're ready to express how you're ecstatic that you found the right one, No Scrubs by TLC is one of the best anthems on this list.
3. Baby Got Back – Sir Mix A Lot
Even though it might sound a little inappropriate at first, you can guarantee that everyone will love this traditional song that is usually played at every big get together. It's fun, has a great beat, and the lyrics will certainly get a chuckle out of even the most conservative members at your wedding.
4. Poison – Bell Biv Devoe
To finish off our list of the best wedding songs from the 90s, we have Bell Biv Devoe with Poison. As another great song that nearly everyone knows, you can hit the floor with your friends and jam out to this classic hit.
The Best Wedding Reception Songs from the 00s
The 00s are home to some of the iconic jams that we still dance to in our cars, which is what makes them some of the best hits to have at your wedding.
1. Hot in Here – Nelly
It's true, it certainly will start getting hot on the dance floor when you put this all-time fan favorite jam on.
2. Fell in Love with a Girl – The White Stripes
If you're more of an alternative music lover, you'll appreciate Fell in Love with a Girl by The White Stripes. It has a high tempo melody that not only signifies your happiness as a newly married couple but is also a great song to dance to.
3. Ignition (Remix) – R. Kelly
There's absolutely no reason as to why this song shouldn't be included for your wedding reception because it's easily one of the most, if not the most, iconic song to come out of the 00s that every radio station had their hands on.
4. Somebody Told Me – The Killers
Last, but certainly not least, we have The Killers with Somebody Told Me. As a band that is known for their upbeat songs that will get you moving, this is by far our favorite on this entire list.
Final Thoughts
At the end of the day, no matter what you choose for your wedding reception music, you'll be able to get your guests up and dancing.
All you're going to need is a great DJ or an iPod connected to the sound system so that you can get the party started. However, with the help of these songs, you'll be able to create a killer playlist that everyone will remember.
Pin for later